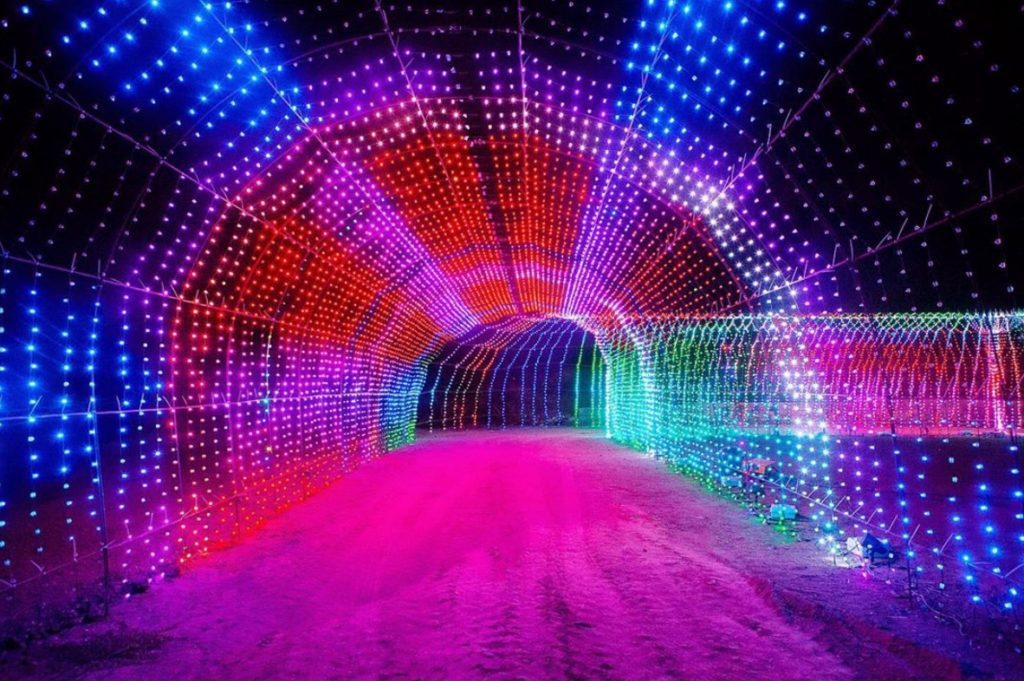 Need stuff to do this month in Los Angeles? We looked ahead on our calendar to focus in on some of the best events happening in October around the city that you should probably have on your radar. After all, better to get your tickets now than wait till the last minute and find out your favorite event is sold out.
October 2019 event highlights include Haunted Wine Tours, Pasadena ArtNight, DTLA Oyster Fest, P-22 Day, the Brewery ArtWalk, and LOTS more.
And remember if you want to stay up to date on all the event happens in Los Angeles then be sure to sign-up for our email newsletter. Enjoy!
---
Keep in mind for some of the ticketing options provided we utilize affiliate links and receive a commission if you purchase through our links (affiliates noted in parenthesis), however we retain complete editorial control of our content.
---
1. Halloween-related To-Dos (all month)
Want to find the scariest, most immersive, and funnest to-dos for the Halloween season? Check out our comprehensive guide of Halloween-inspired things to do in L.A. all throughout October.
2. Lexus All Star Chef Classic (October 2-5)
The Lexus All-Star Chef Classic takes over L.A. LIVE 's event deck on October 2-5 for four days of extravagant meals prepared by top chefs from around the United States in a stadium and or arena setting plus two strolling events. -> More information
3. Night of the Jacks (starts October 3)
Nights of the Jack, a half mile trail completely filled with thousands of pop culture inspired hand-carved illuminated Jack O'Lanterns returns to King Gillette Ranch in Calabasas October 3 through November 3 for a spooktacular family friendly event. -> More information
4. Zombie Joe's Urban Death Tour of Terror (starts October 4)
Urban Death is an annual tradition at Zombie Joe's Underground Theater. Guests typically wind through a short maze full of strange monsters before taking a seat in the black box theater. A series of disturbing (and occasionally funny) vignettes unfold, one after another. In between, total darkness cleanses the palate for the next scares. It should be noted that while this is one of the weirdest, most creative Halloween shows around. You will see shocking, sometimes gross pieces and moments of total nudity. This is for mature audiences! -> More information
5. 'Haunted Nights' at Malibu Wine Safaris (starts October 4)
The Halloween edition of the Malibu Wine Safaris promises "otherworldly dimensions, haunted forests, psychedelic sci-fi tunnels and beyond," attractions that sound equal parts haunting and picturesque. The tours run through Nov. 3 on select dates. -> More information
6. Tito's Fiesta Mexicana at Tito's Tacos (October 4)
On October 4, Tito's Handmade Vodka and Tito's Tacos are teaming up to celebrate National Vodka Day and National Taco Day, which happen to occur on the same day of the year. Coupled with the food and drink will be Folklórico and Mariachi entertainment to ensure that the event truly remains a fiesta throughout. Proceeds will go on to benefit The Culver City Cultural Affairs Foundation. -> More information
7. 33rd Annual California Avocado Festival (October 4-6)
Take a drive up the coast to visit the 33rd Annual California Avocado Festival in Carpinteria. There will be an Avocado Expo, a food court with loads of creative 'cado inspired dishes, a kids zone, an arts and crafts venue, plus some 75 music acts will play four stages over the course of the three-day festival. Entry is free. -> More information
8. Pasadena ArtNight (October 11)
This annual free celebration attracts tens of thousands of annual visitors to a one-night event where more than twenty of Pasadena's arts and cultural institutions offer free admission. Guests can expect on-site food trucks and live performances at many of the participating locations, including Armory Center for the Arts, The Gamble House, the Pasadena Museum of History, USC Asian Pacific Museum, and more. -> More information
9. L.A. Comic Con (Oct. 11-13)
Now in its 9th year, L.A. Comic Con returns to the Los Angeles Convention Center with 800+ diverse artists and vendors, selling comics, collectibles, art, toys, apparel, and everything in-between. Last year's three-day event had over 100,000 attendees. -> More information
10. Pasadena ArtWalk (October 12)
The 14th annual Pasadena ArtWalk brings an afternoon of art, music and activities to the Playhouse District in Old Pasadena. The free event highlights some of the top Southern Californian visual artists showcasing their work in painting, sculpture, watercolor, photography, mixed media, ceramics, jewelry, drawings, and printmaking. This is a free event. -> More information
11. Culver City Art Walk and Roll Festival (October 12)
A four-block stretch of Washington Blvd will close to traffic for a day-long event featuring distinguished artists, live music, eclectic food trucks, wine and beer gardens, tastings, fun kid's activities, interactive art experiences, and more. Free and open to the public! -> More information
12. 14th Annual Los Angeles Archives Bazaar (October 12)
The Los Angeles Archives Bazaar is an L.A. history buff's dream. Local institutions and archives will have experts on hand to show off rare collections and answer questions, plus guests can enjoy a day-long program of presentations and workshops. The event is free, but USC campus parking rates apply. -> More information
13. CraftoberFest LA at The Rose Bowl (October 12)
Craftoberfest takes over the Rose Bowl in Pasadena on October 12 bringing over 20 select SoCal breweries plus traditional German eats for a day inspired by the world's largest "Volksfest" (beer festival) in Germany. -> More information
14. DTLA Oyster Fest (Oct. 12-13)
This two-day event at Grand Central Market (organized by Oyster Gourmet) brings oyster farmers and oyster lovers to celebrate all-things-oyster. For guests, it's an opportunity to shuck their way through a variety of oyster source from farms all over the United States. Admission is free, with oysters available for purchase. -> More information
15. Fall Festival at The Original Farmers Market (October 12-13)
The Original Farmers Market's annual Fall Festival offers plenty of family-friendly fun, including a pumpkin patch, petting zoo, arts and crafts, pie-eating contests, and plenty of live music. -> More information
16. P-22 Day Festival in Griffith Park (October 19)
The annual celebration of the big cat who crossed two freeways in now in its fourth year. This year's festivities offer plenty of exhibits and activities, including a P-22 photo booth, a virtual reality experience of a wildlife crossing, meet-and-greets with Ranger Rick, an urban wildlife garden installation, live music, and much more. Free to attend! -> More information
17. Pumpkin Festival in Brookside Park (October 19-20)
The two-day Pumpkin Festival in Brookside Park is annually attended by an estimated 20,000 people each year. Attendees enjoy plenty of family-friendly activities including a pumpkin patch, festival games, crafts, pony rides, a petting zoo, bouncers, and more. Admission to the festival is free, with a paid tickets required for festival food and activities. -> More information
18. WestEdge Design Fair (October 24-27)
The WestEdge Design Fair is a massive event spanning four days (October 24-27) solely focused on good design. Featuring hundreds of exhibitors, attendees will be able to shop and learn from industry leaders and tastemakers. -> More information
19. Late Night! Stanley Kubrick edition at Skirball (October 25)
The Skirball celebrates their latest exhibition (Through a Different Lens: Stanley Kubrick Photographs, opening October 17) with an after-hours event featuring access to the galleries, a DJ, food trucks, and a cash bar. Kubrick's The Shining will then be screen outdoors starting at 7:30 p.m. Admission is $5. -> More information
20. The Fall Brewery ArtWalk (October 26-27)
Billed as the "world's largest art complex", The Brewery presents its fall ArtWalk over the weekend of October 26-27. Art displays spans video, painting, performance, ceramics, interior, fashion, multi-media and more. There will be over 100 participating resident artists for guests to discover and interact with. -> More information
21. True Crime Stories of Los Angeles + Ghost Tours at Heritage Square Museum (October 26-27)
Come to Heritage Square Museum on Oct. 26-27 to experience the backstory of some of Los Angeles' most notorious crimes and witness how detectives of the past solved mysteries in an era before DNA testing and high-tech forensics. On Oct. 26 the museum will also host evening explorations of the families who once lived in the houses at Heritage Square complete with ghost stories. -> More information
22. Strut Your Mutt LA (October 26)
Come fundraise to help homeless animals with a walk around Exposition Park, finishing at a family friendly festival with food trucks, an activity zone for pets, a beer garden and other fun activities. -> More information
23. Fantastic Planet at FIGat7th (starts October 30)
Fantastic Planet is daring public art piece by Australian Artist Amanda Parer that features massive humanoid light installations and will be free and open to the public starting on Oct. 30. -> More information
---
Be sure to check the We Like L.A. Events Calendar for updates on fun things happening around the city throughout October. You can also sign up for our daily/weekly newsletter if you want events sent straight to your inbox.