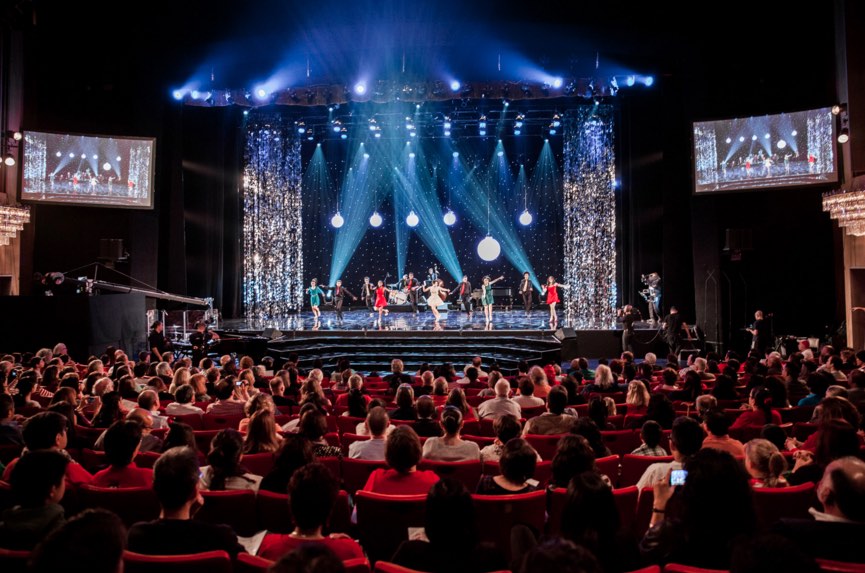 Every week in Los Angeles there are tons of great things to do (even before the weekend gets started) that we think you ought to have on your radar. With that in mind, we put together a list every Monday through Friday morning to keep you in the know about what's happening in the city you love (or maybe just like).
This Christmas week in L.A., from Monday, December 23 to Friday, December 27, features a Nightmare Before Christmas Dinner Party, It's a Wonderful Life movie screening, the official L.A. County Holiday Celebration, Snow Day at Kidspace, 9th annual Greatest Classic Cartoons Ever! film festival at the Alex Theatre and MUCH more.
Remember you can always go to our L.A. events calendar page to get an updated rundown of what's happening around the city.
Hope you find the rundown useful and, as always, enjoy your week!
---
Keep in mind that while we retain complete editorial control of our content, for some of the ticketing options provided we utilize affiliate links and receive a commission if you purchase through our links.
---
Monday December 23rd, 2019
1. There's a Vegan Goth "Nightmare Before Christmas" Dinner Party happening at Lodge Room in Highland Park this Monday. The event will feature Ceremony Chamber Orchestra performing Tim Burton's "The Nightmare Before Christmas" soundtrack plus BAUHAUS, Joy Division, The Cure etc. covers live. A menu of unholy deliciousness will be prepared by Checker Hall chef, Hovig Agpop. Tickets cost $50 and are on their way of selling out.
2. The Aero Theatre in Santa Monica screens Christmas classic It's a Wonderful Life on Monday.
3. Looking for more holiday movie-going? There's a White Christmas (1954) and Holiday Affair (1949) double feature at the New Beverly Cinema on Monday.
4. Grand Park's Winter Glow is a free night time art experience covering 12 acres of Grand Park in Downtown Los Angeles and the newly renovated Music Center Plaza. Whimsical artistic projections and light displays will illuminate paths and play off of the park's most iconic elements. The holiday-inspired event will run nightly from Dec. 6 to 25. FREE
5. Since 1969 Bob Baker's Marionette Theater's adaptation of the Nutcracker has been warming hearts and delighting kids and adults during the holidays. The show includes over 100 handmade puppets at the Pasadena Playhouse. Running now until December 29. Due to the holiday week the show will only be performed on Monday and Friday.
6. Descanso Gardens' Enchanted Forest of Light returns for another installment with a host of interactive displays and nighttime activities from November 17 through January 5, 2020.
7. The Sofitel Los Angeles hosts a Jazz Eclectic night every Monday at Riviera 31 with Ryan Cross and his band starting at 9 p.m.
8. The annual LA Kings Holiday Ice happening at L.A. LIVE's Microsoft Square is a daily outdoors holiday skating rink. Open November 30, 2019 through January 12, 2020.
9. One of L.A.'s most magical holiday traditions, L.A. Zoo Lights returns November 15, 2019 through January 5, 2020 with thousands upon thousands of LED lights illuminating the zoo. Check for discounted tickets before making your purchase. DISCOUNTED (via Goldstar)
10. The Holiday Light Festival Train Ride at Griffith Park is a festive one mile ride on the tracks with tens of thousands of lights to get you in the Holiday spirit. Running November 29 through December 30.
Tuesday December 24th, 2019
11. The official L.A. County Holiday Celebration takes place annually at the Dorothy Chandler Pavilion. Featured performers include Arturo Sandoval, Infinite Flow dance company, the Los Angeles Chamber Choir, The Gay Men's Chorus of Los Angeles, and much more. FREE
12. The El Capitan Theatre is the prime spot to see Star Wars: Rise of Skywalker, audiences will be treated to exclusive experiences that include the Evolution of the Stormtrooper™ costume exhibit plus costumes from the new movie. Before each movie, ticketed guests can also snap a photo with First Order Stormtrooper™ at a meet-and-greet and enjoy an all-new laser and light show. DISCOUNTED (via Goldstar) Open on Christmas too!
13. Dive into the holiday season with a Queen Mary Christmas! The special event will see Christmas spirit lining the famous Long Beach vessel until January 1, 2020. Activities include a 26 feet tall Christmas tree, variety of holiday activities, an outdoor skating rink, live entertainment and much more. Occurring Thursdays through Sundays. Open on Christmas too!
14. The Bai Holiday Ice Rink returns to Pershing Square from Nov. 14, 2019 to Jan. 2, 2020 featuring a 7200 square foot outdoor ice-skating experience. A wide variety of events will take place throughout the duration of the rink. Open on Christmas too!
15. What could be more magical than Christmas in Hogsmeade? Guests to Universal Studios Hollywood will experience the Wizarding World of Harry Potter in full "winter" splendor, complete with nightly snowfall and a spectacular light show projected against Hogwarts Castle. The park is open during Christmas Eve. and Christmas Day.
16. DERRIERE will be the spot for MatzoBall, an annual Jewish singles networking event going strong for 33 years!
17. The Los Angeles Arboretum and Botanic Garden presents Moonlight Forest, where crafted lanterns line the garden grounds, some depicting animals, shimmering exotic flowers, and figures from Chinese legends. Happening Wednesdays through Sunday from November 9 through January 12, 2020. Check for discounted tickets before making your purchase. DISCOUNTED (via Goldstar)
18. Enjoy a special performance of The Nutcracker (November 29 to December 24) by the American Contemporary Ballet at Metropolis Los Angeles.
Wednesday December 25th, 2019
19. Have a Merry Christmas Angelenos! We imagine most folks will be at home or with friends and family, but here are couple things that are open on Christmas Day:
Thursday December 26th, 2019
20. Kidspace Children's Museum in Pasadena hosts Snow Days from Dec. 26-30. The event features real snow, live entertainment, interactive story time, cookie decorating, crafts and a dance party.
21. Be a kid again during the 9th annual Greatest Classic Cartoons Ever! film festival at the historic Alex Theatre in Glendale. Sit back and watch Bugs Bunny, Yosemite Sam, Mighty Mouse, Popeye, Tom and Jerry, Daffy Duck and many more on the big screen. There will also be a surprise opening and live action/animation. Hosted by Frank Gladstone and Jerry Beck, the cartoon raffle prizes and all proceeds will go to support the Alex Film Society, a non-profit arts organization. Showings happen at 2 p.m. and 7 p.m.
22. Here and Now transforms it's space into a holiday bar called Blitzen's from December 3-31. Get transported to the the North Pole and enjoy 15 festival cocktails, a seasonal food menu with offerings like Christmas poutine, themed entertainment and more. On Thursday they'll host Drag Queen Bingo "Regift Your Shit Gift" event from 6-9 p.m.
23. Barney's Beanery in West Hollywood will open up all the games for free play this Thursday night with hosted drink and food specials.
24. The Paley Center for Media celebrates the holidays with family-friendly experience PaleyLand. Guests can enjoy daily screenings of classic holiday TV programs, a Candy Cane Forest , arts and crafts, dreidel games, and free hot cocoa. No reservations are required. Open Wednesdays through Sundays till January 5, 2020. FREE
25. Free museum day: Japanese American National Museum (all day), MOCA Grand (from 5 to 8 p.m.), Skirball Cultural Center (noon to 5 p.m.), Long Beach Museum of Art (3 to 8 p.m.), USC Pacific Asian Museum (5 to 8 p.m.) and Museum of Latin American Art (5 to 9 p.m.)
Friday December 27th, 2019
26. A new immersive experience transports guests to 1960s Berlin for a night of intrigue and espionage. Step into Crimson Cabaret nightclub and sip on era-inspired craft cocktails, listen to live original music, and take part in a world full of secrets where no one can be trusted and secret agents might approach you with a mission to complete. Crimson Cabaret last run is this Friday through Sunday.
27. If you can't get enough of Christmas consider stopping by Street Food Cinema and Heritage Square Museum's Yuletide Cinemaland on Friday. Enjoy a festive outdoor movie screening experience in a Victorian town square surrounded by Christmas carolers, food trucks, a Holiday Light Tunnel, Scrooge's Dance Hall and more. This week they'll be screening How The Grinch Stole C. Check for discounted tickets before making your purchase. DISCOUNTED (via Goldstar)
28. Catch Stanley Kubrick's masterpiece 2001: A Space Odyssey in 70mm film this Friday at The Egyptian Theatre.
29. The team behind LA's award-winning series For The Record has a new production coming to The Wallis' Bram Goldsmith Theater. Richard Curtis's Love Actually will be transformed into a one-of-a-kind multimedia screen and stage event starting November 27. The film and live music blend together as the story unfolds throughout the London setting. Performances continue through December 29. Check for discounted tickets before making your purchase. DISCOUNTED (via Goldstar)
30. Skyspace Nights returns with a special night with contemporary instrumental group Katalyst and access to all three floors of the space. Your first drink is free with admission!
31. Corey Helford Gallery's sixth annual Art Collector Starter Kit group show highlights affordable 12" x 12" works from 100 top New Contemporary artists, giving new art collectors and enthusiasts a chance to buy an original piece from artists. The show will be on view through January 18, 2020.
Food Pick for the Week
This week's pick by Christina Champlin, Co-Founder of We Like L.A.
There is still time to make reservations to dine at some of the most festive Los Angeles restaurants for Christmas Eve and Christmas Day. Below are a few fun ideas. Happy holidays everyone!
---
Want to get our to-do lists straight to your inbox every week? Sign up for our email program. Have an upcoming event you'd like suggest for listing? Drop us a line at [email protected]