Every week in Los Angeles there are tons of great things to do (even before the weekend gets started) that we think you ought to have on your radar. With that in mind, we put together a list every Monday morning to keep you in the know about what's happening in the city you love (or maybe just like).
This week, from Monday, July 16 to Friday, July 20, features dineL.A., The Last Book Review, Outfest Under the Stars, The El Segundo Art Walk, KCRW's Summer Nights, Jaws at the Hollywood Bowl, Salsa at Union Station, L.A. Zoo Roaring Nights and MUCH more.
Remember you can always go to our L.A. events calendar page to get an updated rundown of what's happening around the city.
Hope you find the rundown useful and, as always, enjoy your week!
---
Keep in mind that while we retain complete editorial control of our content, for some of the ticketing options provided we utilize affiliate links and receive a commission if you purchase through our links.
---
Monday July 16th, 2018
1. dineL.A. will have food-lovers and connoisseurs taste, explore and enjoy various prix-fixe menus from restaurants across various L.A. neighborhoods from July 13 through 27 .
2. Start your week with a free Jam Session at the Ford Theatres. This week's focus: Tango Dance. FREE
3. Family Meal pays homage to the late Anthony Bourdain through a celebration of street food. For one night chefs from Craft, LASA, The Park's Finest, Yarrow, Todo Verde and more will offer their take on street food at the Far East Plaza in Chinatown with proceeds going towards LA Kitchen and RAICES.
4. Get Fit an inaugural Workout Week Los Angeles Festival happening July 14-21 will bring 100+ classes at participating boutique gyms and studios for $10 per class.
5. E.P. & L.P. in West Hollywood continues their stylish cinema series Melrose Rooftop Theatre with several screenings this week that include Romeo & Juliet, A Quiet Place, Zoolander and more.
6. The Pub at Golden Road will host Goat Yoga on The Lawn where guests join in a one hour yoga session, sip on a GR beer after and meet and greet the yogi goats.
7. Hangout at the Aquarium of the Pacific at night and see sharks, jellyfish and more in a different light! Happening multiple times this week. DISCOUNTED (via Goldstar)
8. There's a free summer fitness series at Manhattan Beach Pier kicking off with Mindful Yoga on the Beach this Monday at 6:30 p.m. FREE
Tuesday July 17th, 2018
9. Come listen to great live jazz when Subaru Summer Jazz Nights returns to Hollywood and Highland for five Tuesday evenings. David Binney will perform this Tuesday.
10. Moonlight Movies on the Beach returns to Alfredo's Beach Club in Long Beach a a summer of free film screenings on the sand. The series continues Tuesday with a screening of The Incredibles at Granada Beach. FREE
11. Boomtown Brewery in collaboration with Chef Alan Matheus will launch a weekly all-you-can-eat Taco Tuesday, where $15 gets you unlimited tacos for two hours plus a beer, and $2 off select beers after that.
12. Mr. C's Poolside Cinema is back for the fifth year in a row. From June 5 through August 28 Angelenos can indulge in a luxury outdoor movie experience by the pool with a Cipriani menu, classic movie snacks and mini bottles of Moët & Chandon Champagne. Star Wars: The Last Jedi will be screened this week.
13. The Last Book Review is a night of true stories and satirical book reviews from comics, authors and storytellers happening at Dynasty Typewriter at The Hayworth.
14. HUM Nutrition will host HUM Together, a day focused on beauty, wellness and nutrition through activities at The Grove like workshops, yoga, live music, the first ever collagen bar and much more. FREE
15. Movie Nights at Tropicana Bar located at The Hollywood Roosevelt hotel will throw Angelenos a movie night series every Tuesday night from 8 to 11 p.m. from June till September 3 by the David Hockney painted Tropicana Pool. ​Screening this week is Valley Girl.
16. Free museum days: Los Angeles County Arboretum (note: the tram doesn't run on this day), South Coast Botanic Garden and Descanso Gardens
Wednesday July 18th, 2018
17. Outfest Under the Stars is four nights (July 18-21) of LGBTQ films at Hollywood"s Ford Theatres. The series will screen Bad Reputation, Wild Nights with Emily and more.
18. Back for the 15th year in a row, The Independent Shakespeare Co. presents Shakespeare in the Park at the Old Zoo in Griffith Park with free performances Wednesday through Sunday of A Midsummer Night's Dream. FREE
19. Perfect for dog lovers, Mutt House is a musical centered around a doomed animal shelter, a boy named Eddie and six zany mutts working together to save the shelter they all call home. Performing at the Kirk Douglas Theatre in Culver City from July 15 through August 5 with previews beginning this week on July 10. Check for discounted tickets before making your purchase. DISCOUNTED (via Goldstar)
20. Watch classic movies outdoors while savoring ice-cream when Sweet Rose Creamery in Studio City welcomes the return of its free summer movie series. The series continues with a screening of Ferris Bueller's Day Off. FREE
21. Shakespeare By The Sea will once again offer a ten-week program of admission-free performances. The series continues with performances of The Merry Wives of Windsor at Schabarum Regional Park in Rowland Heights on Wednesday, The Winter's Tale in Garfield Park in South Pasadena Thursday and The Merry Wives of Windsor in Marine Mammal Care Center in San Pedro on Friday. FREE
Thursday July 19th, 2018
22. The El Segundo Art Walk taking place every third Thursday of the summer months, allows the public to get to know 40 artists in 30+ venues in downtown El Segundo. FREE
23. Sizzling Summer Nights at The Autry returns for weekly nights of salsa and Latin fusion music, complimentary dance lessons, museum access, tacos and margaritas. This week Chino Espinoza y Los Dueños Del Son will perform.
24. Old Pasadena Summer Cinema continues with a screening of A Quiet Place at CTRL Collective on Thursday and follows up on Friday with In Bruges at Distant Lands and The Incredibles at One Colorado. The series brings free movie screenings to the Old Pasadena area at select venues from July 5 to 28. FREE
25. Third Thursdays on Brand Avenue in Glendale, features music, food, drinks, DIY activities, artisanal vendors and an after hours at the Museum of Neon Art.
26. Enjoy free family-friendly outdoor movies in Malibu thanks to Screen on the Green at Trancas Country Market every Thursday through September 13. This week Akeelah and the Bee will be screened. FREE
27. KCRW's Summer Nights series is coming to the Hammer Museum for three nights of free music this July featuring live music and DJ sets alongside happy hour food trucks and cash bars. The week Kauf, Sam Evian and KCRW DJ Valida will perform. FREE
28. Every first and third Thursday of the month Brennan's in Marina Del Rey hosts their famous turtle races. Since 1974, this tradition brings these little speedsters out of their sanctuary (located in the bar) for an exciting game that support charities. Race starts at 9 p.m.
29. The night market at hilltop Asian restaurant Yamashiro back for 2018 every Thursday, from 5 to 9 p.m., through September 27. Angelenos can enjoy a farmers market, freshly prepared foods and Yamashiro's unbeatable views of Hollywood.
30 Downtown Culver City's "Third Wednesday SummerTini Tasting" happening in Downtown Culver City invites the public for mini cocktails (virgin available) at participating establishments. FREE
31. Free museum days: Japanese American National Museum (all day), MOCA Grand & MOCA Geffen (from 5 to 8 p.m.), Skirball Cultural Center (noon to 5 p.m.),  Long Beach Museum of Art (3 to 8 p.m.),  USC Pacific Asian Museum (5 to 8 p.m.) and Pasadena Museum of California Art (5 to 8 p.m.)
Friday July 20th, 2018
32. As part of their summer line-up, the Hollywood Bowl is hosting a rendition of the thrilling cult classic Jaws for two nights on July 20 and 21. Check for discounted tickets before making your purchase. DISCOUNTED (via Goldstar)
33. Salsa at the Station returns to Los Angeles' Union Station for an evening of exciting Latin music and salsa dancing in the beautiful train station's historic ticketing hall. FREE
34. The Los Angeles Zoo's annual after-hours music series, Roaring Nights, is back for summer 2018. Come experience DJs, indie bands, Silent Disco, the all-new Glamping Lounge, adult beverages, more than a dozen great food trucks each evening and more. The series continues with a 90's theme night with covering bands like Weezer, Alanis Morrisette, The Backstreet Boys, the Goo Goo Dolls, Smash Mouth and more. Check for discounted tickets before making your purchase. DISCOUNTED (via Goldstar)
35. WP24 by Wolfgang Puck's Summer Supper + Show returns every Friday and Saturday, July through August, with a Asian-inspired dinner at WP24 by Wolfgang Puck followed by a movie screening on the private 26th floor hotel rooftop. This weekend they'll screen 1995's Jumanji .
36. The La Brea Tar Pits and Museum will host Late Night Fridays where guests can enjoy free general admission from 5 to 8 p.m. and gain access to special activities, 3D movies, behind-the-scenes tours, live excavations, and more. FREE
37. Zombie Joe's Underground takes their production outdoors for Camp Whitsit. Described as a haunted immersive trip to summer camp for very courageous scouts the production takes place this Friday and Saturday.
38. 626 Night Market returns for three nights of deliciousness at Santa Anita Park in Arcadia.
39. Friday Flights at The Getty invites artists to respond to the iconic architecture, gardens and exhibitions of the museum through multiple art forms that include music, performance and film. FREE
40. For over 30 years, Grand Performances has offered a variety of performance events at California Plaza, for free. Their 2018 summer series runs June 1 through August 18. This Friday and Saturday G.P. will host Pancho Villa From a Safe Distance with Graham Reynolds and Mexican Theater collective Lagartijas Tiradas al Sol with "a bilingual, multimedia chamber rock opera that explores borders, battlefields, conflict, and culture through the life and mythology of the iconic José Doroteo Arango Arámbula aka Pancho Villa." FREE
41. Barnsdall Fridays returns to Barnsdall Art Park for the tenth year in a row, with evening tastings of boutique wines and music from KCRW DJs perched atop a hill with incredible city views.
42. The Music Center's annual Dance DTLA series is back for 2018 with a series of Friday-night events at Grand Park. This week features Dance DTLA an evening focused on salsa. Enjoy music, dancing, and more from 9 p.m. to midnight . FREE
43. Delicious Little Tokyo 2018 (July 20-21) is a food and drink event taking place on the streets of Little Tokyo, from local establishments.
44. Beyond the Streets is a fully immersive exhibition of street and graffiti art comprised of over 30 artist in a massive 40,000+ square feet exhibits. Artist are an eclectic mix of street and beyond including Retna, Shepard Fairey, Kenny Scharf Dennis Hopper and Jenny Holzer. Open Tuesday through Sunday this week. Open Tuesday through Sunday this week. Check for discounted tickets before making your purchase. DISCOUNTED (via Goldstar)
45. The Department of Beaches and Harbors presents Beach Movie Nights at Dockweiler Youth Center this week screening The Incredibles. FREE
46. Are you a Chase bank customer? Got a freebie you might want to know about. Coolhaus is teaming with the Forum and Chase to hand out free ice cream sandwiches to Chase customers on Fridays all summer long. Locations will change every Friday, and the offer is ice cream sandwich per cardholder. Get more info here.
47. Jazz at LACMA welcomes Rayford Griffin at the BP grand entrance at 6 p.m. FREE
48. The City of Monterey Park presents Summer Movies in the Park a family friendley event with free popcorn taking place in different parks in the neighborhood. This month Wonder will be screened at Cascades Park. FREE
49. Free museum days: Long Beach Museum of Art (11 a.m. to 5 p.m.)
Food Pick for the Week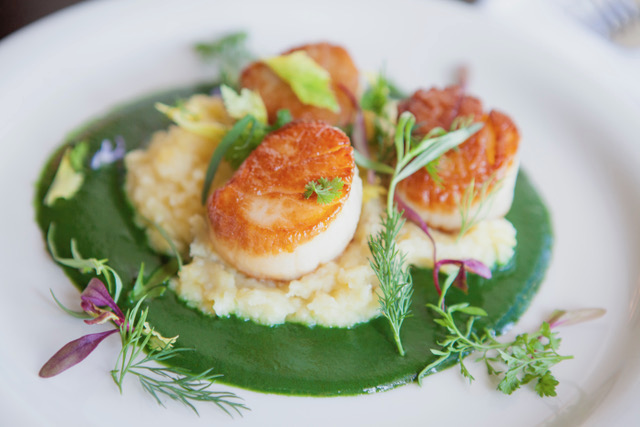 Casual market-driven eatery Friends & Family is now serving dinner. Chefs Daniel Mattern and Roxana Jullapat have rolled out a rotating menu of seasonal shared plates and mains that incorporate hearth roasted sustainably-raised meats, heritage grains and farmers market produce. On the summer menu diners can find items like Chicken Liver Toast accompanied by apricot and nigella and Wild Salmon grilled in grape leaves over almond wood. Keep in mind the duo is best known for their use of heritage grains, which can be found in the Spelt Prezel and Smoked Fish & Beer Rarebit with Housemade Rye Sourdough. Complementing the dinner menu are natural wines and local craft beers selected by Mattern and Jullapat. To finish, guests can indulge in house-made desserts like Sorghum Sticky Pudding, Huckleberry Meringue with Blackberry Compote and Buttermilk-Blueberry Ice Cream. Dinner service is available Wednesday through Sunday from 5:30 to 10 p.m.
Friends & Family is located on 5150 Hollywood Blvd. Los Angeles, CA 90027
This week's pick by Christina Champlin, Co-Founder of We Like L.A.
---
Want to get our to-do lists straight to your inbox every week? Sign up for our email program.
Have an upcoming event you'd like suggest for listing? Drop us a line at [email protected]