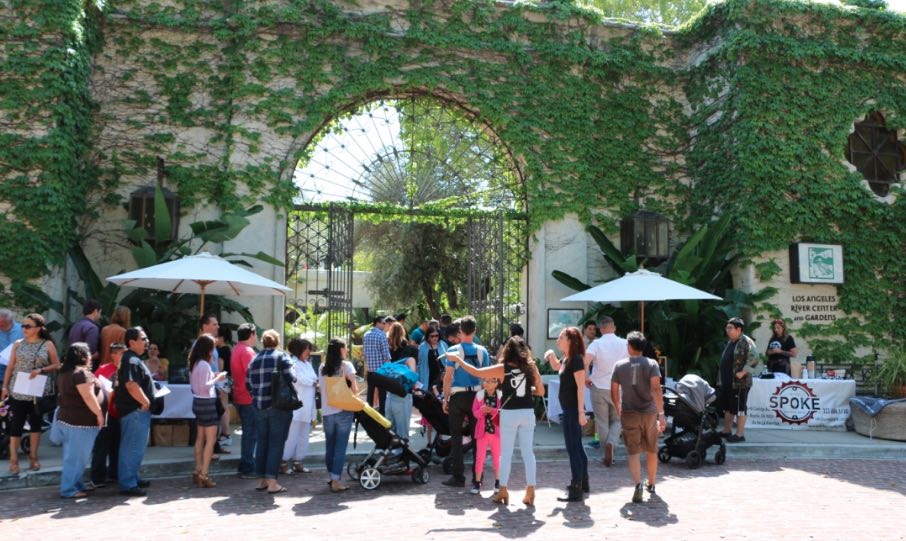 Los Angeles provides no limit of things to do, some awesome and some not so awesome. Since time is precious in this fast paced city we curate a list of things to do in Los Angeles for every weekend that'll help you decide how you want to spend your limited supply of attention (not to mention dollars!).
This weekend, from Friday, April 26 to Sunday, April 28 features PHOTOVILLE LA, Grand Park's "Our L.A. Voices", Tea by the Sea at the Point Fermin Lighthouse, Street Food Cinema, Taste of the Eastside, Thai New Year Songkran Festival and MUCH more.
Also, as a reminder the Griffith Observatory remains closed through May 6 as they work on essential improvements to the building and road. Note that this will affect pedestrian and vehicle access to the Observatory hilltop as well.
Remember you can always go to our L.A. events calendar page to get an updated rundown of what's happening around the city.
Hope you find the rundown useful and, as always, enjoy your weekend!
---
Keep in mind that while we retain complete editorial control of our content, for some of the ticketing options provided we utilize affiliate links and receive a commission if you purchase through our links.
---
Friday April 26th, 2019
1. PHOTOVILLE LA happening at Annenberg Space for Photography in Century City April 26 – 28 is a photographic festival experience featuring exhibitions of local and international photographers work inside and projected onto repurposed shipping containers, photo cubes and lightboxes. Outside of the art, attendees can also enjoy talks, workshops, family-friendly activities, a beer garden, as well as Smorgasburg selected food vendors. FREE
2. MLB FoodFest comes to Los Angeles for the first time on April 26 – 28. Angelenos can dine on an array of food from the MLB world including Mariners Toasted Grasshoppers, the D-Backs Churro Dogs, Fish and Chips with Mushy Peas from London, the Japanese Curry from Tokyo, and many more.
3. Get up close and personal with sharks at the Aquarium of the Pacific during Shark Lagoon Nights. Guests will have the opportunity to touch bamboo sharks and view large sharks in an after hours setting. FREE
4. The annual Lemon Festival has been an Upland tradition since 1997. The three-day event (April 26-28) will offer a bevy of fun activities including a lemon pie eating contest, carnival rides, live entertainment and more. FREE
5. Head to Dodger Stadium for Friday Night Fireworks and watch the Boys in Blue will take on the Pittsburgh Pirates. There are also games happening all weekend. (DISCOUNTED) via Goldstar
6. There's a new, immersive horror experience at Zombie Joe's Underground theater in North Hollywood titled "I want to live in your mouth." It's a 20 minute show for one single guest that transports them inside a child's nightmare. You'll navigate through corridors, opening doors and meeting creatures, some you wish you had avoided. The show runs Thursday through Sunday through May 5.
7. The Greens at the Rose Bowl (the grounds surrounding the stadium) hosts Final Fridays a family friendly event happening on the last Friday (4-8 p.m.) of every month where food trucks, life-size games, stadium tours and so more are offered.
8. The NoMad Los Angeles recently launched a new food series titled 'For A Limited Time Only' transforming the hotel's coffee shop into a variety of themed pop-ups every Friday and Saturday evening. The first iteration, Mamma Guidara's, takes inspiration from NoMad New York's dinner series of the same name, which itself is inspired by old-school Italian-American red sauce restaurants.
9. Los Angeles County Museum of Art hosts free jazz performances on Fridays through November. Concerts take place at the main entrance. FREE
10. On the last Friday of each month the California Market Center hosts a public sample sale with hundreds of showrooms offering men, women and children fashion as well as gift and home items at below-retail prices.
11. The Institute of Culinary Education is now offering recreational classes in their professional kitchens. This week they'll host an Essentials of Tuscan Cooking class and will teach guests how to make crostini with roasted eggplant, bistecca alla fiorentina, pollo alla Toscana, cipolline agrodolce, almond and anise biscotti to name a few.
12. 4th Fridays on 4th Street activates the "Retro Road" business district in Long Beach on the fourth Friday of every month from 6 to 10 p.m. through extended hours, dining specials, discounted merchandise, pop up shops, art shows, live music, double decker bus rides and more.
13. 260LA will host a Racheal Zoe sample sale from April 23-28 in their Beverly Hills location.
14. Rooftop Cinema Club returns to the rooftops of LEVEL in DTLA and NeueHouse in Hollywood with multiple screenings this week that include A Star is Born, Love & Basketball and more.
Saturday April 27th, 20193
15. Grand Park's "Our L.A. Voices" takes over for a weekend-long spring arts gathering on April 27 – 28 that showcases diverse and important artistic work from Los Angeles county. This free festival features both visual arts exhibits, as well as dance, musical, and theatrical performances. This year's theme is "Origin Stories", and explores and questions Los Angeles perspectives and culture. FREE
16. Ford Theatres presents The Spring Quartet as part of IGNITE @ the FORD!, a series comprised of world-renowned contemporary artists who produce thought-provoking work that reflects the world we currently live in. The Spring Quartet includes GRAMMY® Award-winner, drummer and composer Jack DeJohnette and GRAMMY® Award-winning saxophonist Joe Lovano.
17. Sip tea and enjoy the ocean breeze when Tea by the Sea at the Point Fermin Lighthouse garden in San Pedro returns on April 27. Highlights include tea and refreshments, garden tours, craft booths, self guided lighthouse tours, and more. FREE
18. ColdXela Homebrewed Craft Beer Festival takes over Los Angeles Plaza de Cultura y Artes for a beer festival for a good cause. This fest features over fifty home-brewers from all over Los Angeles County pouring many different styles of beer like IPA, Hazy IPA, Hefeweizen, Lager, to Belgian Saisons, Witbier and Golden Stout, and Cider.
19. Jackalope Pasadena: Spring 2019 comes to Central Park in Old Pasadena April 27 – 28 for an expansive indie artisan art fair. Shoppers can browse indie goods from over 200 makers from clothing, jewelry, houseware, food, and more.
20. Street Food Cinema returns with its first event of 2019, a screening of 500 Days of Summer at L.A. State Historic Park. Check for discounted tickets before making your purchase. (DISCOUNTED) via Goldstar
21. Enjoy two days in the sand listening to some sweet sounds when Travis and Fedley's Back To The Beach Festival hits Huntington State Beach April 27-28. The music lineup includes many ska and 90's rock favorites like Blink 182, The English Beat, Save Ferris, Less Than Jake, Reel Big Fish, The Used, Goldfiner and more.
22. Monterey Park Cherry Blossom Festival happening at Barnes Park on April 27 – 28 is a cultural arts event centered around Japanese and Japanese American culture. The festival features performances like traditional Japanese dancing, the resounding beats of the taiko drums, and martial arts. Attendees can also participate in the ancient art of the tea ceremony and purchase hand-made crafts or food.
23.Tacos y Cervezas returns to Santa Anita Park for the ultimate pairing. Your ticket gets you taco tasting tickets alongside Mexican beer tastings. DISCOUNTED (via Goldstar)
24. Simply diVine 2019 takes over the Hollywood Forever Cemetery for a premier food and wine affair that celebrates and honors LGBT people. Enjoy bites of delicious food and drink from Los Angeles' most popular eateries, wineries, distilleries, breweries and more.
25. The Eclectic, a free music festival and art walk, returns for its 11th year along the streets of South Pasadena for an afternoon of entertainment on outdoor stages, along with local venues, and multiple musical performances. FREE
26. The Broad Museum will host Exhibiting Black Art in 1970s Los Angeles, a conversation related to The Broad's presentation of Soul of a Nation: Art in the Age of Black Power 1963-1983. Co-presented with LACMA, the talk will feature Suzanne Jackson (artist and founder of Gallery 32), Dale Davis (artist and co-founder of the influential Leimert Park-based Brockman Gallery), and Ian White (artist and son of Charles White). Sarah Loyer (curator of The Broad's Soul of a Nation) will moderate the event.
27. Volunteer to clean up the L.A. River! On April 13, 20 and 27, thousands of volunteers scour different parts of the L.A. River, collecting trash and helping to improve the environment.
28. L.A. Sanitation hosts its 4th annual Earth Day celebration at Woodley Park in Van Nuys. The earth-friendly afternoon is fun for the whole family with highlights that include over 50 educational exhibits about sustainability, free food and beverages, live performances, a kids zone and much more. FREE
29. The 14th Annual Freestyle Festival at The Microsoft Theatre includes 80's hit makers Vanilla Ice, Lisa Lisa, Tayler Dayne and many more from genres including R&B, hip-hop and pop. DISCOUNTED (via Goldstar)
30. Get a glimpse of what Los Angeles looked like during the Victorian era when the Homestead Museum's Victorian Fair of the Far West on April 27-28 takes place. The fair will include live music, dance demonstrations, crafts, games, self-guided tours of the museum's historic houses, a fashion show and more. FREE
31. GrowingGreat's Sixth Annual Farm to Table Benefit will include cooking demonstrations by Executive Pastry Chef Della Gossett of Spago, and Austin Cobb, Executive Chef of The Strand House; wine tastings; a live auction, dancing under the stars and a gourmet dinner prepared by Chef Neal Fraser.
32. Cirque du Soleil's AMALUNA heads to the L.A. Waterfront in San Pedro for a magical evening that takes the audience through a journey loosely based on Shakespeare's The Tempest.
33. If Halloween and horror movies are your favorite topics then I Like Scary Movies Experience will be just what you're looking for. Guests can expect to see, hear, feel, and smell recreations of iconic moments from IT (2017), Beetlejuice, The Shining, The Lost Boys, and A Nightmare on Elm Street. There won't be costumed actors jumping out trying to startle but there will be multi-sensory surprises along your winding path. The pop up experience runs April 4 through June 16 Thursday through Sunday.
34.The Original Renaissance Pleasure Faire returns April 6 through May 19 (Saturday and Sundays) at the Santa Fe Dam Recreation Area in Irwindale for another year of fantasy and fun. Adults and kids alike can enjoy an afternoon of games, rides, mouthwatering food and artisan crafts. Check for discounted tickets before making your purchase. DISCOUNTED (via Goldstar)
35. The Santa Monica Conservancy hosts a Downtown Walking Tour uncovering the history of the area and its architectural gems.
36. Norton Simon Museum hosts a Drop-in Drawing every Saturday. Guests can pick up a drawing board, paper and pencil at the Information Desk and enjoy drawing in the galleries and Sculpture Garden.
Sunday April 28th, 2019
37. Taste of the Eastside returns to Los Angeles River Center and Gardens for a day of celebrating food and drink from Eastside neighborhoods including Silver Lake, Echo Park, Eagle Rock, Highland Park, Los Feliz, Atwater Village and beyond.
38. The 14th Annual Thai New Year Songkran Festival 2019 returns to Hollywood's Thai Town neighborhood for one of the largest, free festivals in the area. This vibrant festival features a Sidewalk Cafe with many Thai food choices for purchase plus a Singha Beer Garden with live jazz music.

39. Michael's Santa Monica celebrates its 40-year anniversary as an early pioneer of California cuisine on Sunday with a tasting event benefitting nonprofit No Kid Hungry where an all-star line-up of chef alumni serve their dishes from stations set up throughout the lounge and lush garden patio.
40. CicLAvia, a Los Angeles based nonprofit that opens streets to car-less adventure in L.A. county, returns to Wilmington for its 30th run on April 28. The public is free to run, bike, skate, scoot, or stroll over the span of 2.25 miles. FREE
41. Skirball Puppet Festival: Fantastic Creatures is a celebration of the art of puppetry and the magic of storytelling. This massive festival features both new and old tales, presented by a variety of puppets, in addition to live music, and art making.
42. Pizzana teams up with domaineLA in Hollywood for an Italian-themed wine tasting featuring a selection of natural wines and pizza. Offerings include Cacio e pepe, Neo-Margherita and Diavola Neo-Neapolitan pies. The tasting will take place at domaineLA from 2 to 4:30pm and cost $15 per person which includes both wine and food.
43. Pasadena's One Colorado hosts Happy Hour Week from April 28-May 3 offering live entertainment and specially priced drinks and bites from local restaurants.
44. Angel City Brewery's Sunbather Summer will feature live music with Jam In the Van, food by Downtown Taco Co., live screen printing, giveaways, and a beach photo booth. Free to attend. FREE
45. The go-to flea market for vintage 20th century design is back this Sunday. Downtown Modernism will take place at the Modernica factory showroom, where attendees can browse over 80 vintage modern dealers.
46. Dutch King's Day Celebration takes over Long Beach POA Park for an Amsterdam style street festival. Get a taste of Dutch dining, shop a Dutch style flea market, dance to Dutch tunes and more.
47. The Pasadena Showcase House of Design will take place at the Boddy House on the grounds of Descanso Gardens in La Cañada Flintridge from April 21 through May 19.
Food Pick for the Week
This week's pick by Christina Champlin, Co-Founder of We Like L.A.
Prime rib specialist Lawry's will once again celebrate National Prime Rib Day with a weekend long special by offering a 30-day dry-aged prime rib dinner special. Available in Lawry's Cut ($63) and California Cut ($56) the prime rib comes with their Famous Spinning Bowl Salad, Yorkshire pudding, mashed potatoes and whipped horseradish.
Lawry's is located at 100 N. La Cienega Blvd. Beverly Hills, CA 90211
---
Want to get our to-do lists straight to your inbox every week? Sign up for our email program. Have an upcoming event you'd like suggest for listing? Drop us a line at [email protected]