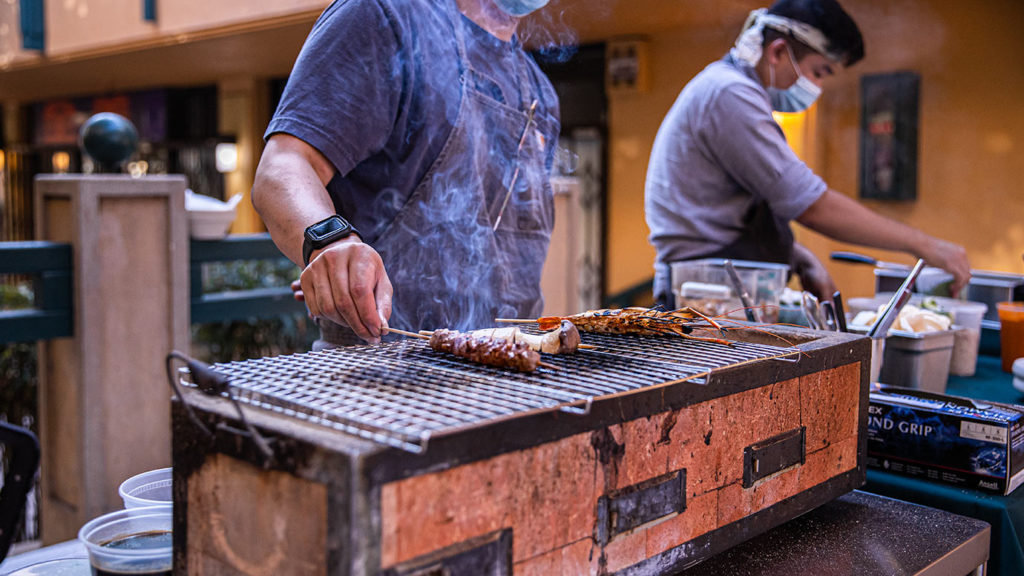 We used to tell you about all the things you could go out and do in Los Angeles on a daily, weekly, and monthly basis. Then, the coronavirus pandemic changed life for all of us, in a thousand small and massive ways. For a while, we posted strictly virtual events to keep you entertained and connected from your home. As the state, county, and city slowly reopen, we'll also include a mix of things you can do outside the house while still abiding by local health orders. We'll still offer plenty of online options for those of you who are self-isolating or who've decided to stay at home for the time being. We'll post a new list of options every Thursday morning. We hope they keep you busy, make you laugh, teach you something, or help you feel less alone.
This week, we've got pop-up dinner events, a Spanish film cinema series, public art installations, virtual art walks, spooky watch parties, Halloween treat demos, and more. Have something you want to submit for next week? Hit us up: [email protected].
---
Out-of-the-House Events
Head over to Chinatown's Mandarin Plaza Oct. 23-24 for Steep After Dark, a tasty pop-up featuring small plates from Chef Shawn Pham (Tsubaki and Ototo) and tea-based mocktails created with Steep LA's tea collection by General Lee's head bartender Philip Ly.
The 4th Annual Haunted Little Tokyo will take place both IRL and online this year from Oct. 23-31. It's a whole week of socially distant Halloween events from the second oldest neighborhood in Los Angeles.
Looking for more Halloween events? We've compiled a list of ongoing events here!
With large gatherings on hold due to the pandemic, Bill Esparza's epic taco festival Taqueando is pivoting to a five-week pop-up called Taqueando Takeover in DTLA. Featuring SoCal's most talented taco purveyors, the series kicks off Oct. 22 with Oaxacan Chef Poncho Martinez of Poncho's Tlayudas.
Gingergrass has a brand new beer and wine tent where you can enjoy adult beverages from Black-owned businesses with your meal.
To celebrate its 71st birthday this year, NORMS will offer deals at all of its locations in L.A., Orange, and Riverside counties, including a 71-cent breakfast on Oct. 28 from 7-9 a.m. The breakfast is limited to one guest per dine-in customer or two per guest for those placing to-go and pickup orders.
On Oct. 29 from 3-5 p.m., Bianca Restaurant in Culver City will host a Halloween High Tea Party. The menu includes mini-pizzas, tea sandwiches, and desserts. Tickets are $30 for adults, $18 for kids, and free for children under 2. Kids will also receive a DIY cooking decorating kit to take home.
Musician Trent Park is hosting another outdoor music video screening on Oct. 28 at Nightview Studios. The event features Halloween-themed drinks, music from DJ Runway, live canvas painting, and more. The screening itself includes Park's new song "River," a Q&A, and more. Tickets start at $10.
Take a walk in the Ghoulish Gardens of the Los Angeles County Arboretum & Botanic Garden this month. The self-guided walk reveals the spooky side of the garden grounds, like trees that strangle other plants, ingredients used in witch's potions, flowers pollinated by bats, and other eerie botanic facts.
Join urban anthropologist and neon historian Eric Lynxwile and Museum of Neon Art Executive DirectorCorrie Siegel on a 1.5-hour, 2-mile outdoor walking tour through Wilshire Center/ Koreatown. The tour spotlights "Hollywood, political turmoil, and immigrant success." Socially distant, masks required. Available Oct. 23 & 24 at 6 p.m. Tickets are $25 here. An adapted Zoom presentation will be available also.
Oct. 22-26, American Cinematheque hosts Recent Spanish Cinema, a drive-in and virtual series of modern Spanish films. The lineup includes The Day of the Beast, Dance with the Devil, Schoolgirls, Instant Love, and more. More info is here.
Grand Park's Downtown Dia de los Muertos public art installations are up Oct. 24-Nov. 4 at Grand Park and Jerry Moss Plaza at the Music Center. Per a release: "With community altars at Grand Park and public art installations on the plaza, each display will feature a 360-degree viewing opportunity to maximize social distancing among guests. Guests are asked not to linger or gather in large groups and to wear face masks to comply with LA County public health orders. To provide context of the public art installations, guests may also listen to five-minute pre-recorded audio guides with storytelling by the artists, available on Grand Park's Mixcloud and YouTube channels."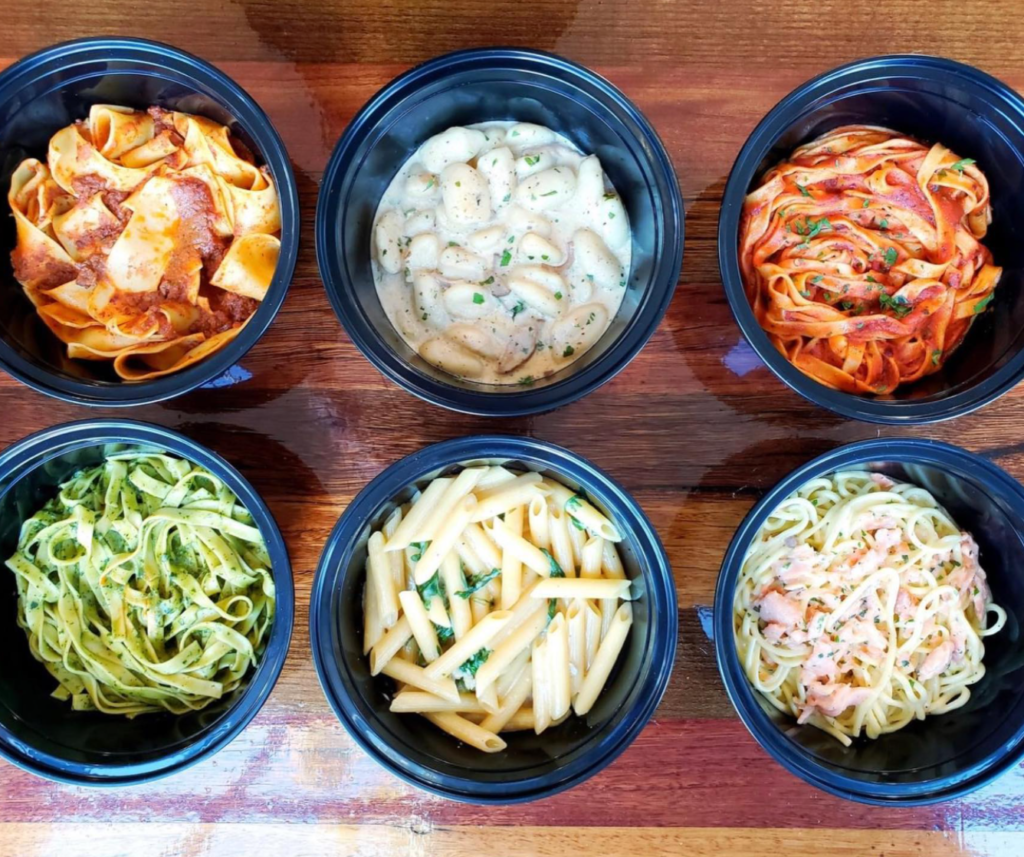 Pasta Sisters Food Truck will collaborate with DTLA's ilcaffeĚ for pasta and cocktails on Oct. 24 & 31 from 4-9 p.m. Order authentic and freshly made pastas from the Pasta Sisters while enjoying ilcaffeĚ cocktails.
MASH Gallery in DTLA presents "Figuratively Speaking": A Haleh Mashian Solo Exhibition on Oct. 24 from 1-7 p.m. Per a release: "The show will feature a collection of works that span Mashian's 25-year study of the female form and showcase her extensive experience working with live models. The women depicted in "Figuratively Speaking" incarnate an organic freedom that was always theirs to begin with and which Mashian expertly cultivates to full bloom on canvas. The exhibition will run through December 2020." The outdoor reception includes live music and face masks are required. Reserve tickets here.
Grand Central Market turns 103 this year and its vendors are honoring the historic open-air food hall with weekly mash-up specials between vendors. This week, Fat & Flour and DTLA Cheese will create house-made focaccia topped with cured meats, seasonal vegetables, and artisanal cheeses available Oct. 25-26. Next week, Knead Pasta Co. and Ramen Hood will collaborate on a pasta available Oct. 29-Nov. 5.
ROW DTLA will celebrate Vote Early Day on Oct. 24 with a new balloon chain installation from Robert Bose and chalk art from Cece Carpio.
On Oct. 25, The Culver Hotel is hosting Sunday's Best with Uncle Nearest, an outdoor meal and whiskey tasting curated by BlackNLA. Available for brunch or dinner. Tickets start at $150/person.
Santa Monica Pier's 'Secret Story Tour' is an app that offers a location-based digital puzzle quest about the pier's history. You can download the app for $19.99 for iOS or Android.
From Friends of Residential Treasures: Los Angeles (FORT:LA), take a self-guided tour of five "witch houses" or storybook-style homes selected by Amber Benson, who portrayed Tara Maclay, a good witch and member of the Scoobies, on Buffy the Vampire Slayer. The tour takes you from Culver City to Burbank and explains the history of each home on the route. Read our interview with Benson here.
Long Beach Creamery released a limited Ruth Bader Ginsburg-inspired ice cream. The Honor Ruth ice cream is inspired by the late Justice's favorite dessert, frozen lime souffle. Honor Ruth is available until election day.
Venice gallery L.A. Louver celebrates its 45th anniversary with a group show titled 45 at 45 featuring works by 45 artists on view Oct.20-Jan.16. David Hockney, Alison Saar, Carmen Argote, and Nick Cave are just a few of the artists on view. The exhibition marks the gallery's reopening. Appointments are required for in-person viewing. Virtual events will also take place during the show's run.
The "Gastro Mechanics" present "TORCHED," an eight-course, blowtorch-powered dining experience on the rooftop of the W Hotel in Hollywood. Dates are Oct. 23 & 24, Nov. 6 & 7, 13 & 14, with three seatings per night at 6:30, 8:00 & 9:30pm. Tickets are $100 per person and available at Eventbrite. Reservations required.
Los Angeles-based Poutine Brothers are teaming up with Brooklyn's famous Mike's Hot Honey to bring Angelenos one of the most mind-blowing food pairings of 2020, a Nashville Fried Chicken Hot Honey Poutine. Available for a limited time from October 20-24 for pickup between 4:30-8 p.m. at 9626 Venice Blvd in Culver City. Order online at poutinebrothers.com.
The LA Zoo hosts a drive-in movie series on select dates through Nov. 1. Tickets start at $40 per vehicle with two guests. Concessions are available through mobile ordering.
Fire Season, a new site-specific work from immersive theater company Capital W, asks you to explore Paramount Ranch, the site of a recent burn, while contemplating wildfires, climate change, motherhood, and mythology. Open October 3-25. Tickets are $45.
Magic Asphalt, a drive-in comedy series in the Magic Castle's parking lot, returns this Friday, Saturday, and Sunday.
At-Home & Online Events
Cactus Gallery's next show, Landscapes, is a group show featuring over 25 artists. It opens online on Oct. 24 at 3 p.m.
Théâtre Raymond Kabbaz (TRK), the performance space at Le Lycée Français de Los Angeles, presents ANIMATION FEST on Oct. 28 at 8 p.m. It features several short animations from 2019 and 2020. Tickets are $12.
Esotouric's next webinar "Los Angeles Underground: Sleuthing Tunnels Lost & Found" airs live on Oct. 24 at noon. Tickets are $10 and grant you access to the webinar for one week.
On Oct. 22-24 & 28-31, REDCAT presents artist Paul Outlaw's BigBlackOctoberSurprise. Synopsis: "A conservative American white woman finds herself transformed into what she considers a "monstrous vermin" (Kafka) — a Black man." Tickets are $15.
On Oct. 24 at 5 p.m., musician Macy Gray and Demi Weitz will host the Halloween Bingo Bash fundraiser for MyGood.org, a nonprofit that supports families of victims of police brutality. The online event will feature appearances and performances from Gray, musician Sheila E., comedians Wanda Sykes and Maz Jobrani, actor Page Kennedy, financial expert Suze Orman, and more, plus a costume contest and a scavenger hunt for prizes. To sign up for Bingo, visit MyGood.org.
From [email protected]: "Urban Light draws visitors to its iconic glow. The assemblage of historic street lamps are radiant beacons and this soundtrack by LACMA and Frosty (dublab) is an extension of that luminous spirit. Listen on Mixcloud, Spotify, and Apple Music!"
Santa Monica Mosaic: Belmar Brings It Forward's next virtual lecture is on Oct. 28 at 5 p.m. This time, historian Alison Rose Jefferson, Ph.D., and social practice artist April Banks will discuss the "multifaceted civic project known as Belmar History + Art, which commemorates the erased African American history of Belmar and other nearby neighborhoods razed in the 1950s."
CAP UCLA's Tune In Festival is Oct. 28-31 and features four days of music and poetry from over 20 artists. Free with RSVP.
18th Street Arts Center's next virtual workshop is on Oct. 24 at 11 a.m. Per a release: "Learn about the MesoAmerican Dia de Muertos Tradition with artist and performer Paulina Sahagun. This workshop will introduce participants to the basic philosophy of this sacred cultural ancestral ritual celebration of life and death. Participants will be guided to create an essential Ofrenda/Altar for your ancestors and recently departed loved ones, adapted for our present times of Covid-19." See the materials you will need and register for free here.
Starting Oct. 26, OC Parks will host a series of virtual Halloween events, including trivia, crafts, and a concert. Connect on social media to join.
Fun Size Horror's Shocktale Party, Season 2 is available to watch on Amazon Prime. Episodes include terrifying horror shorts interspersed with a public access-style comedy show featuring puppet hosts Screwball and Mistress Minerva. They'll also interview the filmmakers, assuming they do not eat them. Shocktale Party previously debuted last year at Alamo Drafthouse in DTLA back when there were, you know, movie theaters. There were some true gems in there for fans of both horror and horror-comedy, so we expect nothing less from Season 2. Join FSH for a watch party on Oct. 24 at 7 p.m. on Instagram.
The 10th annual Yoga Reaches Out is online on Oct. 25. The virtual format means there is no attendance cap so anyone, anywhere can drop in to practice. Registration is $25 and benefits Boston Children's Hospital's Every Child Fund.
On Oct. 22 at 7 p.m., catch The Original Banda El Limon by Salvador Lizzaraga Virtual Concert, streamed live from SIXTH SENSE Studios. Tickets start at $5.
Skirball Stages' next virtual concert film series features Dustbowl Revival and klezmer sensation Mames Babegenush. Free on Skirball's YouTube channel on Oct. 24 at 8 p.m..
Comedian Jonah Ray will fill in for RISK!'s founder and host Kevin Allison on Oct. 23 at 7 p.m. Hear unbelievable true stories from Jacoby Cochran, Kate Cunningham, Kathleen Volk Miller and D'Arcee Charington. Tickets are $15. A portion of the proceeds from this show will benefit National Queer and Trans Therapists of Color Network.
Watch Travis DeRose's interview with Griffith Observatory Deputy Director Mark Pine to learn all about the beloved L.A. landmark.
Gourmandise hosts a 3-hour DIY Halloween Candy course on Sunday, Oct. 25 and a special Parent & Child: Halloween Treats! class on Saturday, Oct. 31. Participants will learn how to make apple cider caramels, peanut butter cups, and pumpkin spice Oreos. Register here.
The Fall Brewery ArtWalk goes virtual this year Oct. 24-25 with Zoom webinars, Q&As, and tours.
The annual ArtNight Pasadena will be held virtually this year on Oct. 23. Over a dozen venues will provide online performances that you can stream from your home.
The 97-year-old Sierra Madre Playhouse will host its marquee relighting ceremony on Oct. 23 at 6 p.m. The general public can attend virtually as it livestreams on YouTube.
Otis College's virtual forum "Race & The Creative Economy" is on Oct. 22 at 3 p.m. Per a release: "Join Otis College of Art and Design for a live webinar with Creative Economy leaders discussing Race and The Creative Economy. Since 2007, Otis College of Art and Design has published the Otis Report on the Creative Economy. In advance of the 2021 edition, this virtual panel will shine a light on the impact of COVID-19 on Los Angeles' Creative Economy and how Los Angeles can address sustainable racial equality and inclusivity within these important sectors." Watch here.
The LA Times Festival of Books, Stories and Ideas is hosting 25 free virtual events this year from Oct. 18-Nov. 13.
QuaramSCREAM is a live, online theater experience that adapts the 90s horror-comedy Scream for an online audience. In this version, the characters are trapped in their homes due to the pandemic when a masked killer arrives. The story unfolds over social media and video chat and the viewer can participate in a drinking game and chat. Upcoming dates include Oct. 24. & 30 at 7 p.m. Tickets are $30.
Getty Museum and Center Theatre Group partner to digitally premiere MacArthur Fellow Luis Alfaro's Chicanx adaptations of Electricidad, Oedipus El Rey, and Mojada, each filmed at the Kirk Douglas Theatre and premiering over three Saturdays in October. The release schedule is Electricidad on October 17, Oedipus El Rey on October 24, and Mojada on October 31, all at 5 p.m. Watch for free at CenterTheatreGroup.org/LuisTrilogy through December 31.
The Wallis Annenberg Center for the Performing Arts presents a digital engagement of WIESENTHAL, the Off-Broadway production based on the life of Simon Wiesenthal written by and starring Tom Dugan, on October 20 -27. Per a release: "Directed for stage by Jenny Sullivan, the riveting one-man show, filled with hope, humanity and humor, tells the true story of Wiesenthal, often called the "Jewish James Bond," a Holocaust survivor who devoted his life to bringing more than 1,100 Nazi war criminals to justice after WW II." Tickets are $50 per household here.
The annual celebration of the beloved mountain lion who crossed two freeways P-22 Day will go virtual this year. On Oct. 24, join National Wildlife Federation's California Regional Executive Director Beth Pratt on a 50-mile hike similar to the one that P-22 took to Griffith Park. The event also includes interactive games and much more.
The Music Center's digital series, For the Love of L.A., "celebrates the creativity of Los Angeles and supports L.A.-based artists representing the disciplines of music, dance, visual culture and more." See it every Tuesday through February 9 on Instagram.
The A+D Museum's new online exhibit, Designing Worlds: Re-envisioning Realities through Video Games, will take you inside the art, design, and narrative of some incredible games. As you scroll, you'll be taken from game to game, learning about what went into creating each one's unique feel. Definitely check this one out!
CAP UCLApresents Forced Entertainment's Complete Works: Table Top Shakespeare: At Home through November 15. Via a release: "In 2016, CAP UCLA presented Complete Works: Table Top Shakespeare, which comprised condensed versions of all 36 of the plays of William Shakespeare over six days on the stage of Royce Hall. Each performance was limited to a maximum of 100 people, so many of our patrons were unable to attend. For our 2020-21 Season we are pleased to be able to once again share all 36 plays with our audiences—only this time they will be the at-home versions where the six performers will restage the project online direct from their kitchen tables, each currently isolated in different places including Sheffield, London and Berlin." See the full schedule here.