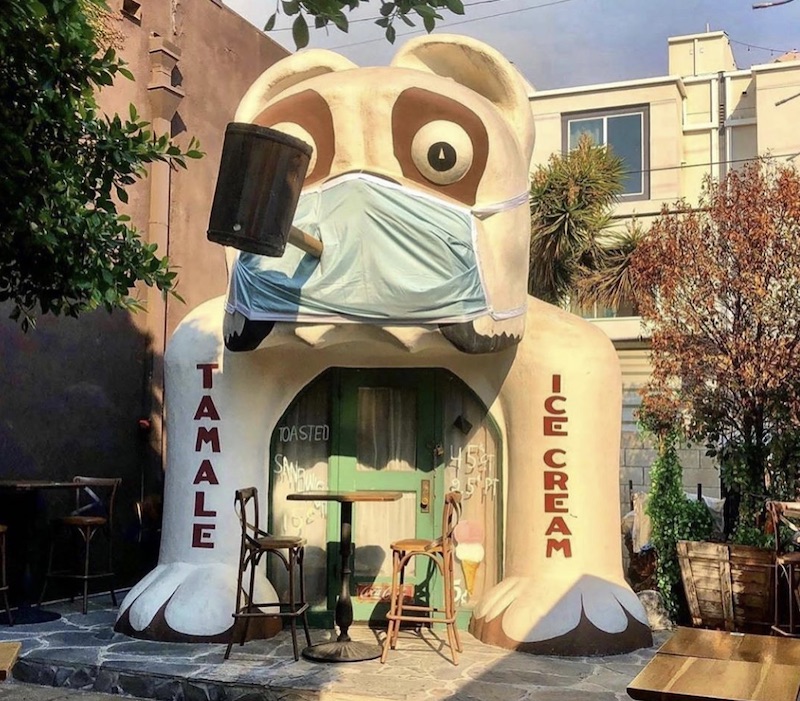 We used to tell you about all the things you could go out and do in Los Angeles on a daily, weekly, and monthly basis. Then, the coronavirus pandemic changed life for all of us, in a thousand small and massive ways. For a while, we posted strictly virtual events to keep you entertained and connected from your home. As the state, county, and city slowly reopen, we'll also include a mix of things you can do outside the house while still abiding by local health orders. We'll still offer plenty of online options for those of you who are self-isolating or who've decided to stay at home for the time being. We'll post a new list of options every Thursday morning. We hope they keep you busy, make you laugh, teach you something, or help you feel less alone.
This week, we've got Halloween and Day of the Dead events, family scavenger hunts, Election Day freebies, drive-in screenings, outdoor dining pop-ups and tea parties, and more. Have something you want to submit for next week? Hit us up: [email protected].
---
Out-of-the-House Events
Street Food Cinema pivots to a drive-in format with three nights of Halloween-themed movie screenings Oct. 30-Nov. 1 at Santa Anita Park. The park's Gourmet Classic Menu will also be available for pre-orders and mobile orders on-site.
While most in-person Day of the Dead events have been canceled this year, there are several virtual programs to stream and outdoor altars you can visit. Check out our guide to celebrating Día de los Muertos in Los Angeles.
Looking for more Halloween events? We've compiled a list of ongoing events here!
Make a reservation for a Halloween-themed tea service, sip spooky cocktails at an outdoor Halloween party, or schedule a werewolf to deliver beer straight to your door. These are just some of the things included in our guide to Spooky, Seasonal Treats to Get You in the Halloween Spirit.
The 4th Annual Haunted Little Tokyo will take place both IRL and online this year from Oct. 23-31. It's a whole week of socially distant Halloween events from the second oldest neighborhood in Los Angeles.
The city of San Marino's Community Services offers a family scavenger hunt for children 14 and younger as an alternative to trick-or-treating. From Oct. 28-30, download the map, go on a scavenger hunt, and receive a free goodie bag at the recreation department.
Election Day is Nov. 3! Don't forget to vote, plus check out our guide to voter freebies and deals.
The City of Los Angeles and Councilmember Monica Rodriguez present a community Día de los Muertos altar Nov. 1-15 at Pacoima City Hall. Visit on foot or by car.
ARRAY Drive-In presents: 'GET OUT' the vote with 'SELMA' Oct. 30-31 at 7:30 p.m. See Selma on Oct. 30 or Get Out on Oct. 31. On Oct. 30, LA County's LA Vote mobile voting center will be available for in-person voting and ballot drop-offs. Free with registration.
Legion M will celebrate the 2-year anniversary of MANDY, a very bizarre horror film staring Nicolas Cage as a logger out for vengeance, with a series of drive-in screenings around the country. In Los Angeles, catch it at the Vineland Drive-In Theater in the City of Industry on Oct. 30 at 10:30 p.m. All guests will receive a free box of Cheddar Goblin mac & cheese (which makes perfect sense if you've seen the film) while supplies last. Tickets are $10.
Board and Brush in Santa Monica is throwing a Pumpkin "Craft" Patch event on Oct. 31 from 10 a.m. to 2 p.m. During each 40-minute time slot, kids can enjoy crafts and a DIY caramel apple bar. Parents may enjoy an adult beverage if they so choose. Tickets are $25/child. Registration and masks required.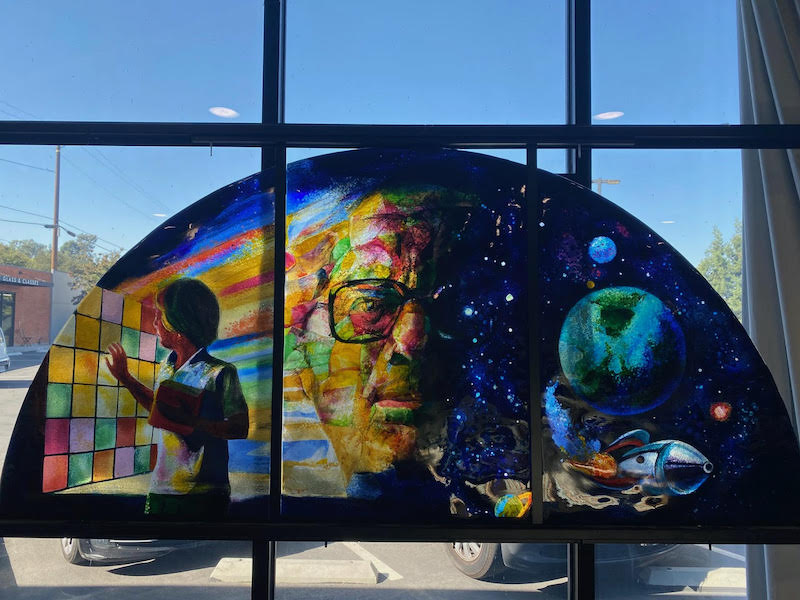 On Oct. 29 from 6 to 8 p.m. during the weekly South Pasadena Farmers Market, guests can see artist Tim Carey's "Live Forever," fused glass windows inspired by author Ray Bradbury. The pieces were made at Judson Studios in South Pasadena. Find them beneath the fig tree outside the South Pasadena Public Library.
Idle Hour will host Halloween movie night on its patio on Oct. 31. Screenings kick off at 5 p.m. with Hocus Pocus, Psycho, and Halloween. Enjoy themed drinks and unlimited popcorn. Two-hour reservations are available on Resy. Idle Hour's outdoor patio is also now open for weekend brunch 11 a.m. to 3 p.m. on Saturdays and Sundays.
Lunetta is celebrating "Hulaween" with a special Hawaiian tasting menu starting Oct. 28 and a Luau on Halloween (costumes encouraged) on its three patios. It's $58/person for starters, a choice of entree, and dessert. Choices include Kona Kampachi poke served on crispy lotus root chips, grilled pineapple & Spam spring rolls, Hawaiian chicken sliders, wood-grilled Hawaiian snapper, Huli Huli BBQ pork ribs, and more. Dessert is pineapple upside-down cake. Available for pick-up, delivery, or dine-in.
The Spare Room at the Hollywood Roosevelt reopens outdoors on Oct. 28 as The Spare Room…Somewhere Else. Find it behind the pool for bocce, cocktails from Bar Director Yael Vengroff, and small plates. Open Wednesday through Thursday from 5-11 p.m., and Friday through Sunday from 3-11 p.m. Reservations recommended, available on Resy. 
With large gatherings on hold due to the pandemic, Bill Esparza's epic taco festival Taqueando is pivoting to a five-week pop-up called Taqueando Takeover in DTLA. Featuring SoCal's most talented taco purveyors. On Oct. 29-31, it's Surf and Turf Taco Nights with Mariscos Jalisco and Tacos El Ruso serving their signature shrimp and carne asada tacos.
On Oct. 29 from 3-5 p.m., Bianca Restaurant in Culver City will host a Halloween High Tea Party. The menu includes mini-pizzas, tea sandwiches, and desserts. Tickets are $30 for adults, $18 for kids, and free for children under 2. Kids will also receive a DIY cooking decorating kit to take home.
Take a walk in the Ghoulish Gardens of the Los Angeles County Arboretum & Botanic Garden this month. The self-guided walk reveals the spooky side of the garden grounds, like trees that strangle other plants, ingredients used in witch's potions, flowers pollinated by bats, and other eerie botanic facts.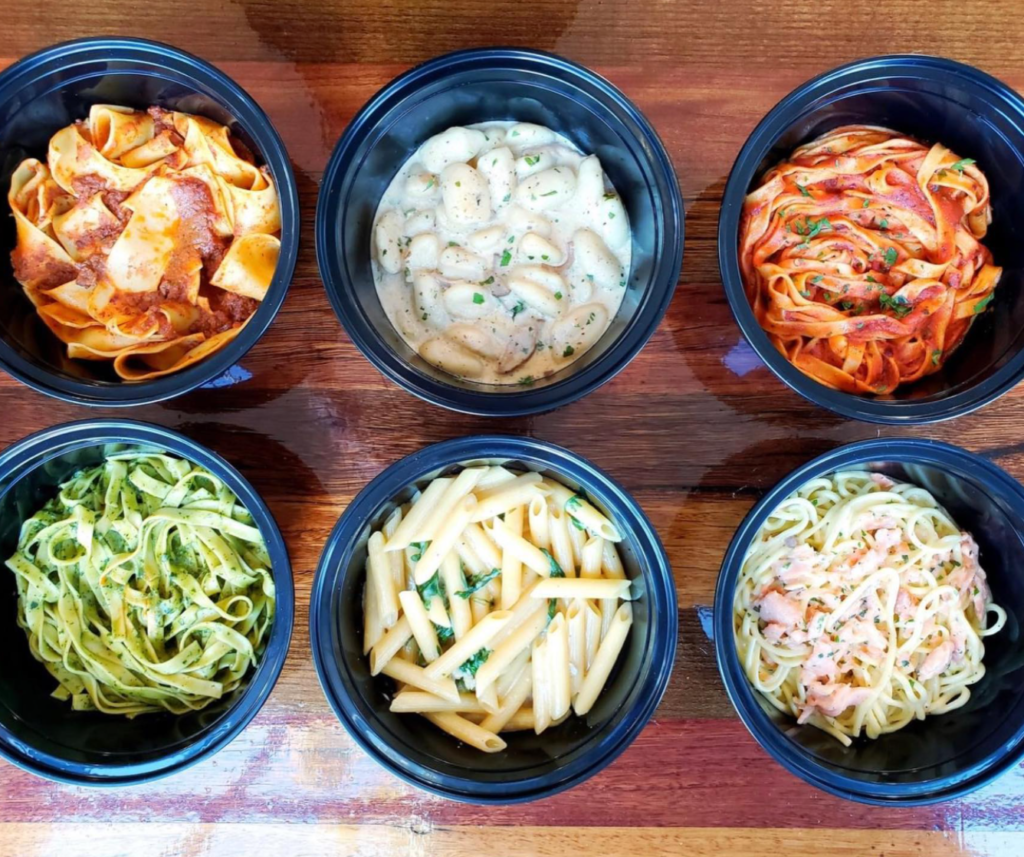 Pasta Sisters Food Truck will collaborate with DTLA's ilcaffeĚ for pasta and cocktails on Oct. 31 from 4-9 p.m. Order authentic and freshly made pastas from the Pasta Sisters while enjoying ilcaffeĚ cocktails.
Grand Central Market turns 103 this year and its vendors are honoring the historic open-air food hall with weekly mash-up specials between vendors. Knead Pasta Co. and Ramen Hood will collaborate on a pasta available Oct. 29-Nov. 5.
Santa Monica Pier's 'Secret Story Tour' is an app that offers a location-based digital puzzle quest about the pier's history. You can download the app for $19.99 for iOS or Android.
From Friends of Residential Treasures: Los Angeles (FORT:LA), take a self-guided tour of five "witch houses" or storybook-style homes selected by Amber Benson, who portrayed Tara Maclay, a good witch and member of the Scoobies, on Buffy the Vampire Slayer. The tour takes you from Culver City to Burbank and explains the history of each home on the route. Read our interview with Benson here.
Venice gallery L.A. Louver celebrates its 45th anniversary with a group show titled 45 at 45 featuring works by 45 artists on view Oct.20-Jan.16. David Hockney, Alison Saar, Carmen Argote, and Nick Cave are just a few of the artists on view. The exhibition marks the gallery's reopening. Appointments are required for in-person viewing. Virtual events will also take place during the show's run.
The LA Zoo hosts a drive-in movie series on select dates through Nov. 1. Tickets start at $40 per vehicle with two guests. Concessions are available through mobile ordering.
Magic Asphalt, a drive-in comedy series in the Magic Castle's parking lot, returns this Friday, Saturday, and Sunday.
At-Home & Online Events
The 2020 Virtual Los Angeles Printers Fair hosted by The International Printing Museum is ongoing through November.
NHMLA's next virtual panel "brings together youth climate activists organizing for climate change and environmental justice throughout Los Angeles." NHM's Assistant Curator of Ornithology Allison Shultz moderates a conversation with L.A. youth organizer Amelia Pinto, Statewide Board Chair of CALPIRG Students Nic Riani, and Founder & Executive Director of OneUp Action Kevin J Patel. This event complements the museum's online exhibition Rise up L.A.: A Century of Votes for Women. Free.
The Groundlings Theatre's online Halloween-themed improv show Cookin' With GAS: Online Edition is on Oct. 29 at 7 p.m. Guests include Lauren Burns, Matt Cook, Patty Guggenheim Chris Kattan, Kiel Kennedy, Sandi McCree, and Emily Pendergast. Tickets are $12 here.
SOUND/STAGE, a new video series from the LA Phil, features musical performances filmed at The Hollywood Bowl paired with films, interviews, essays and artwork. Performers include Kamasi Washington, Chicano Batman, and orchestral concerts conducted by Gustavo Dudamel. The program streams weekly through Nov. 20. Free to watch (donations encouraged).
On Oct. 29, the Bourbon Room and Rolling Live Studios present "Tricks & Treats—A Cyber Clown Girls Halloween LIVE from The Bourbon Room." The Cyber Clown Girls used to dance at a Hollywood bar until COVID-19 shut it down. The virtual show will raise money for Gender Justice LA, Black Lives Matter, Clean Air Task Force, and Save Our Stages. General Admission starts at $10 and grants access to a "1-hour, hedonistic, Halloween-themed, pole-dancing, neo-burlesque extravaganza." VIP tickets include costume contacts, private chats, and more. Obviously, this one's for adults.
From LACMA@Home: "Inspired by the phenomenal Tim Burton retrospective at LACMA, this playlist evokes some of the playful and spooky forces in Burton's oeuvre with tracks by Shlohmo, Airhead, Flying Lotus with Matthewdavid, and much more."
Elvira's Haunted Hills Late-Night Movie Screaming presented by the LA LGBT Center and Scream Factory on Oct. 30 will screen the 2001 comedy horror flick Elvira's Haunted Hills. The virtual event will be hosted by the horror icon herself Elvira, Mistress of the Dark.
The next Ford Digital Festival, "Tovaangar Today," is on Nov. 1 at 4 p.m. Per a release: "Before Los Angeles' name was first written on a map, there was Tovaangar: a gathering place and nurturing home to the Tongva people. Co-curated by Kenny Ramos, Jessa Calderon and Kelly Caballero, Tovaangar Today is a virtual celebration of the Native artists and cultural creators who still thrive in the region, working as poets, actors, emcees, multimedia artists and advocates. While centering on the Tongva and other California Nations, the festival will also feature artists from the local intertribal urban Native diaspora and highlight the connections between art, activism, identity and tribal sovereignty."
Two Bit Circus's Remote is a live, play-from-home interactive game show where guests "compete in a line-up of ridiculous and challenging games in an hour full of classic, comical, adult-friendly entertainment." It's every Thursday at 7 p.m.
Theatricum's Boo-tanicum Zoom-tanicum is on Oct. 31 at 4 p.m. Per a release: "Theatricum's creepiest company members are gathering on Zoom this Halloween to share some spooky stories. Enjoy festive fiction for all ages and then stick around for some truly haunting tales… if you dare!" Tickets are free here.
Local duo OYLS's new record is available to listen to now. According to the band, they partnered with MusiCares and sold off the space on the album art to advertisers and raised $2000 for in support of artists in need of mental health and recovery resources. Give it a listen here.
Holocaust Museum LA presents Recalling a Lost World: David Labkovski Brings the Stories of Sholem Aleichem to Life, a "new virtual exhibit that features Labkovski's vibrant illustrations inspired by the stories of leading Yiddish author and playwright Sholem Aleichem." Open Oct. 28 through Dec. 2020. A virtual opening event on Oct. 28 at 11 a.m. includes participants from the museum and David Labkovski Project as well as the Consuls General of Israel and Lithuania.
The Witch's Kitchen is "a roving cabaret that will unfurl over the next year as a series of conversations, screenings, performances, and culinary experiences. It launches on Oct. 29. Artist Shana Lutker will talk with Mexico City-based artist Adriana Lara.
Elvira, Mistress of the Dark and Puddles Pity Party join sword-swallower Brett Loudermilk on Thursday, Oct. 29 at 5 p.m. and Oct. 30 at 7 p.m. for a streaming Halloween show. Also, Gilbert Gottfried plays Dracula. Tickets are $25. More info here.
The Fowler Museum host a virtual cooking class with Oaxacan restaurant Guelaguetza on Oct. 30 at 5 p.m. Students will learn how to make mole estofado. Free with RSVP.
Vampire.Pizza is back Halloween weekend with an at-home puzzle game and dinner. Each game kit comes with pizza, salad, dessert, plus"an invitation to enter Vampire Belle's secret world of story and game." Delivery and pickup are available between 5-9 p.m. on Oct. 30, 11 a.m. to 9 p.m. on Oct. 31. $32.99/person for two, $27.99/person for four.
On Oct. 28-31, REDCAT presents artist Paul Outlaw's BigBlackOctoberSurprise. Synopsis: "A conservative American white woman finds herself transformed into what she considers a "monstrous vermin" (Kafka) — a Black man." Tickets are $15.
CAP UCLA's Tune In Festival is Oct. 28-31 and features four days of music and poetry from over 20 artists. Free with RSVP.
Starting Oct. 26, OC Parks will host a series of virtual Halloween events, including trivia, crafts, and a concert. Connect on social media to join.
Fun Size Horror's Shocktale Party, Season 2 is available to watch on Amazon Prime. Episodes include terrifying horror shorts interspersed with a public access-style comedy show featuring puppet hosts Screwball and Mistress Minerva. They'll also interview the filmmakers, assuming they do not eat them. Shocktale Party previously debuted last year at Alamo Drafthouse in DTLA back when there were, you know, movie theaters. There were some true gems in there for fans of both horror and horror-comedy, so we expect nothing less from Season 2.
Gourmandise a special Parent & Child: Halloween Treats! class on Saturday, Oct. 31. Participants will learn how to make apple cider caramels, peanut butter cups, and pumpkin spice Oreos. Register here.
The LA Times Festival of Books, Stories and Ideas is hosting 25 free virtual events this year from Oct. 18-Nov. 13.
QuaramSCREAM is a live, online theater experience that adapts the 90s horror-comedy Scream for an online audience. In this version, the characters are trapped in their homes due to the pandemic when a masked killer arrives. The story unfolds over social media and video chat and the viewer can participate in a drinking game and chat. Upcoming dates include Oct. 30 at 7 p.m. Tickets are $30.
Getty Museum and Center Theatre Group partner to digitally premiere MacArthur Fellow Luis Alfaro's Chicanx adaptations of Electricidad, Oedipus El Rey, and Mojada, each filmed at the Kirk Douglas Theatre and premiering over three Saturdays in October. The release schedule is Electricidad on October 17, Oedipus El Rey on October 24, and Mojada on October 31, all at 5 p.m. Watch for free at CenterTheatreGroup.org/LuisTrilogy through December 31.
The Music Center's digital series, For the Love of L.A., "celebrates the creativity of Los Angeles and supports L.A.-based artists representing the disciplines of music, dance, visual culture, and more." See it every Tuesday through Feb. 9 on Instagram.
CAP UCLApresents Forced Entertainment's Complete Works: Table Top Shakespeare: At Home through Nov. 15. Via a release: "In 2016, CAP UCLA presented Complete Works: Table Top Shakespeare, which comprised condensed versions of all 36 of the plays of William Shakespeare over six days on the stage of Royce Hall. Each performance was limited to a maximum of 100 people, so many of our patrons were unable to attend. For our 2020-21 Season we are pleased to be able to once again share all 36 plays with our audiences—only this time they will be the at-home versions where the six performers will restage the project online direct from their kitchen tables, each currently isolated in different places including Sheffield, London and Berlin." See the full schedule here.