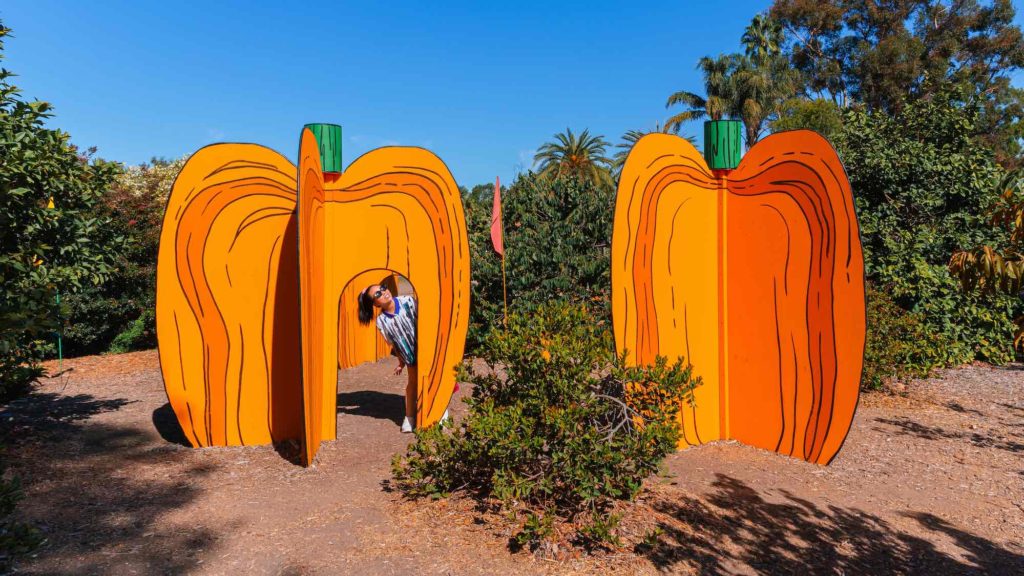 Every week in Los Angeles there are tons of great things to do (even before the weekend gets started) that we think you ought to have on your radar. With that in mind, we put together a list every Monday through Friday morning to keep you in the know about what's happening in the city you love (or maybe just like).
This week, from Monday, October 21 to Friday, October 25, features Astronomy on Tap, a Lady Killers Trivia Night, Carved at Descanso Gardens, The WestEdge Design Fair, Late Night! Stanley Kubrick, Psycho Live at Theatre at Ace Hotel and MUCH more.
Remember you can always go to our L.A. events calendar page to get an updated rundown of what's happening around the city.
Hope you find the rundown useful and, as always, enjoy your week!
---
Keep in mind that while we retain complete editorial control of our content, for some of the ticketing options provided we utilize affiliate links and receive a commission if you purchase through our links.
---
Monday October 21st, 2019
1. The folks at Scratch|Bar presents Magic|Bar, an evening of spooky illusions in a speakeasy setting led by bartender/magician Benjamin Schrader. Join him and a few of his world-famous magician friends for an unforgettable night, raise your "spooky" punch glass and indulge in some deliciously eerie finger foods fit for this season. Happening October 21-22, 28-29 and Halloween night. Make reservations here.
2. Enjoy a bit of spooky fall family fun at Mr. Bones Pumpkin Patch in Culver City all week. Don't forget to snap that iconic picture in front of the pumpkin house!
3. Astronomy on Tap hosted by Caltech Astronomy happens once a month at Der Wolf in Pasadena. Professionals will give informal talks about a variety of topics while enjoying German beers with the public.
4. Chris Hayes, along with Academy Award-winning writer and director Adam McKay and author Omar El Akkad, come to The Theatre at Ace Hotel to attempt to break down how to talk about climate change in our media and culture.
5. PUNK THE CAPITAL: A DC Punk Documentary screening at The Regent Theater followed by a Q&A with Henry Rollins and co-director James June Schneider.
6. E.P. & L.P. in West Hollywood continues their stylish cinema series Melrose Rooftop Theatre with a screenings of The Conjuring, I Know What You Did Last Summer and more this week.
7. There's a free Monday Night Fiction Workshop at Beyond Baroque in Venice this Monday. The weekly workshop will be facilitated by author, screenwriter, playwright, and director Barra Grant. FREE
Tuesday October 22nd, 2019
8. The Natural History Museums latest exhibit dives into the scientific inspiration behind some of Hollywoods most terrifying creatures. "Natural History of Horror" runs through April 19, 2020 and will include rare movie props, film footage, activities and museum specimens.
9. Pumpkin Nights feature thousands of carved pumpkins across several pumpkin-themed lands accompanied with special holiday activities. Happening October 10 through November 3.
10. There's a daily Great Pumpkin Hunt happening at the South Coast Botanic Garden featuring an imaginative scavenger hunt, light hiking, a pumpkin shop and access to the gorgeous 87-acre grounds. Great for families. Halloween costumes are welcome.
Wednesday October 23rd, 2019
11. Norms celebrates their 70th anniversary with a 70-cent breakfast special on Wednesday, October 23, from 6 to 9 a.m. You can order the 70-cent breakfast special featuring a few diner favorites; 2 pancakes, 2 eggs done any style and a choice of 2 pieces of bacon or sausage.
12. Carved debuts at Descanso Gardens October 23-27 with a thousand professionally-carved pumpkins featuring themes like superheroes, famous movie monsters, and more. Guests can enjoy seasonal snacks, live carving demonstrations, and special surprises at the family-friendly event.
13. Los Angeles Haunted Hayride will unify under one theme this year Midnight Falls a fictional town in 1985 filled with macabre characters. Check out the Roadkill Ranch on the outskirts of town; Trick or Treat in a ghoulish neighborhood; drop by the local mortuary, or engage in mini-escape games. Of course, the centerpiece remains the hayride, which will take guests straight to the hellish portal from which the town's nightmares escape. Check for discount tickets before making your purchase. DISCOUNTED (via Goldstar)
14. The Mermaid bar will host a Lady Killers Trivia Night. Topics include true crime, unsolved mysteries, and serial killers. Game starts at 8 p.m. drink specials, prizes, and a bloody good time will be had. Costumes are encouraged.
15. Lucha VaVOOM Fiesta Fantasma is back for another spectacular lucha libre show Halloween style. Happening October 23-24.
16. The Haunted 2: Welcome Foolish Mortals is an art exhibit inspired by places like the Haunted Mansion at Disneyland. Marvel at creepy animatronic works alongside paintings, sculptures, and jewelry. Happening at The Hive Gallery in Downtown Los Angeles the exhibit will run October 6 through November 3 and is free to view. FREE
17. Artist Maximillian's popular horror-themed pop-up I Like Scary Movies returns for Halloween season September 20 through November 17. The detailed and beautiful series of installations is a love letter from the artist to iconic horror films like The Lost Boys, Beetlejuice, and The Shining. Runs Wednesday through Sundays. Check for discount tickets before making your purchase. DISCOUNTED (via Goldstar)
18. Every Wednesday The Continental Club in DTLA features live jazz hosted by Matthew Yeakley plus complimentary mini cupcakes from Big Man Bakes. No cover!
Thursday October 24th, 2019
19. The WestEdge Design Fair is a massive event spanning four days (October 24-27) solely focused on good design. Featuring hundreds of exhibitors, attendees will be able to shop and learn from industry leaders and tastemakers.
20. Disco Dining Club and the Grim Weather return with another lavish, elaborately themed dinner party this time they're summoning one of literature's greatest hedonists: Dorian Gray. The Depraved Attic of Dorian Gray consists of a 5-course meal via Chef Laurent Quenioux; themed cocktails from Happy Hour Academy; caviar from East Boston Oysters; immersive performances; live music, dance numbers, and parting gift bags. The entire party will take place within Oscar Wilde's gothic horror work, The Picture of Dorian Gray. Seatings are available October 24-26 at a private location in Hollywood.
21. The Queen Mary's Dark Harbor returns with six terrifying mazes, including the brand new Rogue, in which the crew either is (or isn't?) working to save the capsized vessel you're trapped aboard. Nightly entertainment, rides, roaming monsters, and themed lounges round out Dark Harbor's offerings. Happening September 26 through November 2. Check for discount tickets before making your purchase. DISCOUNTED (via Goldstar)
22. Want to celebrate Halloween early? Universal Studios Halloween Horror Nights has been spooking crowds for over 25 years, the park employs the industry's best special effects to bring pop cultures most famous movies and shows to life. Mazes include Stranger Things, Walking Dead and the new Ghostbusters experience. Check for discounted tickets before making your purchase. DISCOUNTED (via Goldstar)
23. Resolve and The Dodo present Pet School at The Wallis Annenberg Pet Space. Take your four legged friend along to learn about training tweaks, trick hacks and plenty of pampering as a reward.
24. Museum of Latin American Art celebrates De Generación a Generación: A Subconscious Lineage their 2019 Día de los Muertos exhibition with an opening reception where guests can meet the artists of the altars and artwork displayed. FREE
25. Creep L.A. presents the fifth installment of HAUS OF CREEP an immersive 75-minute experience that takes guests in a bizarre world where reality and performance art blur in a very dark way. HAUS OF CREEP will run from September 13 through November 3 on all weekends with some weeknights available.
26. OUE Skyspace hosts a happy hour every Thursday this month from 5-9 p.m. with $6 beer, $8 wines, $10 signature cocktails and $2 tacos. Guests will also enjoy Thursday Night Football and music by KCRWs Anthony Valadez.
27.Nights of the Jack, a half mile trail completely filled with thousands of pop culture inspired hand-carved illuminated Jack O'Lanterns returns to King Gillette Ranch in Calabasas October 3 through November 3 for a spooktacular family friendly event.
28. Every Thursday the Motherland comedy show brings known comics to the stage for free at Filipino restaurant Kusina Filipina in Eagle Rock. FREE
Friday October 25th, 2019
29. Late Night! Stanley Kubrick at The Skirball celebrates their latest exhibition Through a Different Lens: Stanley Kubrick Photographs, with an after-hours event featuring access to the galleries, a DJ, food trucks, and a cash bar. Kubrick's The Shining will then be screen outdoors starting at 7:30 p.m. Admission is $5.
30. The LA Opera and the Theatre at Ace Hotel present a screening of Psycho paired with a live orchestra performing the iconic score. Check for discounted tickets before making your purchase. DISCOUNTED (via Goldstar)
31. The Sivley family is back for their 48th year of hosting the award winning, Beware the Dark Realm a haunted house experience in the city of Santa Clarita. The haunt will run every Friday and Saturday thorough the end of the month. FREE
32. The Roadium Drive-In returns with a Halloween edition screening Beetlejuice in a classic 1950's drive-in setting.
33. FIGat7th will celebrate Day of the Dead with a day of festivities including ace painting, tequila tastings, live DJs and more from 11 a.m. to 8 p.m. FREE
34. Zombie Joe's Underground Theatre in North Hollywood presents their annual Halloween iteration of Urban Death Tour of Terror. Guests will wind through a short maze before entering a darkened theater where series of disturbing vignettes will be presented one after another. The show runs October 4 to November 2, Fridays and Saturdays plus Halloween night. Check for discount tickets before making your purchase. DISCOUNTED (via Goldstar)
35. Street Food Cinema's Halloween-themed series at Downtown's Million Dollar Theatre continues their month long residency with a screening of Shaun of the Dead. Guests are allowed to bring food to the screening and backstage ghost tours for $12 is also available. Check for discount tickets before making your purchase. DISCOUNTED (via Goldstar)
36. Board the famed Battleship IOWA Museum for free outdoor movie screenings on the ship's fantail under the night sky. The screenings are free and open to all ages. This Friday they will throw a Halloween bash with a screening of Frankenweenie. FREE
37. Merchants on Olvera Street will celebrate Dia de los Muertos for nine days starting this Thursday October 25 through November 2. The festival will include altars on display, children's workshops, face painting, and live entertainment. FREE
38. BlueCollar Working Dog will host a Howloween Pawty featuring snacks and refreshments for humans, goody bags, raffle prizes, a doggy costume contest, a pack walk around Echo Park Lake with a pack of costumed dogs and a piñata filled with dog treats. FREE
39. The Fairplex transforms into a German playground for Oktoberfest on October 4-19 Fridays and Saturdays. Expect Bavarian music, chicken dancing, bratwurst and pretzels while knocking back some authentic German beers. Check for discount tickets before making your purchase. DISCOUNTED (via Goldstar)
40. The Roots and Wings Project joins forces with the California Arts Council to present LUMINOUS STREETS, an immersive theatrical experience that takes the audience through the Downtown Los Angeles Historic Core including spots like The Last Bookstore and King Eddy's Saloon with stories that center on women's survival and pursuit of justice. Happening October 18 through November 10.
41. Head to The Satellite for a full night dedicated to Fleetwood Mac and ABBA hits.
42. Reign of Terror is one of the largest haunted houses you can attend, and it grows bigger every year. This year promises 115 rooms, encompassing nine different themes, each one connected to the last. Themes include Infected, Asylum, Miner's Revenge, Fun House, the all-new Containment and more. There's also a new experience called the Widow's Den where one should "avoid being wrapped up." We can only assume that means spiders. Special events include a Lights-On tour ($5), for those who would prefer to see the sets without all the scares, and a Lights-Out, for those who'd prefer to navigate the maze with a single glow stick per group.
43. Alpine Village Oktoberfest returns this Friday with traditional Bavarian fun like Oom Pah Pah party bands, German fare, and delicious cold German beers. Oktoberfest runs Fridays through Sundays October 4 – 27.
44. Knott's Scary Farm is back with their signature haunted attractions, mazes and thousands of monsters ready to scare the living day light out of you and your crew. Check for discounted tickets before making your purchase. DISCOUNTED (via Goldstar)
45. The Mixing Room at the JW Marriott Los Angeles L.A. LIVE will transform their outdoor patio into an Oktoberfest Biergarten every Friday night this month. Sam Adams and Angel City will be pouring brews and Bavarian eats like Currywurst Sausage, Chicken Wiener Schnitzel, large soft pretzels and Smoked Beer Bratwurst are on the Biergarten menu. There will be plenty of Oom-pah music and festive decorations to make you feel like your in Munich. Festivities start at 5 p.m. no reservations required and all are welcome to supply their own lederhosen. The Oktoberfest Biergarten is open every Friday and on select Saturdays (October 19 and October 26.) Prost!
46. On the last Friday of each month the California Market Center hosts a public sample sale with hundreds of showrooms offering men, women and children fashion as well as gift and home items at below-retail prices.
47. Stop by the historic San Gabriel Mission District on Friday for their Fall Fun Festival featuring a costume contest, food trucks, games, trick or treating, free family photos and more.
48. Head to Two Bit Circus for Whispers In The Dark an interactive mystery using magic, mentalism, and immersive theater. You'll sit in on an intimate séance to communicate with ghosts to unlock secrets and solve the crime of a centuries-old unsolved murder.
49. Cooper Design Space hosts Last Friday Sales a rare opportunity where showrooms open their doors to the public offering discounts on past seasons, samples and overstock. Keep in-mind showrooms are usually cash only.
Food Pick for the Week
This week's pick by Christina Champlin, Co-Founder of We Like L.A.
National Mezcal Day falls on October 21, and I humbly suggest a celebration at Oaxacan restaurant Madre in Torrance. Here you will find over 400 kinds of mezcals and specials for the day (3 to 11 p.m.) that include $5 house mezcal shots, $10 margaritas, and a late night happy hour for extended discounts on food and drink. A special tasting from Banhez Mezcal will also be offered along with a one-night-only specialty cocktail.
Madre is located at 1261 Cabrillo Ave #100, Torrance, CA 90501
---
Want to get our to-do lists straight to your inbox every week? Sign up for our email program. Have an upcoming event you'd like suggest for listing? Drop us a line at [email protected]