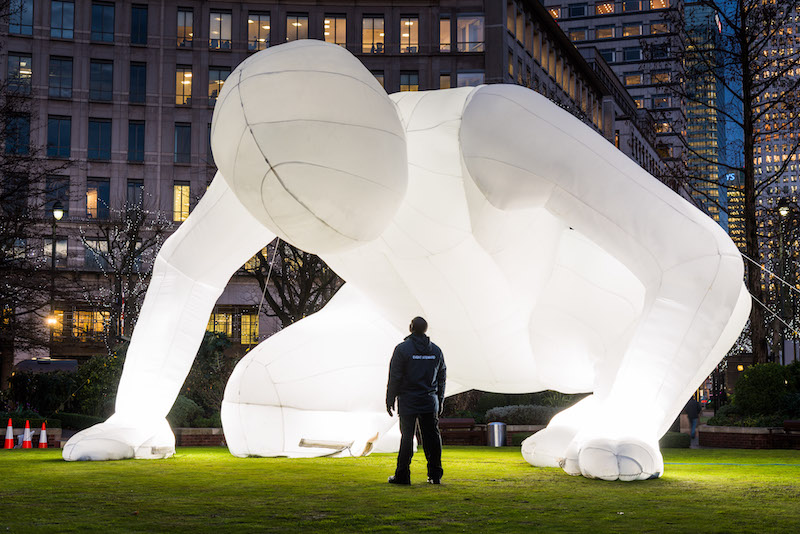 Every week in Los Angeles there are tons of great things to do (even before the weekend gets started) that we think you ought to have on your radar. With that in mind, we put together a list every Monday through Friday morning to keep you in the know about what's happening in the city you love (or maybe just like).
This week, from Monday, October 28 to Friday, November 1, features Grand Park Día de los Muertos, Fantastic Planet larger than life public art piece, Scary Delicious Bug and Wine Pairing, BE KIND, REWIND 90s HALLOWEEN PARTY, Night Dive at the Aquarium of the Pacific and MUCH more.
Remember you can always go to our L.A. events calendar page to get an updated rundown of what's happening around the city.
Hope you find the rundown useful and, as always, enjoy your week!
---
Keep in mind that while we retain complete editorial control of our content, for some of the ticketing options provided we utilize affiliate links and receive a commission if you purchase through our links.
---
NOTE: As you're commuting and traveling around the city today (especially on the Westside), make sure to stay aware of the #GettyFire via updates on the LAFD website. If you want to sign up for alerts (always recommended!), you can go here.
Monday October 28th, 2019
1. Grand Park's Dia de los Muertos celebration spans nine days (October 26 to November 3) with 35 ofrendes (alters), themed artwork from LORE Media and Arts displayed around the park and several special events on select days. FREE
2. Los Angeles Haunted Hayride will unify under one theme this year Midnight Falls a fictional town in 1985 filled with macabre characters. Check out the Roadkill Ranch on the outskirts of town; Trick or Treat in a ghoulish neighborhood; drop by the local mortuary, or engage in mini-escape games. Of course, the centerpiece remains the hayride, which will take guests straight to the hellish portal from which the town's nightmares escape. Check for discount tickets before making your purchase. DISCOUNTED (via Goldstar)
3. The folks at Scratch|Bar presents Magic|Bar an evening of spooky illusions in a speakeasy setting led by bartender/magician Benjamin Schrader. Join him and a few of his world-famous magician friends for an unforgettable night, raise your "spooky" punch glass and indulge in some deliciously eerie finger foods. Happening October 28-29 and on Halloween.
4. Merchants on Olvera Street will celebrate Dia de los Muertos for nine days starting October 25 through November 2. The festival will include altars on display, children's workshops, face painting, and live entertainment. FREE
5. Critically-acclaimed immersive VR experience THE VOID recently launched Nicodemus: Demon of Evanishment, the first original experience developed in conjunction with Ninja Theory Studio. The mission is for a few brave Angelenos. You will travel back over one hundred twenty years to a decaying Chicago World's Fair and explore the abandoned exhibits in the dead of night. I forgot to mention the demon Nicodemus is on the loose and some of you might never return.
6. High Voltage Magazine will join forces with Scum and Villainy Cantina to host a Universal Monsters board game night in Hollywood on Monday. There will be giveaways, board games, themed menu items and more.
7. E.P. & L.P. in West Hollywood continues their stylish cinema series Melrose Rooftop Theatre with a screenings of Nightmare on Elm Street, Hocus Pocus and more this week.
8. There's a free Monday Night Fiction Workshop at Beyond Baroque in Venice this Monday. The weekly workshop will be facilitated by author, screenwriter, playwright, and director Barra Grant. FREE
Tuesday October 29th, 2019
9. The Boo Boys return to Lyric Hyperion Theatre & Cafe with their Halloween themed sketch comedy show. They perform year-round, but of course Octobers show is an extra special time.
10. The Natural History Museum's latest exhibit dives into the scientific inspiration behind some of Hollywoods most terrifying creatures. "Natural History of Horror" opens October 10, 2019 through April 19, 2020 and will include rare movie props, film footage, activities and museum specimens.
11. Otik Records' Annual Halloween Covers Party returns to The Hi Hat in Highland Park this Tuesday. It's $8 to get in and $5 if you wear a costume.
12. Bob Baker Marionette stops by One Colorado for a Halloween show featuring all your favorite spooks from Dracula, Vampira to Purple People Eaters. It's a family friendly affair and costumes are of course encouraged. FREE
13. Enjoy a bit of spooky fall family fun at Mr. Bones Pumpkin Patch in Culver City all week. Don't forget to snap that iconic picture in front of the pumpkin house! Running until October 30.
14. Tenacious D's Post-Apocalypto Tour stops by The Wiltern this Tuesday.
15. On October 29 and 30, Formula 1 brings the Grand Prix atmosphere to Los Angeles with a car exhibition, a high-adrenaline live show, featuring the super-charged F1 driving experience and tons of other entertainment. FREE
16. There's a daily Great Pumpkin Hunt happening at the South Coast Botanic Garden featuring an imaginative scavenger hunt, light hiking, a pumpkin shop and access to the gorgeous 87-acre grounds. Great for families. Halloween costumes are welcome.
17. A colorful, winding installation called The Second Home Serpentine Pavilion is now open at the La Brea Tar Pits for the summer and its 100% free for the public to roam and explore. The pavilion is open daily and will run through November 24. FREE
18. Pumpkin Nights feature thousands of carved pumpkins across several pumpkin-themed lands accompanied with special holiday activities. Happening October 10 through November 3.
Wednesday October 30th, 2019
19. Fantastic Planet is a daring public art piece by Australian Artist Amanda Parer that features massive humanoid light installations and will be free and open to the public for viewing October 30 through November 10. FREE
20. Street Food Cinema's Halloween-themed series at Downtown's Million Dollar Theatre continues their month long residency with a screening of Sleepy Hallow on Wednesday and IT on Thursday. Guests are allowed to bring food to the screening and backstage ghost tours for $12 is also available. Check for discount tickets before making your purchase. DISCOUNTED (via Goldstar)
21. Head to Hamburger Mary's for a Halloween edition of Drag Queen Bingo that benefits non-profit Disability Community Resource Center.
22. This Wednesday pet resort Wag Hotels located in Carson and West Hollywood will throw their 6th Annual Haunted Howl-o-ween Party for Dogs to benefit the Spay Neuter Project of Los Angeles (SNP|LA). Pet parents will be able to take their dogs on a trick-or-treating journey through the "haunted" Wag Hotel, where goblins and ghouls will interact with your pup. There will be photo opportunities, a costume contest, swag, vendors and more.
23. Creep L.A. presents the fifth installment of HAUS OF CREEP an immersive 75-minute experience that takes guests in a bizarre world where reality and performance art blur in a very dark way. HAUS OF CREEP will run from September 13 through November 3 on all weekends with some weeknights available.
24. There's a Scary Delicious Bug and Wine Pairing happening at V Wine Room with Bugible. The unique dining experience will pair boutique wines with specific insects. Guests will also gain some insights on why a certain wine pairs with specific insects.
25. The Haunted 2: Welcome Foolish Mortals is an art exhibit inspired by places like the Haunted Mansion at Disneyland. Marvel at creepy animatronic works alongside paintings, sculptures, and jewelry. Happening at The Hive Gallery in Downtown Los Angeles the exhibit will run October 6 through November 3 and is free to view. FREE
26. Artist Maximillian's popular horror-themed pop-up I Like Scary Movies returns for Halloween season September 20 through November 17. The detailed and beautiful series of installations is a love letter from the artist to iconic horror films like The Lost Boys, Beetlejuice, and The Shining. Runs Wednesday through Sundays. Check for discount tickets before making your purchase. DISCOUNTED (via Goldstar)
27. The Small Business Expo happening at The Westin Bonaventure Hotel is a business-to-business networking event, trade show and conference in one. Designed for business owners, entrepreneurs, start-ups or anyone interested in starting a small business. FREE
28. Nights of the Jack, a half mile trail completely filled with thousands of pop culture inspired hand-carved illuminated Jack O'Lanterns returns to King Gillette Ranch in Calabasas October 3 through November 3 for a spooktacular family friendly event.
Thursday October 31st, 2019
29. BE KIND, REWIND 90s HALLOWEEN PARTY! takes over the Tiki No with a night of POG playin, snacking on Airheads and Warheads and 90s jam spun by DJ Silly Kid all night long. There is no cover and there will be a costume contest at 11 p.m. where the winner gets a Gameboy!
30. Prank will host 'Nightmare on Hope Street' from 4 p.m. to midnight, attendees can come in costume to enjoy a free drink ticket, play games, sip on spooky cocktails, dance to live jazz music, and more. Admission to the block party is free.
31. The Queen Mary's Dark Harbor returns with six terrifying mazes, including the brand new Rogue, in which the crew either is (or isn't?) working to save the capsized vessel you're trapped aboard. Nightly entertainment, rides, roaming monsters, and themed lounges round out Dark Harbor's offerings. Happening September 26 through November 2. Check for discount tickets before making your purchase. DISCOUNTED (via Goldstar)
32. Head to Resident LA for a Dark '80s New Wave Halloween Party where DJs will spin tunes by Depeche Mode, Joy Division, The Cure, Sisters Of Mercy, Echo & The Bunnymen and loads more.
33. Redbird will host Hallows Masquerade at the Vibiana cathedral. Hors d'oeuvres will be provided by chef Neal Fraser, as well as cocktails from bar director Tobin Shea. Musical performances include DJ sets from Adam Freeland (The Acid), Jessica Tonder, Jonny Cota and more. Mystical, surrealist costumes are highly encouraged for this party.
34. Monster Hop 3rd Annual Halloween Bash at Zebulon is a rock n' roll Halloween dance party with live bands " brought back from the dead."
35. One Colorado will host in-store and restaurant trick-or-treating, family portraits in their Halloween-themed courtyard milieu, and a screening of Tim Burton's Nightmare Before Christmas at 7 p.m. in the courtyard. FREE
36. Go wild during Haunt Massive at Catch One, enjoy three freaky themed areas in a club environment.
37. Universal Studios Halloween Horror Nights has been spooking crowds for over 25 years, the park employs the industry's best special effects to bring pop cultures most famous movies and shows to life. Mazes include Stranger Things, Walking Dead and the new Ghostbusters experience. Check for discounted tickets before making your purchase. DISCOUNTED (via Goldstar)
38. Golden Road's Halloween Bash features a haunted house, live music by Lower Dens, Puscie Jones Revue and Flyod Fuji, plus food and booze.
39. The 5th Annual Masquerade Halloween Party at W Hollywood Loft & Wet Deck will feature multiple DJs, music area, mingle spaces and of course the amazing views of Hollywood Boulevard.
40. Zombie Joe's Underground Theatre in North Hollywood presents their annual Halloween iteration of Urban Death Tour of Terror. Guests will wind through a short maze before entering a darkened theater where series of disturbing vignettes will be presented one after another. The show runs October 4 to November 2, Fridays and Saturdays plus Halloween night. Check for discount tickets before making your purchase. DISCOUNTED (via Goldstar)
41. West Hollywood's famous Halloween Carnaval is a free outdoors party that stretches a mile-long on Santa Monica Boulevard. A great stop to people watch, costume gawk and more, local businesses (especially bars) will host activities and special offerings throughout the night. FREE
42. 11th Annual King Tut's Tomb LA Halloween Party happening at W Hollywood Living Room & Station with top DJs spinning their hearts out to provide party people with their best mix of top 40's, hip-hop and dance music.
43. Knott's Scary Farm is back with their signature haunted attractions, mazes and thousands of monsters ready to scare the living day light out of you and your crew. Check for discounted tickets before making your purchase. DISCOUNTED (via Goldstar)
44. Head to Two Bit Circus for Whispers In The Dark an interactive mystery using magic, mentalism, and immersive theater. You'll sit in on an intimate séance to communicate with ghosts to unlock secrets and solve the crime of a centuries-old unsolved murder.
Friday November 1st, 2019
45. OUE Skyspace LA celebrates one million visitors since its opening in 2016 by giving Angelenos a special $1 entrance and $1 Skyslide Ride on Friday between 11 a.m. to 1 p.m. The special is only redeemable in-person at the box office. If you can't make it this Friday between those time, $1 Skyslide Rides will also be offered Friday November 1 starting at 1:01 p.m. through Tuesday, November 22 with regular admission.
46. JAPAN HOUSE Los Angeles and Japan America Society of Southern California present JAPAN CUTS HOLLYWOOD, a three-day festival celebrating contemporary Japanese cinema. The festival brings films, talks, and special guests to the TCL Chinese 6 Theatres and JAPAN HOUSE Los Angeles November 1-3.
47. The Griffith Observatory hosts a monthly forum where some of the most amazing phenomena in the known universe are explained and discussed. It's called All Space Considered and it takes place on the first Friday of every month. FREE
48. Night Dive at the Aquarium of the Pacific is an 18+ party inside the aquarium featuring DJs, food trucks, cocktails and art alongside sea life.
49. Constitution Happy Hour at AMMO at The Hammer continues this Friday with guided, topical conversations about the US Constitution and its role in our democracy.
50. Metro Art Los Angeles present an all-new film screening series featuring animated films at Union Station. This Friday "The Adventures of Prince Achmed," with live music provided by Gamelan Merdu Kumala. The event is free and open to the public. Seating will be on a first-come, first-served basis. FREE
51. Craftsman Weekend returns to the city of Pasadena November 1-3 with walking and bus tours of historic neighborhoods, buildings, a market place featuring antique and contemporary furniture and decorative arts, a silent auction, presentations and exclusive receptions at historic sites.
52. Caltech Astronomy invites the public to sit in on a stargazing and lecture event this Friday at 8 p.m. FREE
53. The Museum of Latin American Art will host a Día de los Muertos art making workshop followed by a Ballet Folkloric performance.
54. The Roots and Wings Project joins forces with the California Arts Council to present LUMINOUS STREETS, an immersive theatrical experience that takes the audience through the Downtown Los Angeles Historic Core including spots like The Last Bookstore and King Eddy's Saloon with stories that center on women's survival and pursuit of justice. Happening October 18 through November 10.
Food Pick for the Week
This week's pick by Christina Champlin, Co-Founder of We Like L.A.
Halloween week is upon us, and while we all are looking forward to dressing up and being scared to death with spooky events (some of us anyway) , we can't forget about a few pre-game celebrations that will get you in the Halloween spirit. Below are my top picks of places to eat and have a good time this week.
---
Want to get our to-do lists straight to your inbox every week? Sign up for our email program. Have an upcoming event you'd like suggest for listing? Drop us a line at [email protected]