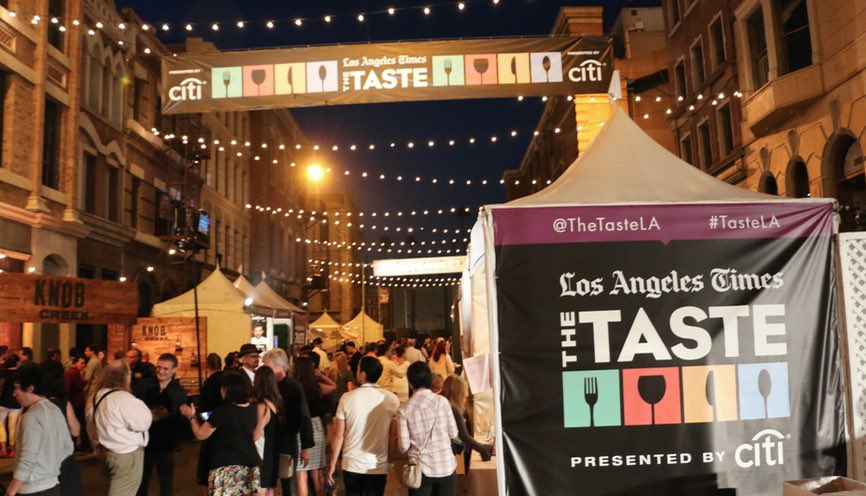 Every week in Los Angeles there are tons of great things to do (even before the weekend gets started) that we think you ought to have on your radar. With that in mind, we put together a list every Monday through Friday morning to keep you in the know about what's happening in the city you love (or maybe just like).
This week, from Monday, August 26 to Friday, August 30, features Twilight Concerts, Taste of Downtown Long Beach, Night Dive at the Aquarium of the Pacific, L.A. Times The Taste, The L.A. County Fair, and MUCH more.
Remember you can always go to our L.A. events calendar page to get an updated rundown of what's happening around the city.
Hope you find the rundown useful and, as always, enjoy your week!
---
Keep in mind that while we retain complete editorial control of our content, for some of the ticketing options provided we utilize affiliate links and receive a commission if you purchase through our links.
---
Monday August 26th, 2019
1. Pennywise returns to Hollywood with a second terrifying, immersive event. The Derry Canal Days Festival is now open at the corner of Hollywood and Vine, drawing from the forthcoming IT Chapter Two, which hits theaters on September 6. Online reservations are fully booked but a standby line is available.
2. The 3rd Annual NY Dog Film Festival celebrates our love for dogs, illustrated through a two-hour short film showcase. Screenings take place at the Laemmle Royal in West Los Angeles.
3. During the month of August Skyspace's The Garden Bar will host TAP TAKEOVERS where your admission between the times of 4 p.m. to 1 a.m. will include a free craft brew. This week guests can sip on a beer from Firestone Walker Brewing Co. from August 26-28.
4. There's a free Mindful Yoga on the Beach series in the South Sand of the Manhattan Beach Pier this Monday at 6:30 p.m. FREE
5. Join Marc Alessi, Executive Director of Tesla Science Center at Wardenclyffe, to explore the life and work of Nikola Tesla at The Griffith Observatory.
6. Poolside is a new immersive abstract painting show at Rhythm Visuals gallery in Downtown L.A. The exhibition features multiple rooms and visual experiences, including one where guests throw water balloons at a white wall to reveal a hidden painting. The exhibit is open Sundays, Mondays and Thursdays from noon to 4 p.m. through September 5. FREE
7. There's a Jurassic World-themed game night happening at Scum and Villainy Cantina this Monday. There will be themed food and drinks plus giveaways. FREE
8. Seven Grand in Downtown Los Angeles will host a taste through Woody Creek Distillers a family owned grain to glass distillery.
9. Start your week with a free Jam Session at the Ford Theatre. This week's focus: Contemporary Dance Forms. FREE
Tuesday August 27th, 2019
10. The Hammer museums series Celebrating John Singleton (1968–2019) will host a free screening of 2 Fast 2 Furious this Tuesday. FREE
11. A colorful, winding installation called The Second Home Serpentine Pavilion is now open at the La Brea Tar Pits for the summer and its 100% free for the public to roam and explore. The pavilion is open daily and will run through November 24. FREE
12. Down some tacos, drink some brews and test your trivia skills this Tuesday during Tacos & Trivia night at Angel City Brewery in DTLA.
13. Mr. C's Poolside Cinema is back for the sixth year in a row. From June 11 through August 27 Angelenos can indulge in a luxury outdoor movie experience by the pool with a Cipriani menu, classic movie snacks and Peroni Nastro Azzurro. Thelma & Louise will be screened this week.
Wednesday August 28th, 2019
14. Twilight Concerts returns every Wednesday from August 21 to September 25 for free music performances on the Santa Monica Pier. This week Helado Negro, San Cha & Banda Las Angelinas will perform. FREE
15. Downtown Long Beach Alliance (DLBA) host its last Taste of Downtown on August 28 and 29 featuring restaurant samples of signature dishes, live music, art and more. Admission is free and open to the public. Tickets are sold in one dollar increments to partake in food sampling.
16. The Mermaid Bar hosts Boozey Bingo this Wednesday from 8 to 11 p.m. FREE
17. The first-ever Museum of Weed is a 30,000 square foot space of 'higher learning' presented by WeedMaps aims to provide insight and history into marijuana through interactive exhibits, Instagram-friendly art installations and a bevy of historical artifacts. The museum is open Wednesday through Sunday now till September 29. Admission starts at $35.
18. Back for the 16th year in a row, The Independent Shakespeare Co. presents Shakespeare in the Park at the Old Zoo in Griffith Park with free performances of either Pericles or Twelfth Night Wednesday through Sunday. FREE
Thursday August 29th, 2019
19. Head to Eataly in Century City for an experiential "eatalian" walking tour where you'll taste through the Italian market place, get a behind the scenes tour of various departments and more.
20. Night Dive at the Aquarium of the Pacific is an 18+ party inside the aquarium featuring DJs, food trucks, cocktails and art alongside sea life.
21. Cinecon Classic Film Festival at Hollywood's Egyptian Theatre (August 29 to September 2) is five days of classic film screenings, celebrity appearances, panels, a memorabilia show, and more.
22. Descanso Gardens hosts Beer Garden Nights welcoming the public into their Courtyard for some brews and some wandering through the gardens during sunset. The series will happen every Thursday through August.
23. Westfield Century City's Come See movie nights returns this Thursday with a free screening of Sixteen Candles plus complimentary movie bites and snacks for all. A special live a cappella Brat Pack-themed performance by For The Record Live will take place before the show. FREE
24. Night Market is back on the hilltop of the iconic Yamashiro restaurant every Thursday all summer long. Angelenos can enjoy boutique vendors, food vendors, a concert series, cocktails at Yamashiro's Pagoda Bar and an unbeatable view of Hollywood. This event is also kid friendly. Please note this year the organizers are charging $10 to park at the shuttle location. Shuttles are free and so is admission.
25. Thirsty Classics An evening of Classic Cocktails + Classic Films happening at Alcove in Los Feliz takes place in their private garden patio where guests will be treated to a screening of Chinatown, Hendrick's Gin & Monkey Shoulder Scotch cocktails plus popcorn.
26. La Resistencia performs as part of the Levitt Pavilion Los Angeles concert series. FREE
27. Free museum days: Japanese American National Museum (from 5 to 8 p.m.), MOCA Grand & MOCA Geffen (from 5 to 8 p.m.), Skirball Cultural Center (noon to 5 p.m.), Long Beach Museum of Art (3 to 8 p.m.) and USC Pacific Asian Museum (5 to 8 p.m.)
Friday August 30th, 2019
28. The L.A. Times hosts its 10th Annual The Taste celebrating Southern California's culinary scene August 30 through September 1. Curated by the Times' Food Staff, there will be unlimited tastings from regional restaurants, wine, beer, and cocktails, plus access to cooking demonstrations.
29. The L.A. County Fair returns to Pomona for a enormous assortment of activities, musical performances, food and beverage offerings, and more. The fair runs through September 23. Check for discount tickets before making your purchase. DISCOUNTED (via Goldstar)
30. Summer Nights at the Tar Pits returns for an evening party featuring DJs, cocktails, museum exploration, discussions and more. FREE
31. West Adams Avenues Jazz and Music Festival (August 30-September 1) is three nights of music including jazz, blues, funk and more, as well as activities, arts and crafts, and food trucks. FREE
32. L.A. Fleet Week is back from August 30 to September 2. Hosted at LA Waterfront in San Pedro the event will feature various military ships, guided tours, military demonstrations, live entertainment, aerial demonstrations and more. FREE
33. John Williams hosts and David Newman conducts the LA Philharmonic at The Hollywood Bowl in their annual celebration of the music of John Williams. Film clips from Star Wars, Jurassic Park, Saving Private Ryan, E.T. and more will be screened with music. Happening Friday and Saturday. Check for discount tickets before making your purchase. DISCOUNTED (via Goldstar)
34. Grand Central Market hosts Friday Night Flights this Friday starting at noon. The special includes a flight of drinks or bites from GCM vendors and a round trip ticket on the historic Angels Flight Railway right across the street for $15.
35. The 626 Night Market is back at Santa Anita Park August 30 through September 1 featuring endless vendors selling crafts, merchandise, art and a massive selection of food from local restaurants, food trucks and more.
36. Westwood Village Cinema Under the Stars returns for the season with Spider-man Homecoming. Moviegoers are encouraged to bring their own chairs and blankets. FREE
37. Spend the season sipping wine during sunset hour at Barnsdall Art Park's Friday Night Wine Party Series. Happening on the lawn of architectural gem the Hollyhock House, the evening features a fine selection of wines curated by Silverlake Wine, a live DJ and tours of the house. The series happens every Friday evening till September 6.
38. The Music Center's Dance DTLA features live music and/or DJs paired with expert dance instructors providing beginner group dance lessons for attendees. Each night has a different dance theme. The series concludes with Cumbia at The Music Center Plaza, as part of the Plaza Grand Opening Weekend Celebration. FREE
39. The Groundlings' latest hilarious main stage show, Groundlings Treasure Hunters runs every Friday and Saturday through September 14.
40. Summer Friday Night Drive-In at the Roadium returns every Friday evening from June 7 to August 30 to revive your favorite films in a classic 1950's drive-in setting. The series continues with a screening of E.T.
41. Ford Theatres presents Urban Bush Women: Hair & Other Stories an experience that blends dance-theatre with conversations that explores disquieting perceptions of beauty, identity and race, and what constitutes the freedom to rise to our Extra-ordinary Selves.
42. The Department of Beaches and Harbors presents Beach Movie Nights at Dockweiler Youth Center every Friday. This week they will screen Spider-man into the Spider-verse. FREE
Food Pick for the Week
This week's pick by Christina Champlin, Co-Founder of We Like L.A.
For this week we've got three different food events you ought to know about:
Firstly, in anticipation of their official Fall 2019 opening, Found Oyster will pop-up at Tabula Rasa Bar on Tuesday August 27 from 5 to 10 p.m. Chef/Partner Ari Kolender will be previewing three items for the menu. Find oysters from Found Oyster General Manager Joe Laraja's family's oyster farm in Orleans, Massachusetts as well as a scallop tostada and Kolender's take on the lobster roll. Pair your meal with Tabula Rasa's eight rotating beer taps and a menu of natural wine selections.
Second, Go Get Em Tiger and The Mullin Wine Bar is throwing a Block Party this Thursday, August 29 from 4 to 7 p.m. in celebration of The Music Center Plaza Grand Opening. The party in the heart of Downtown will include live music by DJ Element, coffee, cocktails, beer, wine, food games, giveaways and more.
Finally, the 2nd Annual Lobstah Roll Takeover returns to Manhattan Beach Post on Thursday, August 29 from 11:30 a.m. to 1:30 p.m. On the menu Chef David LeFevre is serving up in-house chips with malt vinegar and french onion dip, Blue Crab and Corn Hushpuppies, Heirloom Tomato and Santa Rosa Peach Market Salad, a "Mac Salad" with celery, pickled ginger and wasabi, the infamous LOBSTAH ROLL and a Strawberry Shortcake. Tickets cost $65 per person.
---
Want to get our to-do lists straight to your inbox every week? Sign up for our email program. Have an upcoming event you'd like suggest for listing? Drop us a line at [email protected]