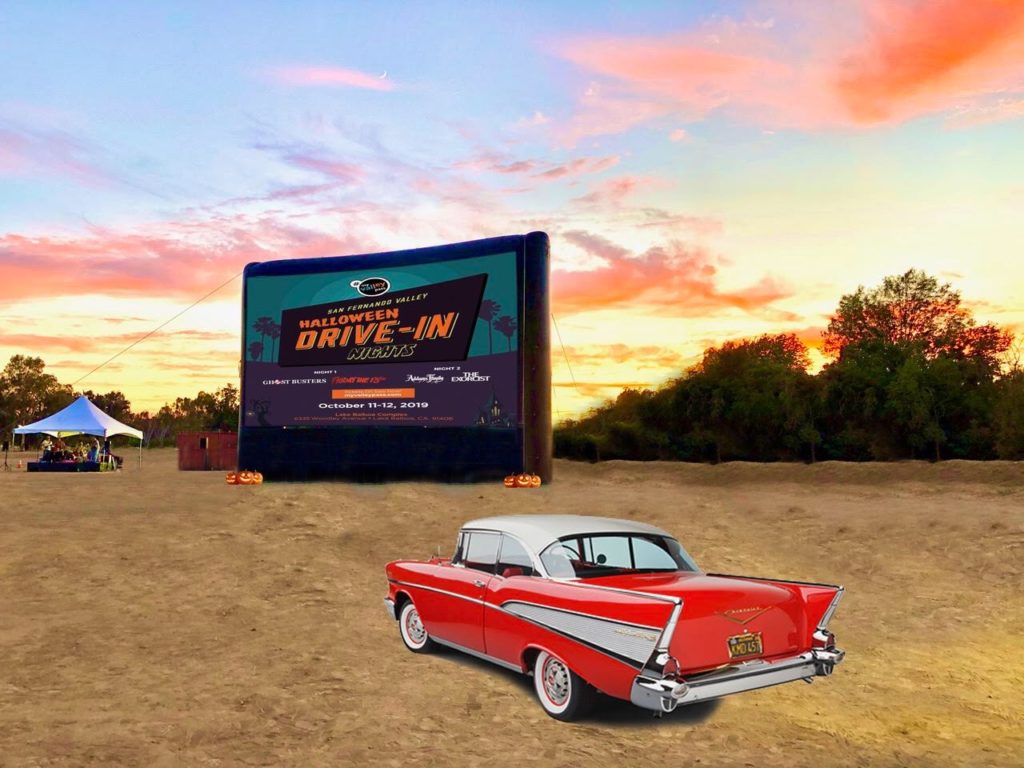 Los Angeles provides no limit of things to do, some awesome and some not so awesome. Since time is precious in this fast paced city we curate a list of things to do in Los Angeles for every weekend that'll help you decide how you want to spend your limited supply of attention (not to mention dollars!).
This weekend in L.A. from Friday, October 11 to Sunday, October 13 features Pasadena ArtNight, San Fernando Valley Halloween Drive-In Nights, NHM's "Natural History of Horror," the DTLA Oyster Festival, Smorgasburg LA Octubrefest and MUCH more.
Remember you can always go to our L.A. events calendar page to get an updated rundown of what's happening around the city.
Hope you find the rundown useful and, as always, enjoy your weekend!
---
Keep in mind that while we retain complete editorial control of our content, for some of the ticketing options provided we utilize affiliate links and receive a commission if you purchase through our links.
---
Friday October 11th, 2019
1. Pasadena ArtNight attracts tens of thousands of annual visitors to a one-night event where more than twenty of Pasadena's arts and cultural institutions offer free admission. Guests can expect on-site food trucks and live performances at many of the participating locations, including Armory Center for the Arts, The Gamble House, the Pasadena Museum of History, USC Asian Pacific Museum, and more. FREE
2. Spooky season is in full effect at San Fernando Valley Halloween Drive-In Nights, where you can enjoy a classic horror film at the Lake Balboa Complex. Park your vehicle, listen to the movie via your radio speakers, and take in a double feature to match the season. Ghostbusters and Friday The 13th will be screened on Friday. The following day, October 12, see Adams Family and The Exorcist. Check for discount tickets before making your purchase. DISCOUNTED (via Goldstar)
3. Now in its 9th year, L.A. Comic Con returns to the Los Angeles Convention Center October 11-13 with 800+ diverse artists and vendors, selling comics, collectibles, art, toys, apparel, and everything in-between. Last year's three-day event had over 100,000 attendees.
4. Los Angeles Haunted Hayride will unify under one theme this year Midnight Falls a fictional town in 1985 filled with macabre characters. Check out the Roadkill Ranch on the outskirts of town; Trick or Treat in a ghoulish neighborhood; drop by the local mortuary, or engage in mini-escape games. Of course, the centerpiece remains the hayride, which will take guests straight to the hellish portal from which the town's nightmares escape. Check for discount tickets before making your purchase. DISCOUNTED (via Goldstar)
5. The Natural History Museums latest exhibit dives into the scientific inspiration behind some of Hollywoods most terrifying creatures. "Natural History of Horror" opens October 10, 2019 through April 19, 2020 and will include rare movie props, film footage, activities and museum specimens.
6. Rancho Santa Ana Botanic Garden's family-friendly night time event Things That Go Bump in the Night (October 11-12) invites the public to explore the grounds, get to know nocturnal animals that call the garden their home and capture a view of night-blooming flowers and carnivorous plants.
7. The Queen Mary's Dark Harbor returns with six terrifying mazes, including the brand new Rogue, in which the crew either is (or isn't?) working to save the capsized vessel you're trapped aboard. Nightly entertainment, rides, roaming monsters, and themed lounges round out Dark Harbor's offerings. Happening September 26 through November 2. Check for discount tickets before making your purchase. DISCOUNTED (via Goldstar)
8. Head to this year's IndieCade to check out independent video games from around the world. Guests will be able to preview and play games, join in on forums and workshops with the signature event "Night Gaming", featuring gameplay underneath the night sky. Happening Oct. 10-12.
9. Want to celebrate Halloween early? Universal Studios Halloween Horror Nights has been spooking crowds for over 25 years, the park employs the industry's best special effects to bring pop cultures most famous movies and shows to life. Mazes include Stranger Things, Walking Dead and the new Ghostbusters experience. Check for discounted tickets before making your purchase. DISCOUNTED (via Goldstar)
10. Malibu Wine Safaris launched a Haunted Nights Tour this month promising "otherworldly dimensions, haunted forests, psychedelic sci-fi tunnels and beyond." Tickets are available for Thursday and Friday this week.
11. Obie Award-winning writer and director Ain Gordon re-imagines the story of John E. Fryer the courageous gay psychiatrist turn activist who made a profound impact on LGBTQ civil rights in 217 Boxes of Dr. Henry Anonymous presented by Center for the Art of Performance UCLA. The show runs Friday and Saturday.
12. Alpine Village Oktoberfest returns this Friday with traditional Bavarian fun like Oom Pah Pah party bands, German fare, and delicious cold German beers. Oktoberfest runs Fridays through Sundays October 4 – 27.
13. The Haunted 2: Welcome Foolish Mortals is an art exhibit inspired by places like the Haunted Mansion at Disneyland. Marvel at creepy animatronic works alongside paintings, sculptures, and jewelry. Happening at The Hive Gallery in Downtown Los Angeles the exhibit will run October 6 through November 3 and is free to view. FREE
14. Zombie Joe's Underground Theatre in North Hollywood presents their annual Halloween iteration of Urban Death Tour of Terror. Guests will wind through a short maze before entering a darkened theater where series of disturbing vignettes will be presented one after another. The show runs October 4 to November 2, Fridays and Saturdays plus Halloween night. Check for discount tickets before making your purchase. DISCOUNTED (via Goldstar)
15. Now in its third year, Haunted Little Tokyo is filling one of Los Angeles' most historic and exciting neighborhoods with tricks and treats. Activities will span the whole month of October and include film screenings, a pumpkin patch, a block party and a trick or treat night.
16. Get up close and personal with sharks at the Aquarium of the Pacific during Shark Lagoon Nights. Guests will have the opportunity to touch bamboo sharks and view large sharks in an after hours setting. FREE
17. Street Food Cinema's Halloween-themed series at Downtown's Million Dollar Theatre kicks off their month long residency with the classic 1978 film Halloween. Guests are allowed to bring food to the screening and backstage ghost tours for $12 is also available.
18. Pumpkin Nights feature thousands of carved pumpkins across several pumpkin-themed lands accompanied with special holiday activities. Happening October 10 through November 3.
19. Ford Theatres presents the premiere of Hassan Hajjaj: My Rockstars Experimental Live. For one night only, the live installation infuses live musical performances, a projected installation of the famous My Rockstars Experimental Vol. 1 series by Hajjaj all live on stage for the first time.
20. Überfest is back at Brouwerij West in San Pedro for epic chicken dancing, loads of food and beer plus an Oompah meets rock n' roll band with audience contests running every hour. Happening this Friday and Saturday. DISCOUNTED (via Goldstar)
21. The Fairplex transform into a German playground for Oktoberfest on October 4-19 Fridays and Saturdays. Expect Bavarian music, chicken dancing, bratwurst and pretzels while knocking back some authentic German beers. Check for discount tickets before making your purchase. DISCOUNTED (via Goldstar)
22. 260LA is hosting a Y-3 Adidas sample sale October 8-13. Score deals on the coveted collaboration between adidas and Japanese designer Yohji Yamamoto. Men's and women's athletic footwear, athletic apparel, and accessories will be up to 80% off retail.
Saturday October 12th, 2019
23. The 14th annual Pasadena ArtWalk brings an afternoon of art, music and activities to the Playhouse District in Old Pasadena. The free event highlights some of the top Southern Californian visual artists showcasing their work in painting, sculpture, watercolor, photography, mixed media, ceramics, jewelry, drawings, and printmaking. FREE
24. Culver City Art Walk and Roll Festival returns with a block party on Washington Blvd featuring distinguished artists, live music, eclectic food trucks, wine and beer gardens, tastings, fun kid's activities, interactive art experiences, and more. FREE
25. 14th Annual Los Angeles Archives Bazaar is an L.A. history buff's dream. Local institutions and archives will have experts on hand to show off rare collections and answer questions, plus guests can enjoy a day-long program of presentations and workshops. The event is free, but USC campus parking rates apply.
26. Craftoberfest takes over the Rose Bowl in Pasadena on October 12 bringing over 20 select SoCal breweries plus traditional German eats for a day inspired by the world's largest "Volksfest" (beer festival) in Germany. Check for discount tickets before making your purchase. DISCOUNTED (via Goldstar)
27. The DTLA Oyster Festival is a two-day event at Grand Central Market (organized by Oyster Gourmet) bringing oyster farmers and oyster lovers together to celebrate all-things-oyster. For guests, it's an opportunity to shuck their way through a variety of oyster source from farms all over the United States. Admission is free, with oysters available for purchase.
28. The Original Farmers Market's annual Fall Festival happening October 12-13 offers plenty of family-friendly fun, including a pumpkin patch, petting zoo, arts and crafts, pie-eating contests, and plenty of live music.
29. Take the family to Kidspace Children's Museum in Pasadena for a Spooktacular Monster Mash. The museum will boasts a wide range of Halloween activities including a slime station, a dance party, costume parade, treats and more.
30. After nearly one year, Jewish female artist Laurie Shapiro's sukkot-like rainbow-colored installation ALCHEMY TUNNEL is now ready to debut at multimedia Los Angeles gallery Radiant Space. Special events including sound baths, yoga classes, meals, talks, and performances curated by Olivia Mia Orozco will all occur inside the installation on select days. The installation will open for public viewing on Saturdays starting October 12. FREE
31. Get to know the East Village Arts District this Saturday during a docent led East Village Walking Tour.
32. Come celebrate the third birthday of Frogtown Brewery with live music, art, food, a beer garden, as well as a slew of exclusive beer releases in bottles, cans, and tap.
33. The Italian American Museum of Los Angeles presents the 11th annual Taste of Italy highlighting the region's best Italian restaurants, world class wines and live entertainment.
34. The Echo Park Film Series, in partnership with Council member Mitch O'Farrell, is presenting a series of summer/fall movie nights at Echo Park Lake this week To Sir, With Love will be screened. FREE NOTE: This film screening will take place on Saturday, Oct. 19. We regret our error in listing for this weekend.
35. Head to the colorful, winding installation called The Second Home Serpentine Pavilion at the La Brea Tar Pits for a Community Marathon Weekend (October 12-13) showcasing non-profit organizations using dance, poetry, art and education to transform people's lives in L.A. Most events are free or donation based.
36. Reign of Terror is one of the largest haunted houses you can attend, and it grows bigger every year. This year promises 115 rooms, encompassing nine different themes, each one connected to the last. Themes include Infected, Asylum, Miner's Revenge, Fun House, the all-new Containment and more. There's also a new experience called the Widow's Den where one should "avoid being wrapped up." We can only assume that means spiders. Special events include a Lights-On tour ($5), for those who would prefer to see the sets without all the scares, and a Lights-Out, for those who'd prefer to navigate the maze with a single glow stick per group.
37. Spend a day at Santa Anita Park sipping on craft beer, and tasting some the best hot wings in Southern California during the Hot Wings & Craft Beer Festival this Saturday. Check for discount tickets before making your purchase. DISCOUNTED (via Goldstar)
38. Head to the second annual Secret Project Festival October 12-13 for an avant-garde electronic music experience
39. Head to the Los Angeles Zoo and Botanical Gardens for Boo at the Zoo on any Saturday or Sunday during the month of October for a large assortment of seasonal activities for the whole family.
40. Street Food Cinema returns this weekend with three screening events. Beetlejuice, Hocus Pocus and A Nightmare of Elm Street all screened outdoors at iconic locations. DISCOUNTED (via Goldstar)
41.Nights of the Jack, a half mile trail completely filled with thousands of pop culture inspired hand-carved illuminated Jack O'Lanterns returns to King Gillette Ranch in Calabasas October 3 through November 3 for a spooktacular family friendly event.
42. L.A.'s only live animated comedy show Picture This!is back with a show on Saturday at The Virgil. This Saturday's lineup features a dozen well known comedians and animators.
43. The city of Monterey Park presents the 6th Annual Geranium Festival and Artwalk featuring a variety of events, activities, contests, demonstrations and exhibits that are all family friendly.
Sunday October 13th, 2019
44. Celebrate the Jewish holiday of Sukkot at Skirball Cultural Center at the annual Harvest Festival. Enjoy live music, dancing and harvest related makers stations and activities. The cost of admission to the museum will allow you to partake in the festival. Check for discount tickets before making your purchase. DISCOUNTED (via Goldstar)
45. Massive foodie market Smorgasburg LA and Hecho in LA hosts Octubrefest, a twist on the traditional Octoberfest that trades brats, steins and polka for chorizo, Mega-Micheladas and cumbia. There will be Octubrefest pop-up food vendors and specials as well as Latinx shopping vendors.
46. Celebrate Indigenous Peoples Day at Grand Park recognizing the Past, Present, and Future, with a call to action for our state and federal lawmakers to replace Columbus Day with Indigenous Peoples Day. In addition the Autry Museum will host an Indigenous Pride event. FREE
47. Celebrating the 244th Birthday of the U.S. Navy, the Battleship IOWA Museum hosts their first annual Steel Beach BBQ Fundraiser to support the Veteran's Reintegration Center. Enjoy BBQ, craft beer, wine tastings, country line dance lessons and more all aboard the historic ship.
48. Stop by Hollywood Forever Cemetery and join the Art Deco Society of Los Angeles during a walking tour back into time to find out about the many famous Hollywood legends who rest in peace at this iconic cemetery.
49. Artist Maximillian's popular horror-themed pop-up I Like Scary Movies returns for Halloween season September 20 through November 17. The detailed and beautiful series of installations is a love letter from the artist to iconic horror films like The Lost Boys, Beetlejuice, and The Shining. Runs Wednesday through Sundays. Check for discount tickets before making your purchase. DISCOUNTED (via Goldstar)
50. Creep L.A. presents the fifth installment of HAUS OF CREEP an immersive 75-minute experience that takes guests in a bizarre world where reality and performance art blur in a very dark way. HAUS OF CREEP will run from September 13 through November 3 on all weekends with some weeknights available.
51. There's a daily Great Pumpkin Hunt happening at the South Coast Botanic Garden featuring an imaginative scavenger hunt, light hiking, a pumpkin shop and access to the gorgeous 87-acre grounds. Great for families. Halloween costumes are welcome.
52. E.P. & L.P. in West Hollywood continues their stylish cinema series Melrose Rooftop Theatre with a screening of Edward Scissorhands.
53. Yoga at Angel City Brewery welcomes all levels of experience with a donation of $15-20 that includes a free drink at the end.
54. Hello Kitty Friends Around the World Tour celebrates Hello Kitty's 45-year anniversary with a multi-room, sensory-rich, brilliant walk-through adventure from September 20 through October 20. The 10,000-square-foot pop-up takes you aboard 'Hello Kitty Air' to virtually visit London, Paris, New York, Honolulu, and Tokyo.
Food Pick for the Week
This week's pick by Christina Champlin, Co-Founder of We Like L.A.
The folks behind Te'Kila in Hollywood and Sherman Oaks have a new burger and cocktail bar concept called Smashed. It opens right on the Hollywood Walk of Fame this Friday, Oct. 11 and it comes with a special bonus: free smashed style burgers. Stop by between 6 to 7 p.m. to score a burger on the house, plus guests can enjoy drink specials, giveaways and a live DJ spinning between 9 p.m. to 2 a.m.
Smashed's offers signature smashed Wagyu beef burgers, Beyond Meat™ plant-based burgers and loaded fries. The bar program features classic, signature, and slushy cocktails as well as a selection of wine and beer.
Smashed is located at 6541 Hollywood Blvd Ste 102 Los Angeles, 90028
---
Want to get our to-do lists straight to your inbox every week? Sign up for our email program. Have an upcoming event you'd like suggest for listing? Drop us a line at [email protected]