Los Angeles provides no limit of things to do, some awesome and some not so awesome. Since time is precious in this fast paced city we curate a list of things to do in Los Angeles for every weekend that'll help you decide how you want to spend your limited supply of attention (not to mention dollars!).
This weekend in L.A. from Friday, November 1 to Sunday, November 3 features Grand Park presents Selena for Sanctuary, Grand Ave. Arts All Access, Dia de los Muertos at Hollywood Forever Cemetery, Complexcon, Public Star Party at Griffith Park Observatory, Día de los Muertos Family Festival at the Museum of Latin American Art and MUCH more.
Remember you can always go to our L.A. events calendar page to get an updated rundown of what's happening around the city.
Hope you find the rundown useful and, as always, enjoy your weekend!
---
Keep in mind that while we retain complete editorial control of our content, for some of the ticketing options provided we utilize affiliate links and receive a commission if you purchase through our links.
---
Friday November 1st, 2019
1. Fantastic Planet is a daring public art piece by Australian Artist Amanda Parer that features massive humanoid light installations and will be free and open to the public for viewing October 30 through November 10. FREE
2. OUE Skyspace LA celebrates one million visitors since its opening in 2016 by giving Angelenos a special $1 entrance and $1 Skyslide Ride on Friday between 11 a.m. to 1 p.m. The special is only redeemable in-person at the box office. If you can't make it this Friday between those time, $1 Skyslide Rides will also be offered Friday November 1 starting at 1:01 p.m. through Tuesday, November 22 with regular admission.
3. The Griffith Observatory hosts a monthly forum where some of the most amazing phenomena in the known universe are explained and discussed. It's called All Space Considered and it takes place on the first Friday of every month. FREE
4. Grand Park's Dia de los Muertos celebration spans nine days (October 26 to November 3) with 35 ofrendes (alters), themed artwork from LORE Media and Arts displayed around the park and several special events on select days. FREE
5. Grand Park presents Selena for Sanctuary a free concert organized by L.A. -based non-profit Solidarity for Sanctuary. Enjoy performances from an all-female line-up of L.A.-based Latinx artists. Theres also information booths, activities and the Las Fotos Project will host a photo booth and CholasXChulas will host a glam booth.
6. Get into the winter spirit when ICE at Santa Monica returns with a 8,000 square foot ice skating rink. Running November 1, 2019 through January 20, 2020.
7. Night Dive at the Aquarium of the Pacific is an 18+ party inside the aquarium featuring DJs, food trucks, cocktails and art alongside sea life.
8. Constitution Happy Hour at AMMO at The Hammer continues this Friday with guided, topical conversations about the US Constitution and its role in our democracy.
9. Metro Art Los Angeles present an all-new film screening series featuring animated films at Union Station. This Friday features The Adventures of Prince Achmed with live music provided by Gamelan Merdu Kumala. The event is free and open to the public. Seating will be on a first-come, first-served basis. FREE
10. Craftsman Weekend returns to the city of Pasadena November 1-3 with walking and bus tours of historic neighborhoods, buildings, a market place featuring antique and contemporary furniture and decorative arts, a silent auction, presentations and exclusive receptions at historic sites.
11. Los Angeles Haunted Hayride unifies under one theme this year: Midnight Falls, a fictional town in 1985 filled with macabre characters. Check out the Roadkill Ranch on the outskirts of town; Trick or Treat in a ghoulish neighborhood; drop by the local mortuary, or engage in mini-escape games. Of course, the centerpiece remains the hayride, which will take guests straight to the hellish portal from which the town's nightmares escape. Check for discount tickets before making your purchase. DISCOUNTED (via Goldstar)
12. Caltech Astronomy invites the public to sit in on a stargazing and lecture event this Friday at 8 p.m. FREE
13. Contemporary Crafts Market happening November 1-3 at the Pasadena Convention Center will feature over 140 artist to help you get all your holiday shopping done.
14. Want to celebrate Halloween early? Universal Studios Halloween Horror Nights has been spooking crowds for over 25 years, the park employs the industry's best special effects to bring pop cultures most famous movies and shows to life. Mazes include Stranger Things, Walking Dead and the new Ghostbusters experience. Check for discounted tickets before making your purchase. DISCOUNTED (via Goldstar)
15. The Natural History Museum's latest exhibit dives into the scientific inspiration behind some of Hollywoods most terrifying creatures. "Natural History of Horror" opens October 10, 2019 through April 19, 2020 and will include rare movie props, film footage, interactive activities paired with museum specimens.
16. Merchants on Olvera Street will celebrate Dia de los Muertos for nine days starting October 25 through November 2. The festival will include altars on display, children's workshops, face painting, and live entertainment. FREE
17. Zombie Joe's Underground Theatre in North Hollywood presents their annual Halloween iteration of Urban Death Tour of Terror. Guests will wind through a short maze before entering a darkened theater where series of disturbing vignettes will be presented one after another. The show runs October 4 to November 2, Fridays and Saturdays plus Halloween night. Check for discount tickets before making your purchase. DISCOUNTED (via Goldstar)
18. The Roots and Wings Project joins forces with the California Arts Council to present LUMINOUS STREETS, an immersive theatrical experience that takes the audience through the Downtown Los Angeles Historic Core including spots like The Last Bookstore and King Eddy's Saloon with stories that center on women's survival and pursuit of justice. Happening October 18 through November 10.
19. The Queen Mary's Dark Harbor returns with six terrifying mazes, including the brand new Rogue, in which the crew either is (or isn't?) working to save the capsized vessel you're trapped aboard. Nightly entertainment, rides, roaming monsters, and themed lounges round out Dark Harbor's offerings. Happening September 26 through November 2. Check for discount tickets before making your purchase. DISCOUNTED (via Goldstar)
20. Pumpkin Nights feature thousands of carved pumpkins across several pumpkin-themed lands accompanied with special holiday activities. Happening October 10 through November 3.
21. Artist Maximillian's popular horror-themed pop-up I Like Scary Movies returns for Halloween season September 20 through November 17. The detailed and beautiful series of installations is a love letter from the artist to iconic horror films like The Lost Boys, Beetlejuice, and The Shining. Runs Wednesday through Sundays. Check for discount tickets before making your purchase. DISCOUNTED (via Goldstar)
22. Nights of the Jack, a half mile trail completely filled with thousands of pop culture inspired hand-carved illuminated Jack O'Lanterns returns to King Gillette Ranch in Calabasas October 3 through November 3 for a spooktacular family friendly event.
23. Knott's Scary Farm is back with their signature haunted attractions, mazes and thousands of monsters ready to scare the living day light out of you and your crew. Check for discounted tickets before making your purchase. DISCOUNTED (via Goldstar)
Saturday November 2nd, 2019
24. Enjoy a free pass to all things arts and culture along Grand Ave. in DTLA during Grand Ave. Arts All Access. The day-long event will offer workshops, activities, tours, musical performances, and more, all along Grand Ave. from Temple to 5th. Participating cultural partners include Grand Park, L.A. Opera, The Broad, Central Library, L.A. Phil, Redcat, MOCA and more. FREE
25. Dia de los Muertos at Hollywood Forever Cemetery returns for 2019 with a massive affair including a traditional procession with Aztec blessings, 100+ altars created by members of the community to their ancestors and loved ones plus hundreds of Aztec Ritual Dancers in full costume. The main stage at this year's event will feature Cafe Tacvba, Lido Pimienta, La Dona, The Derlirians, and Savila.
26. Complexcon returns to the Long Beach Convention Center (Nov. 2-3) for a music festival and convention showcasing the best in art, food, style, music and more. The musical lineup includes acts like Kid Cudi, Anderson.Paak, Earth Gang and more.
27. HARD Day of the Dead is an epic EDM party at L.A. State Historic Park that includes top acts like Dog Blood (Skrillex + Boys Noize), the Martinez Brothers, Zhu's BLACKLIZT project, TOKiMONSTA, Damian Lazarus, Elohim, Justin Martin and more.
28. Self Help Graphics & Art Día de los Muertos Celebration takes place in Boyle Heights and features processions, a Day of the Dead-themed art exhibition, local food and craft vendors and free community art workshops. FREE
29. Critically-acclaimed immersive VR experience THE VOID recently launched Nicodemus: Demon of Evanishment, the first original experience developed in conjunction with Ninja Theory Studio. The mission is for a few brave Angelenos. You will travel back over one hundred twenty years to a decaying Chicago World's Fair and explore the abandoned exhibits in the dead of night. I forgot to mention the demon Nicodemus is on the loose and some of you might never return.
30. Long Beach Airport's 2019 Festival of Flight is a free celebration featuring aircraft and vehicle displays, live entertainment, food and drink vendors.
31. The Haunted 2: Welcome Foolish Mortals is an art exhibit inspired by places like the Haunted Mansion at Disneyland. Marvel at creepy animatronic works alongside paintings, sculptures, and jewelry. Happening at The Hive Gallery in Downtown Los Angeles the exhibit will run October 6 through November 3 and is free to view. FREE
32. The Griffith Observatory hosts a public star party once a month from 2-9:45 p.m. where folks can get a look at the sun, moon, plants and other objects in the sky through a variety of telescopes. FREE
33. Shipwrecked brings the tiki community together for a celebration of all things tiki with over 30 vendors selling unique wares, tropical cocktails, food and live entertainment at The Warehouse in Marina del Rey.
34. Skyspace Nights returns with DJ Diallo Riddle spinning tunes with access to all three floors of the space. Your first drink is free with admission!
35. A colorful, winding installation called The Second Home Serpentine Pavilion is now open at the La Brea Tar Pits for the summer and its 100% free for the public to roam and explore. The pavilion is open daily and will run through November 24. FREE
36. The creator of Odd Market brings The Los Feliz Flea every Saturday featuring vintage vendors, food trucks, entertainment and more at Marshall High School.
37. Creep L.A. presents the fifth installment of HAUS OF CREEP an immersive 75-minute experience that takes guests in a bizarre world where reality and performance art blur in a very dark way. HAUS OF CREEP will run from September 13 through November 3 on all weekends with some weeknights available.
38. Head over to the Regent in DTLA for The Rock and Roll Flea Market. The market features 50 vendors offering vintage and handmade crafts, including clothing, jewelry, memorabilia, instruments and more. Admission is free and open to all ages.
Sunday November 3rd, 2019
39. Día de los Muertos Family Festival hosted by Museum of Latin American Art (MOLAA) in Long Beach art workshops, live performances, gallery tours and an interactive community altar, face painting, food and unique artisan vendors. Día de los Muertos attire is encouraged. FREE
40. Head down town to the Dorothy Chandler Pavilion for Le Salon de Musiques an intimate stage free chamber music experience where a Q&A with the musicians, as well as a champagne and high-tea experience catered by Patina will follow. Check for discount tickets before making your purchase. DISCOUNTED (via Goldstar)
41. Chill out at The Lazarus Experience in DTLA during Mind Body & Spirits, an event curated to promote holistic living featuring yoga, massage therapy, CBD consumption demos, and CBD mock-tails.
42. RAW WINE, a natural, low-intervention organic and biodynamic wine fair returns to Los Angeles November 3-4 showcasing producers and wineries leading the movement.
43. Friendship Buddies is a free stand-up comedy show that takes place at the Verdugo Bar back patio features some of the best comics in Los Angeles and beyond. Show starts at 8p.m. FREE
44. Yoga at Angel City Brewery welcomes all levels of experience with a donation of $15-20 that includes a free drink at the end.
45. E.P. & L.P. in West Hollywood continues their stylish cinema series Melrose Rooftop Theatre with a screening of Fight Club.
Food Pick for the Week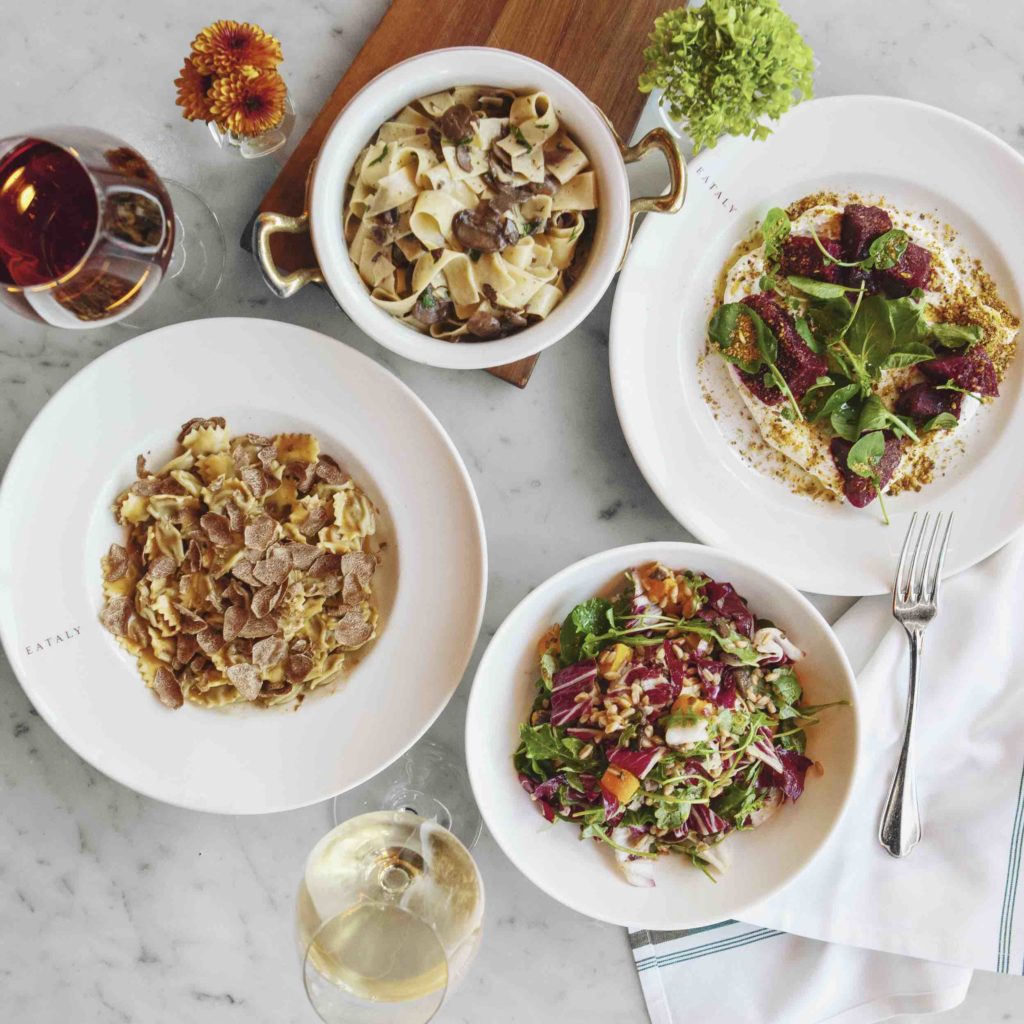 This week's pick by Christina Champlin, Co-Founder of We Like L.A.
Restaurant Fest is back at Eataly L.A. November 1-17. The event extends to all three restaurants housed at the Eataly L.A. complex. Diners get to choose two-courses from a set prix-fixe menu at each restaurant. Newly opened La Pizza & La Pasta's menu cost $18; fish market inspired restaurant designed by Chef Michael Cimarusti and Donato Poto, Il Pesce Cucina cost $28 and Terra the rooftop stunner focused on wood-burned Italian grilling cost $28. All restaurants will feature $25 bottles of vino. Cheers to that.
Eataly L.A. is located at 10250 Santa Monica Blvd. Los Angeles, 90067.
---
Want to get our to-do lists straight to your inbox every week? Sign up for our email program. Have an upcoming event you'd like suggest for listing? Drop us a line at [email protected]