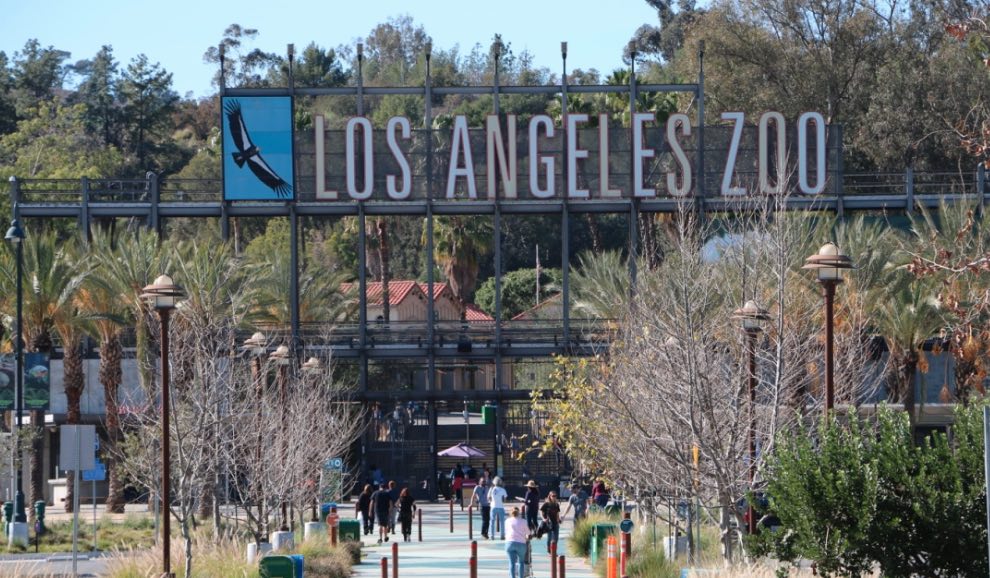 Los Angeles provides no limit of things to do, some awesome and some not so awesome. Since time is precious in this fast paced city we curate a list of things to do in Los Angeles for every weekend that'll help you decide how you want to spend your limited supply of attention (not to mention dollars!).
This weekend in L.A. from Friday, August 2 to Sunday, August 4 features San Fernando Valley Summer Drive-In Movie Nights, Brew at the Zoo, Midsummer Scream, National Park Service's Night Sky Festival, TASTE OF ECUADOR Food Festival and MUCH more.
Remember you can always go to our L.A. events calendar page to get an updated rundown of what's happening around the city.
Hope you find the rundown useful and, as always, enjoy your weekend!
---
Keep in mind that while we retain complete editorial control of our content, for some of the ticketing options provided we utilize affiliate links and receive a commission if you purchase through our links.
---
Friday August 2nd, 2019
1. Enjoy a vintage-style summer evening at the drive-in during San Fernando Valley Summer Drive-In Movie Nights at the Lake Balboa Complex. Each evening will offer food trucks, an arcade, live music and more. Kicking off the series is a screening of Indiana Jones And The Raiders of The Lost Ark on Thursday, Harry Potter and the Scorer's Stone on Friday and Jurassic Park on Saturday. Check for discounted tickets before making your purchase. DISCOUNTED (via Goldstar)
2. Back for the 16th year in a row, The Independent Shakespeare Co. presents Shakespeare in the Park at the Old Zoo in Griffith Park with free performances of Pericles Wednesday through Saturday and a performance of Twelfth Night on Sunday. FREE
3. The L.A. Zoo hosts Brew at the Zoo this Friday with 40 breweries, food, live music, pop-up zoo talks and animal discovery stations in an evening party setting.
4. Cinema Botanica: Movies in the Garden happening at Rancho Santa Ana Botanic Garden will feature family friendly movies every Friday in August. Attendees will receive a field guide to plants they can spot in the movies and Garden staff will discuss the plants and landscape during intermission.
5. Sierra Madre Shakespeare Festival 2019 returns for its fifth year with the comedy "Much Ado About Nothing" at Sierra Madre Memorial Park this Friday and Saturday. Guests are encouraged to bring blankets, lawn chairs, and picnics as they enjoy the show. FREE
6. The Silver Lake Picture Show screens The Big Lebowski at Sunset Triangle Plaza.
7. The Groundlings' latest hilarious main stage show, Groundlings Treasure Hunters runs every Friday and Saturday through September 14. Check for discounted tickets before making your purchase. DISCOUNTED (via Goldstar)
8. Metro Art Presents "Movements at Union Station," an evening featuring special DJ guest Norio, owner of the famous Rare Groove record store in Osaka, Japan. He'll be spinning tunes on the station's South Patio. Guests can also enjoy visual projections, a photo booth, a silkscreen stencil workshop and food trucks. FREE
9. Jackalope Arts August 2-3 features a massive assortment of artisan vendors, local food and drink, including a beer garden at Old Pasadena's Central Park. FREE
10. The Music Center's Dance DTLA features live music and/or DJs paired with expert dance instructors providing beginner group dance lessons for attendees. Each night has a different dance theme. The series continues with K-pop at Grand Park on Performance Lawn. Dance DTLA continues on select Fridays through August 30. FREE
11. L.A. LIVE kicks off the Nike Basketball 3ON3 Tournament with Downtown Dark Nights this Friday from 6 p.m. till late. There will be music, art, live performances and $5 food and drink menus at surrounding participating restaurants. The Nike 3on3 tip-off party will take place on the Main Court with an opening ceremony. This event is free to attend.
12. Shakespeare By The Sea will once again offer a ten-week program of admission-free performances with two featured productions: The Comedy of Errors and Henry V at a variety of venues across Los Angeles on Wednesday through Sunday. FREE
13. South Hills Burbank will host a free family movie night with fun activities, free popcorn and a screening of Inside Out indoors. FREE
14. Grand Central Market hosts Friday Night Flights this Friday starting at noon. The special includes a flight of drinks or bites from GCM vendors and a round trip ticket on the historic Angels Flight Railway right across the street for $15.
15.The Los Angeles Latino International Film Festival (LALIFF) the largest Latinx film festival in Los Angeles will take over the TCL Chinese Theatre and TCL Chinese July 31 through August 4. Co-founded by actor Edward James Olmos, the festival shines a spotlight on US-born Latinx filmmakers through screenings and world premieres, plus shorts, special events, Latinx podcasts and more.
16. Westwood Village Cinema Under the Stars returns for the season with Guardians of the Galaxy. Moviegoers are encouraged to bring their own chairs and blankets. FREE
17. Stop by The Bazaar By José Andrés at the SLS Beverly Hills for their al fresco bubbles and seafood series Terrace Fridays: Mar x Moet. Recurring every Friday starting at 7:30 p.m. and running through the end of September, the summertime series features iced Moet cocktails as well as gin cocktails, a menu featuring local seafood and signature dishes from Miami's Bazaar Mar.
18. Spend the season sipping wine during sunset hour at Barnsdall Art Park's Friday Night Wine Party Series. Happening on the lawn of architectural gem the Hollyhock House, the evening features a fine selection of wines curated by Silverlake Wine, a live DJ and tours of the house. The series happens every Friday evening till September 6.
19. The Norton Simon Museum presents The Female Gaze a female-centric film series highlighting French women directors. Presented in conjunction with the exhibition The Sweetness of Life: Three 18th-Century French Paintings, this Friday the museum will screen Vagabond. The screenings are free with guest admission ticket.
20. The City of Monterey Park presents Summer Movies in the Park a family friendly event with free popcorn taking place in different parks in the neighborhood. This weekend the series concludes with Captain Marvel at Barnes Park Amphitheater . FREE
21. First Fridays at Riviera Village in Redondo Beach features after hours at art galleries, restaurants, shops and live music. Location of the performances will vary. Check the Riviera Village Facebook events page to get details on each event as it becomes available.
22. Summer Friday Night Drive-In at the Roadium returns every Friday evening from June 7 to August 30 to revive your favorite films in a classic 1950's drive-in setting. The series continues with a screening of The Incredibles.
23.The City of Pasadena hosts Parks After Dark a season of free activities including sports, fitness classes, arts & crafts and much more offered to youth, families and individuals every Thursday through Saturday from July 10 through August 10. FREE
24. Free museum days: Norton Simon Museum (5 to 8 p.m.)
Saturday August 3rd, 2019
25. Midsummer Scream, the world's largest Halloween and horror convention returns to Long Beach with over 350 vendors for all your horror needs plus panels and special presentations from Universal Studios Hollywood's Halloween Horror Nights, Queen Mary's Dark Harbor, Zombie Joe's Underground Theatre Group's Urban Death plus numerous live entertainment experiences.
26. KCRW Summer Nights will take place at KCRW HQ this Saturday with a performance by Black Pumas with KCRW DJs Anne Litt and Raul Campos. Events are free and open to all-ages. FREE
27. Angel City Brewery presents their 7th Annual Avocado Fest August 3-4 celebrating four different kinds of avocado ale with avocado food, live music, and fun games.
28. ALT 98.7 Summer Camp takes over the Queen Mary Events Park for a day of music by Of Monsters and Men, Walk the Moon, The Head and The Heart, Phantogram, Cold War Kids, Grouplove, Lovelytheband and more. Check for discounted tickets before making your purchase. DISCOUNTED (via Goldstar)
29. There's a free 25th anniversary screening of 90's coming of age show "My So-Called Life" at The Paley Center for Media on August 3 and August 4. FREE
30. Think Tank Gallery is teaming up with Pizzaboyzzz and Future Fantasy Delight to present Nothing Cheezy a pizza-fueled, self-aware, selfie-themed pop-up thats a little bit satire and is intentionally too encompassing to be captured in a picture, thus forcing viewers to live inside the art. This is a ticketed experience that takes guests through the "craziest kitchen you've ever seen" and thirteen themed environments plus pizza of course. Open Thursday through Sunday.
31. Celebrate Los Angeles' unique celestial beauty when the National Park Service's Night Sky Festival returns to Paramount Ranch in Agoura Hills this Saturday. The free event will allow guests to observe the planets of our Milky Way Galaxy through telescopes, search for bats with a Ranger, enjoy dinner, and listen to a lecture by Dr. Longcore. This event is open to all ages. FREE
32. Eat|See|Hear returns for 2019 with a screening of North by Northwest at The Autry Museum. Check for discounted tickets before making your purchase. DISCOUNTED (via Goldstar)
33. As part of Beverly Hills third annual BOLD Summer the city will host an art walk this Saturday. Grab a seat on the Beverly Hills Trolley and visit some of the city's art installations and renowned galleries. BOLD happens every Thursday, Friday, and Saturday throughout the month with special activities for each week. FREE
34. The Long Beach Vegan Festival will feature delicious vegan, live music, animal-friendly vendors and more. General admission is free and limited VIP tickets are available. Check for discounted tickets before making your purchase. DISCOUNTED (via Goldstar)
35. A colorful, winding installation called The Second Home Serpentine Pavilion is now open at the La Brea Tar Pits for the summer and its 100% free for the public to roam and explore. The pavilion is open daily and will run through November 24. FREE
36. Heritage Day at the California African American Museum celebrates your family's history this Saturday. The Los Angeles Public Library (LAPL) will be on hand to help you preserve memories by digitizing keepsakes providing you with archival-quality copies to take-home. There will be drop-in art activities, a genealogy workshop and Deborah Swan will share stories of her late grandfather, Leon Hefflin. This all-ages event is presented in conjunction with the exhibit The Liberator: Chronicling Black Los Angeles, 1900–1914. FREE
37. Kites for a Cause a series of one-day, pop-up-style workshops held along the L.A River bike path invites the public to help cleanup a section of the L.A river, and then join local artists in creating art objects inspired by their local communities and environment. FREE
38. Street Food Cinema returns this weekend with a screening of E.T. and The Breakfast Club at two popular Los Angeles locations. (DISCOUNTED) via Goldstar
39. Head over to the Regent in DTLA for The Rock and Roll Flea Market. The market features 50 vendors offering vintage and handmade crafts, including clothing, jewelry, memorabilia, instruments and more. Admission is free and open to all ages.
40. There's a free local yoga session hosted by Fitbit on 3rd Street Promenade this Saturday. FREE
41. The Summer Playwrights Festival will showcase 38 plays in eight days from July 28 through Sunday August 4 at the Road on Lankershim in the Historic Lankershim Arts Center in North Hollywood.
43. The Hello Kitty Cafe Truck stops by The Citadel Outlets July 29 through August 4 from 10 a.m. to 9 p.m. serving lots of super cute treats while supplies last.
44. "The Assassination of Edgar Allan Poe," weaves in and out of the many Victorian mansions at Highland Park's Heritage Square Museum. The show follows the strange life and mysterious death of Edgar Allan Poe through multiple storylines. Audience members decide which storyline to follow (literally) in this immersive theatrical event and draw their own conclusion on how the famous writer died. The show runs August 2-4.
45. The Valley Cultural Foundation presents Movies on the Green at Warner Ranch Park. This weekend they will screen Aquaman. FREE
46. Apollo 11: The Immersive Live Show retells the tale of the first moon landing using 40,000 square feet of 360-degree graphics beaming from 32 total projectors, and an almost full-scale replica of the mylar-draped Command Module Columbia. And of course the timing couldn't be more perfect, with the 50th anniversary of the Apollo 11 mission coming up later this month. Check for discounted tickets before making your purchase. DISCOUNTED (via Goldstar)
Sunday August 4th, 2019
47. Mount Wilson Observatory launches its third season of Concert in the Dome special concerts inside its historic 100-inch telescope dome. There will be two musical performances: one at 3 p.m. and the other at 5 p.m. A reception for the artists will follow each performance.
48. The 21st Annual TASTE OF ECUADOR Food Festival comes to Placita Olvera for a full experience of Ecuadorian cuisine and culture featuring crafts, musical groups, folklore customs, carnival games and more. FREE
49. The Beverly Hills Farmers Market is hosting a Picklefest, featuring a variety of pickled fruits and vegetables this Sunday. This event is free to attend.
50. Lord Huron, Shakey Graves and YOLA take the stage of the Hollywood Bowl for a night of music as part of KCRW's World Music Festival with host Anne Lit. Check for discounted tickets before making your purchase. DISCOUNTED (via Goldstar)
51. Smorgasburg LA's 3rd Annual Ice Cream Alley returns bigger and better than ever with awesome scoop vendors, one-of-a-kind collaborations, plus its own dedicated beer garden with extended hours until 6 p.m. Happening every Sunday through September 1.
52. Escape the summer heat during Jazz on the Lawn, a series of free summer concerts at Santa Monica's Gandara Park every Sunday in August. In addition to live music there will be free dance lessons, food trucks and picnic games. FREE
53. Head to Walt Disney's Carolwood Barn for the final First Sundays of 2019 where the barn opens up to the public for the day. FREE
54. Stanley Kubrick's 2001: A SPACE ODYSSEY will be screened in 70mm at the Egyptian Theatre this Sunday.
55. Kids Summer Movie Series at The Wiltern will host a Robinhood matinee screening with themed photo ops, carnival games and other kids activities.
56. Free museum days: Museum of Latin American Art and Craft and Folk Art Museum (pay what you can)
Food Pick for the Week
This week's pick by Christina Champlin, Co-Founder of We Like L.A.
Long Beach's annual city wide Dine LBC restaurant week kicks off August 3 for nine days of food exploration in numerous Long Beach neighborhoods. Dozens of participating restaurants are offering two to three-course menus during lunch and dinner. Prices can run $15, $25, $35, $45, $55 or $65 per guest and during dinner the menu at select restaurants can be priced for two between $25 to $65. There's even a Dine LBC Bow Wow menu for your dog at Berlin Bistro that includes a Pupp-A-Chino for $2 and a Puppy Patty (angus) for $5. Dine LBC runs August 3-11. See the full list of restaurants participating this year here.
---
Want to get our to-do lists straight to your inbox every week? Sign up for our email program. Have an upcoming event you'd like suggest for listing? Drop us a line at [email protected]