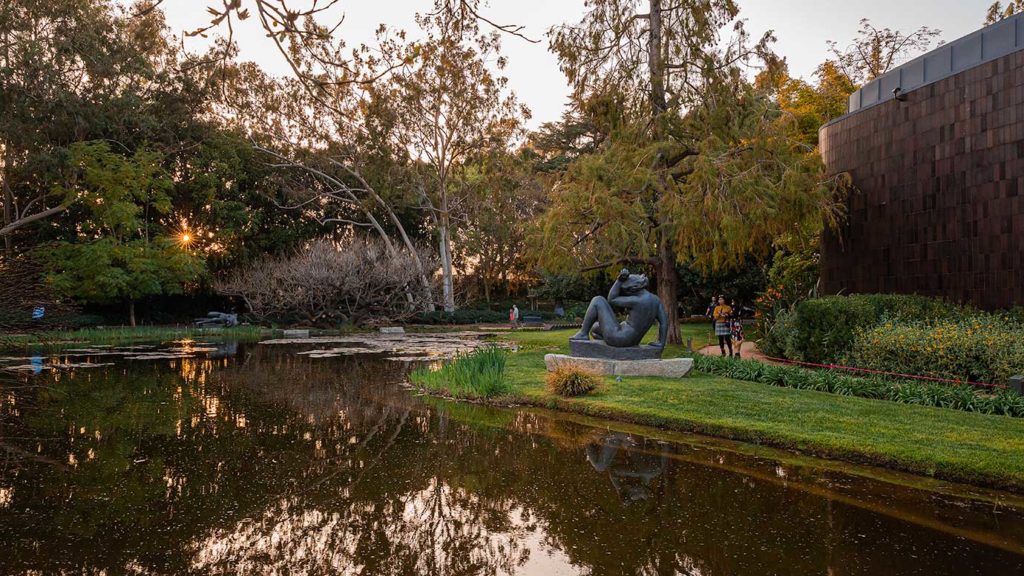 We used to tell you about all the things you could go out and do in Los Angeles on a daily, weekly, and monthly basis. Then, the coronavirus pandemic changed life for all of us, in a thousand small and massive ways. For a while, we posted strictly virtual events to keep you entertained and connected from your home. As the state, county, and city slowly reopen, we'll also include a mix of things you can do outside the house while still abiding by local health orders. We'll still offer plenty of online options for those of you who are self-isolating or who've decided to stay at home for the time being. We'll post a new list of options every Thursday morning. We hope they keep you busy, make you laugh, teach you something, or help you feel less alone.
This week, we've got Juneteenth celebrations, cat cafes and cat video fests, Tiki drink deliveries, free cooking classes, comedy, Pride events, gardening projects, and more. Have something you want to submit for next week? Hit us up: [email protected].
---
LAPL has compiled books and media for Juneteenth. They'll also host virtual Juneteenth events at several branches. More info here.
Check out Proud: Black & Queer in America with Dyllón Burnside on June 18 at 6 p.m. on Instagram Live. The conversation features actor/singer/activist MJ Rodriguez, Atlanta Councilman Antonio Brown, actor/activist Indya More, and Houston Ballet's Harper Watters.
Los Angeles chefs, bakers, and food personalities lend their skills to Pies For Justice. The one-day virtual bake sale taking place on Friday, June 19 will raise funds for Black Lives Matter Los Angeles and The Gathering for Justice.
You can watch HBO's Watchmen for free this weekend. The series is set in an alternative history involving superheroes and masked vigilantes. It stars Regina King as one such vigilante who unravels a mystery surrounding a white supremacist group and her own past.
Celebrated African American dance company Step Afrika! commemorates Juneteenth with a virtual dance program streamed on Facebook and YouTube. Using Washington, D.C. as the backdrop, performances are staged at landmarks across our Nation's Capital including Black Lives Matter Plaza, the Martin Luther King, Jr. Memorial, and the National Sylvan Theater on the grounds of the Washington Monument.
Verzuz's latest musician showdown will feature John Legend and Alicia Keys, who'll square off on the piano during a Juneteenth celebration. Check it out on June 19 at 8 p.m. EST (or 5 p.m. here).
UTA Artist Space and curator Myrtis Bedolla, has launched a virtual exhibition featuring paintings by a dozen emerging black artists. The exhibition titled Renaissance: Noir investigates Blackness with supporting audio commentary from some of the artists. On view until July 3.
The 2020 virtual Juneteenth Music Festival headlined by DJ Jazzy Jeff will celebrate African American history and the mission to make Juneteenth a national holiday. Tune in for live music from a long list of performers.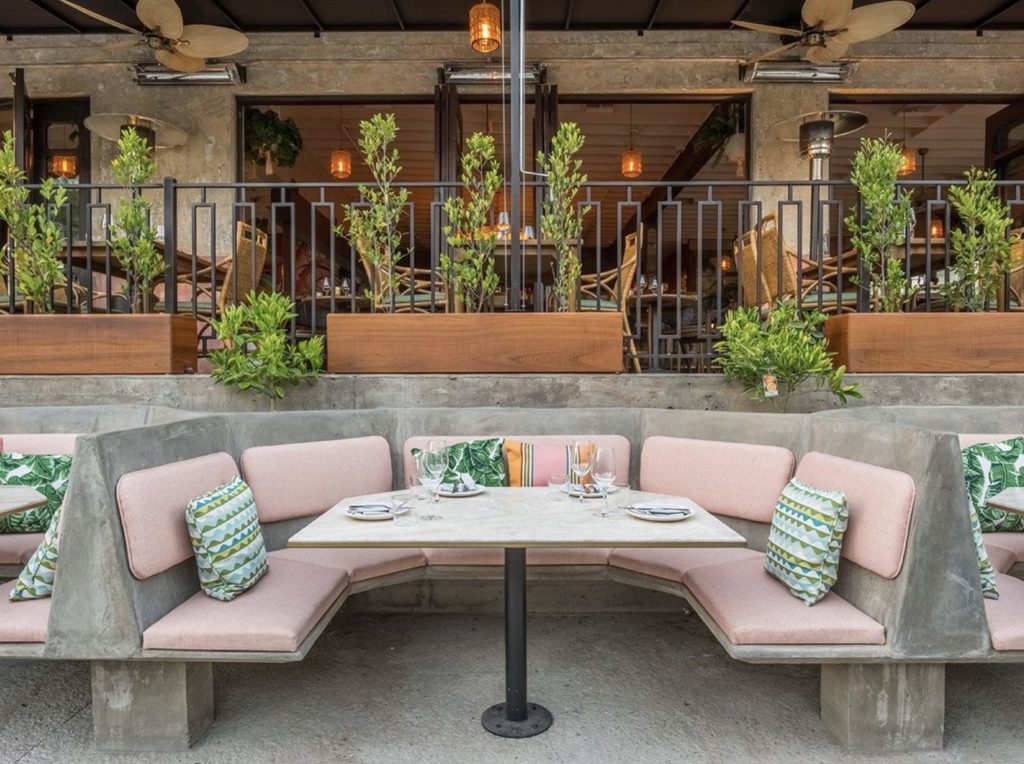 Enjoy a meal or two al fresco style. We recently published a list of over 40 restaurants with outdoor seating that you can enjoy right now.
Celebrate Juneteenth by ordering food or dining in at a Black-owned restaurant. Here are 100+ Black-Owned Restaurants You Can Support Right Now.
Beach Eats TO GO features several local food trucks for your dining pleasure every Thursday from 5-8 p.m. in Marina Del Rey. This Thursday, June 18, catch Roll'n Lobster, Deli Doctor, Maravilla Latin Cuisine, and Tokyo Style. Place your order up to 48 hours in advance. More info here.
The LGBT Center's Trans Pride event is online this year, June 19 & 20. It kicks off with Big Queer Convo, featuring actress/model/activist Isis King (When They See Us) interviewed by Alexandra Billings (Transparent, How to Get Away With Murder). Other events include workshops, panels, the option to socialize in an online community courtyard, and a VarieTy Show with Kelly Mantle, Our Lady J, the Trans Chorus of Los Angeles, and more. Check out the full lineup here.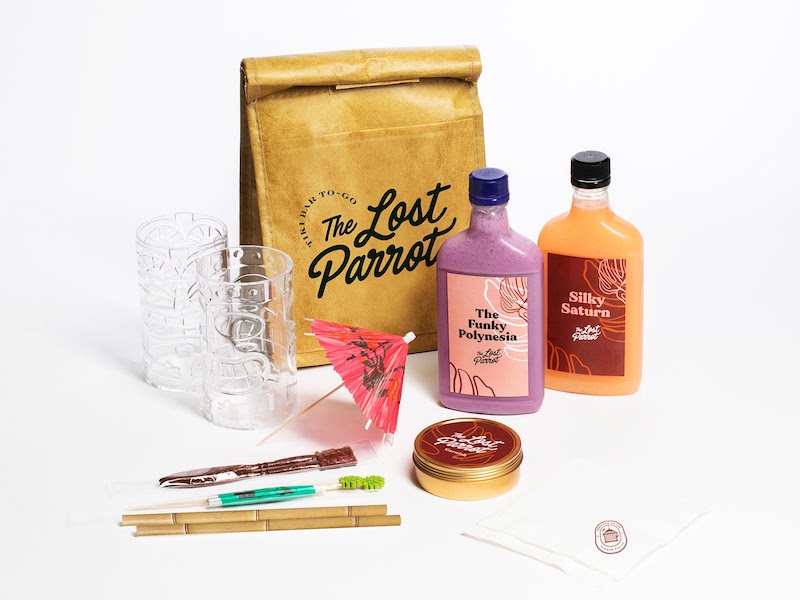 Cocktail Academy's Lost Parrot Tiki is a mobile pop-up tiki bar available for delivery. For $49.95, you'll get a 16-ounce, pre-batched cocktail (4 drinks), a branded reusable cooler bag, two tiki tumblers, straws and swizzle sticks, crushed ice, and a link to a themed Spotify playlist. See your cocktail options and more info here.
The Institute of Culinary Education is offering free online cooking classes, like Paella 101 on June 25. Find out more and register for upcoming classes here.
The Indian Film Festival of Los Angeles (IFFLA) will host a new virtual showcase, IFFLA Over the Years: 17 days celebrating 17 years of Indian cinema, June 19 through July 5. Check it out here.
Jenny Yurshansky's Blacklisted: A Planted Allegory, Audio Guide consists of narrated stories about plants you might see in your neighborhood, even though they were labeled invasive and appear on California's "Blacklist." Listen at American Jewish University here.
The Los Angeles Museum of the Holocaust presents Guns and Hate in the Coronavirus Era on Wednesday, June 24 at noon. The online panel features Robyn Thomas (Executive Director, Giffords Law Center) and Jordanna Gessler (VP of Education & Exhibits, LAMOTH). Suggested donation $10.
The Los Angeles Nomadic Division presents Nomadic Nights: Guadalupe Rosales, an online presentation of Channel Flip, Meet Me at the Edge of the Sun, on June 21 at 7 p.m. From Rosales: "I am interested in how violence and micro-politics are embedded in our bodies in contemporary society and how artists channel this social energy in their artwork. How do we release the violence we are exposed to every day? There are nuances within this question that I continue to wrestle with. Our bodies collect memory, positive and negative, and, increasingly so, due to common social and political conditions." Rosales engaged artists MPA, Zackary Drucker, Nao Bustamante and rafa esparza – friends from different chapters of Rosales' life – to activate these nuances and to experiment on the notion of bodies as archives. Viewers are invited to think alongside the artists about the power of our voices, our bodies, and breaking through our common boundaries: in sweat, blood, tears, rage, grief and releasing any embodied violence and emotions." A conversation with the artists takes place on Monday, June 22 at 2 p.m. Register for both events here.
Watch short puppet demos, films, readings, and more from Rogue Artists Ensemble via their new online showcase, Rogue Lab Nano Projects, available on YouTube.
Small Business Live is a one-day music fundraiser to raise money for small businesses with a focus on those run by women and people of color. Performances include Ms. Lauryn Hill, Leon Bridges, Chicano Batman, 2 Chainz, and more. Hosted by DJ Jazzy Jeff.
Hola Mexico Virtual Theatre is back with La Sangre Iluminada (The Enlightened Blood), June 18-21. The synopsis: Six characters tell us their strange-shared lives. Every so often, a strange mathematics places them on crossed coordinates, which change one character's life. So that he or she continues in the body of another. They are Mateo, a man bored with his marriage; Hugo, a child living with his mother, Eugenio, a travelling salesman; Paloma, who is having an affair with Roberto; Soriano, who works in a monotonous office and Isaias, who lives in a small maid's room on a rooftop. Get tickets here.
Union Station's Summer Sessions continue online with the Dance Battle Showcase, featuring local hip-hop dancers and hosted by Naz Perez. Check it out on June 18 at 7 p.m. on Facebook or YouTube.
Feedback Loop is an online comedy show, presented live on June 18 at 6 p.m. The show features host Will Miles and comics Sarah Tiana, Joe DeRosa, and Tone Bell. Tickets are $10.
Are you angry? Break Room has reopened for all your rage-release needs. This particular business allows you to don protective gear, then smash a variety of objects. Reservations recommended.
On June 20, see Juliette Jeffers's solo show, Chocolate Match: A Chocolate Girl's Online Search for Mr. Right via a livestream from the Whitefire Theatre. Tickets are $15.99 plus fees. On June 24 at 6 p.m., the Whitefire will stream the world premiere of SHELTER AT 'OM: Comedic Meditation with Carla Collins. Tickets are $9.94 with fees.
The Quarantine Cat Fest is available to watch from June 19, featuring numerous videos of adorable cats. Tickets are $12 and support indie cinemas across the U.S. You can choose which theater to support, including Laemmle Theatres locally.
On June 20 at 8 p.m., join the online panel "Women and Future of Psychedelics Virtual Learning Circle." Via event organizers: Hosted by the Ei.Foundation to promote advocacy and imagine a world where all people have and safe, legal and affordable access to the healing power of plants – the virtual learning circle will talk all things psychedelics, including the role of psychedelics in healing trauma., including the role of psychedelics in healing trauma.
Wendy Graf's play Unemployed Elephants: A Love Story premieres online on June 20 at 6 p.m. The synopsis: Two strangers lost, hidden… and found? Kerry Knuppe (Ryan Murphy's Hollywood, Ratched) and Marshall McCabe (world premiere production of Unemployed Elephants–A Love Story, Shadoe Stevens' Mental Radio) star as Jane and Alex, both on the run from loneliness and the truth. This might be their last chance to find true love — if only they can seize it! Get a free ticket here.
On June 20, The Fowler Museum and Omari Wiles will host a workshop on voguing and ballroom with West African and contemporary dance to create AfrikFusion/VogueAfrik. Participants will learn basic vogue moves in this free class. No prior dance experience necessary.
As part of The Juneteenth Theatre Justice Project, there will be a Zoom reading of Vincent Terrell Durham's Polar Bears, Black Boys, & Prairie Fringed Orchids on June 19 at 6 p.m. The synopsis: A liberal white couple opens the doors of their renovated Harlem brownstone to host a cocktail party for a Black Lives Matter activist, his gay white lover and the mother of a slain 12-year-old Black boy. A night of cocktails and conversation sparks emotional debates on topics ranging from underweight polar bears and Lana Turner to saving the planet, gentrification, racial identity and protecting the lives of Black boys. Andi Chapman directs. The cast includes IAMA Theater Company members Brandon Scott and Christine Woods, alongside Tesiana Elie, Todd Grinnell, Garrett Mercer, Kacie Rogers and Sheldon White. The reading is free. Register here.
California Botanic Garden is offering My Butterfly Box, which includes native plants that families can plant to attract butterflies. It's $55 for an original box or $85 for a mega box. Pickup begins June 24.
Artist Mike LoLo's Twilight Gods/Los Dioses Del Crepusculo opens online at Cactus Gallery on June 20 at 5 p.m. here.
The CatCafe Lounge has reopened every Saturday and Sunday through June, allowing guests to hang out with adoptable cats and kittens.
The Groundlings will host the online masterclass "From Concept to Set Life: Writing, Starring and Showrunning" with Ben Falcone, Will Forte, and Kristen Schaal on June 18 at 6 p.m. The class is followed by a Q&A. Tickets are $50.
Orange County Museum of Art's Impending Actions: Virtual Video Art Screening is June 18-20. According to OCMA, these relevant works "speak to a condition of uncertainty, chaos, and reform." RSVP here.
There is a donation-based Juneteenth Virtual Meditation on Friday, June 19. The online event will celebrate Black minds through breathwork, meditation, and reflection of the past, present, and future.
Artist Regan Russell's show Step Into the Realm opens online at Gabba Gallery on June 18 at 11 a.m. here.
From LACMA @ Home, watch as Catherine Opie shares the emotional and political motivations behind her photography.
Listen to How to Survive in LA, a fictional podcast that takes place in L.A. in 1994. The synopsis: "When a drug ring crumbles, two aspiring actresses find themselves connected to the criminals and cops involved; a "car king" is dead and a worn out PI searches for answers."
Several gardens are reopening to the public with health and safety modifications for social distancing. See our list here.
LA Art Tours hosts donation-based virtual graffiti and mural tours in the Downtown Los Angeles Arts District every Thursday and Saturday. Expect a live guide streaming on the streets and interacting with viewers. Guests will also be sent a PDF containing images of artists seen on the tour.
Take LACMA's "Art and Social Justice" course online to explore the intersection of art, activism, history, politics, and justice. While designed for educators, this free course is open to all.
If you intend to go protest this week, here's a guide on what precautions to take while protesting during COVID-19. Not out protesting? Check out this list of anti-racism resources, including articles and books to read, films and TV shows to watch, organizations to follow, and more. Or, check out this list of donation ideas.
Zombie Joe's Underground Theater streams Astroglyde 2020 every night through June 22 at 8:30 p.m. It's a series of short performances and soliloquies of "truth, terror, and titillation." Catch a different one each night.
Drive-movie theaters are also open to the public, allowing guests to watch a film, enjoy concessions, and practice social distancing inside their cars. Check out which ones are open now here.
There's a free Sneaker Science workshop on June 18 at 3 p.m. with Roosevelt Brown, footwear designer and associate professor of wearables and soft-goods at ArtCenter College of Design. Open to ages 11-18.
Museums are using #CreepiestObject on Twitter to share their oddest, most terrifying objects. The public and even some pop culture pages are also playing along.
Even more at-home ideas:
Remember that if you want updates sent straight to your inbox, you can sign up for the We Like L.A. email newsletter.