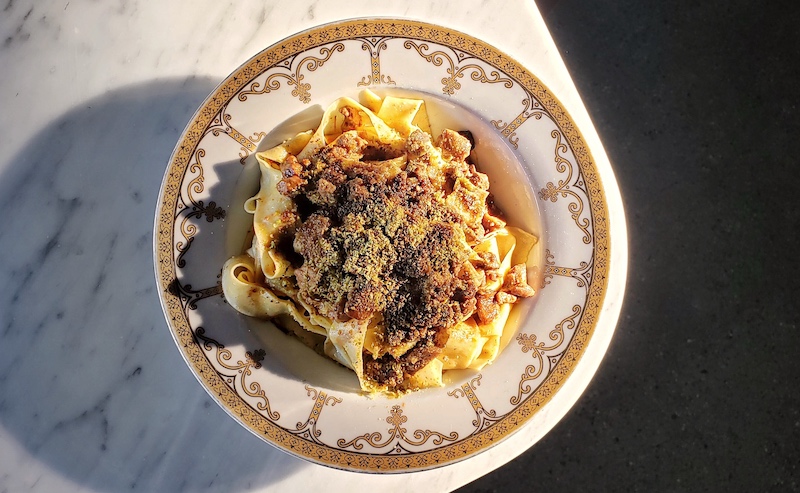 We used to tell you about all the things you could go out and do in Los Angeles on a daily, weekly, and monthly basis. Then, the coronavirus pandemic changed life for all of us, in a thousand small and massive ways. These days, there are no events for us to post about and, even if there were, state and county orders prohibit gathering. But, that doesn't mean you can't find entertainment, education, and most importantly, community online. From now on until this whole thing's behind us, we'll be posting virtual things you can do from home every Thursday morning. We hope they keep you busy, make you laugh, teach you something, or help you feel less isolated.
This week, we've got writing workshops, audio journeys, a virtual Pride party, a discussion on L.A. graffiti, a cool insect exhibit, Zoom dance classes, and more. Have something you want to submit for next week? Hit us up: [email protected].
The Downtown Long Beach Alliance presents its first Virtual Taste of Downtown this weekend, May 29-30. Everyone is encouraged to order takeout from local restaurants, then tune into the community event's Facebook livestream for some entertainment to go with your meal.
On May 29, join Amber Rollo's "Can I Live?" standup comedy livestream. This week's guests include Judah Friedlander, Freddy G, Sarah Hartshorne, Brian Bahe, and Ilhan Ali. Tickets are $5.
The Groundlings hosts "Writing for TV/Film" on May 28 at 6 p.m. This online class is limited to 250 people and features Ben Falcone and Steve Mallory. Tickets are $50 and available here.
Painter Maria Lassnig's Me, Encircled by a Fly will appear online at Hauser & Wirth starting Friday, May 29.
The Unmarked Door presents Adventures in the Mind's Ear, three immersive, 360 audio experiences you can download, then drift into with your headphones on. (We tried them, they are very cool.) Tracks are $3.50 each or $10 for all three. Proceeds benefit the LEIA Immersive Fund.
Pasadena Heritage hosts a virtual happy hour on May 30 at 2 p.m. Beer brewers and Pasadena docents will collaborate on a live beer tasting and trivia. Tickets are $10 and include a beer tasting guide and trivia sheets. You don't need to drink the same beer, but if you'd like to, snag a four-pack from Cervecería del Pueblo here for $17.
Techono Yoga Club happens every Tuesday evening on Facebook Live, Youtube, and Twitch. It's 90 minutes of deep, dubby, melodic techno and bendy grooves that will help you unwind from the day.
We Are Here/Here We Are is a drive-by-art initiative featuring over 100 works installed outdoors around Los Angeles that you can see from your car. It takes over the city May 16 through June 20. Access the art guide through art gallery Durden and Ray's personalized Google Map.
Live From Out There Virtual Festival is happening now through June 7. It's a music, comedy, and cooking fest wrapped over in several days.
The Smithsonian's Pride Alliance kicks off Pride month on Sunday, May 31 with Project Pride, a virtual concert and digital time capsule celebrating LGBTQ+ heritage, culture, and history.
Internet provider Starry Internet has a new virtual series, Made for This, offering yoga, boxing, tarot readings, art and cocktail classes, self-care tutorials, and more. The content is free and begins this week. See the full schedule here.
On Friday, May 29 at noon, The Grammy Museum will feature Spanish rock star Enrique Bunbury on Instagram Live.
Every Thursday through September 24, Marina Del Rey's Beach Eats TO GO event will allow the public to order bites from food trucks online, then pick them up to-go between 5-9 p.m. This week's lineup includes Habibi Shack, Roll'n Lobster, and Maravilla Latin Cuisine. Order up to 48 hours in advance here.
On May 30 at 7 p.m., check out The Music Center's virtual Spotlight Grand Finale and Benefit, featuring incredible high school-age performers in acting, dance, music, and singing. Spotlight alum Lindsay Mendez will host, while ballet dancer Misty Copeland and musician Josh Groban will make special appearances.
Cartwheel Art presents a Zoom talk and discussion on L.A.'s graffiti scene with Steve Grody, author of Graffiti L.A.: Street Styles and Art. Watch on Sunday, May 31 at 3 p.m. RSVP here. The talk is free, but tips are accepted.
Masters of Modern Design: The Art of the Japanese American Experience explores how WWII American concentration camps impacted the lives of Japanese American artists and designers. You can watch it through May 30 on KCET. And on Friday, May 29 at 6 p.m., catch a live Q&A on the Japanese American National Museum's YouTube channel.
LACMA has an audio mix from 2017 LACMA Art + Technology Lab grant recipient Curtis Tamm this week. From LACMA: As part of his project Tympanic Tether, the artist conducted audio visual fieldwork in geologically active parts of the world to re-evaluate the relationship between culture and natural catastrophes while researching the experiential and technological origins of the siren as a warning device to develop a series of new "siren candidates." Far from typical sirens, the sounds in the mix aim to heal trauma. Listen here.

The Orange County Museum of Art is accepting submissions for a photography project, Amir Zaki: Where We Read. Zaki wants to see two photos of your favorite reading spot: one taken from your POV when you're in it, and a second photo looking back at it. Submit your photos by 11:59 p.m. on June 4.
Bold Voices: A Live Music Benefit for WriteGirl takes place on May 30 from noon to 6 p.m., featuring MILCK, Molly Kate Kestner, Lucy Schwartz, Clare Means, Eartha Littt, and more. WriteGirl is a nonprofit that encourages teen girls to express themselves via writing.
The Gabriella Foundation offers over 130 weekly Zoom dance classes, plus has a summer dance program available for students 4 and older. Check out the many offerings here.
Impastiamo is an online cooking platform connecting you with chefs from around the world who'll teach you how to make Italian dishes. Check out available classes here.
Universal Studios Hollywood will celebrate Dinosaur Day on May 29 at 5 p.m. with a Jurassic World watch party on Twitter. For those 21 and up, the park will reveal select cocktail recipes from its Isla Nu-Bar.
The Norton Simon Museum offers educational and soothing meditations each week with Manager of Family & Youth Programs Mariko Tu. Check them out here.
See artist Anthony Pearson's online exhibit, Color Reflections. It's a photo series that not only shows his work, but behind-the-scenes images of his creative process. A percentage of proceeds from this exhibit will go to the RTLA Church via the Los Angeles Regional Food Bank.
The Natural History Museum has been collecting and photographing thousands of insects in Los Angeles since 2012. With the help of volunteers and museum scientists, the project is now an online exhibition titled Spiky, Hairy, Shiny. Highlights include extremely detailed images, a recording of soothing sounds that insects make, a map of insects in the city, and a guide to bug-related activities to do at home. The exhibit is set to close on May 31.
Alamo Drafthouse is offering a curated selection of films to rent or buy online, including recent releases such as Arkansas, Spaceship Earth, Lucky Grandma, Portrait of a Lady on Fire, and more.
Tune in to Loud Bitch Comedy, a monthly comedy show featuring an all queer/poc/femme lineup. The next show is Friday, May 29.
Check out Better Lemons's online calendar of theatrical events, occurring around the world, streamed right to you. Find plays, burlesque, and even bingo!
There's a livestream of Old Faithful in Yellowstone Park with predicted dates and times of possible eruptions.
On June 3, the Los Angeles Public Library Photo Collection will share some of the best images from The Hollywood Photograph Archive, which holds over 12,000 images spanning a century. Access the live event via Facebook, YouTube, and Twitch.
NASA is offering a variety of space-related activities, including a tour of the International Space Station in 3-D and a visual guide to NASA's Exoplanet Excursions where you'll be able to control the telescope. See the full list here.
Check out the Aurora Borealis aka Northern Lights, streaming nightly thanks to the Churchill Northern Studies Center in Manitoba. The live webcam is located directly under the Aurora Oval, the best position from which to view the phenomenon.
Yoga Echo Park has taken its yoga classes online. This weekend (May 30-31), you can join for some much needed stretching and a nice break from the couch.
Kline Academy of Fine Art is offering several live Zoom art classes. This weekend includes Animal Portrait Drawing and a Friday Paint Along session.
Vinovore is hosting weekly Virtual Wine and Sake Tastings. This Saturday, join master sake brewer Toji Miho Fujita from the award–winning Yuho Brewery in Japan for a Sakesplaining session through Zoom.
On May 30, join Lil Miss Hot Mess for Drag Queen Story Hour. She'll be reading from her new book, "The Hips on the Drag Queen Go Swish, Swish, Swish," along with a few other uplifting and affirming books. This is an all-ages event held on Zoom.
Todo Verde is hosting online weekend cooking classes of their vegan creations. This Saturday, May 30, they'll host a desserts class for Arroz con Leche and a Cacao Pudding class. Sunday, May 31 will be a class on Chiles Rellenos. All events are currently on a pay-what-you-can basis.
Don't Tell Comedy is hosting a Trivia Night on May 28 starting at 6:30 p.m. Created by stand-up comedians, the interactive game will be livestreamed on YouTube. Free to play.
Food News Updates
Iki Ramen in Koreatown is offering a beautiful Kaisen Don for $18. It comes with spicy tuna tartare, blue crab, salmon, yellowtail, Japanese scallop, and dashi ikura on a bed of rice. You can order for pickup or Postmates it.
Red Herring in DTLA will reopen for weekend curbside pickup. The menu includes BBQ to-go boxes, cocktails, and a brunch menu offering breakfast sandwiches, quiche, and baked goods.
Thursday, May 28 through Monday, June 1, all NORMS locations will offer two raw New York steaks for free with any $20 purchase, while supplies last. The free steaks are available for pickup orders only. To order, call NORMS or use Postmates, GrubHub, DoorDash, or UberEats.
In celebration of its third anniversary, Rossoblu is offering a special menu for pickup Thur.-Sat., this week and next. For $49/person, you'll get antipasti, pasta, grilled game hen as your entree, and amaretto ricotta cheesecake for dessert. See the complete details here.
Even more at-home ideas:
Remember that if you want updates sent straight to your inbox, you can sign up for the We Like L.A. email newsletter.