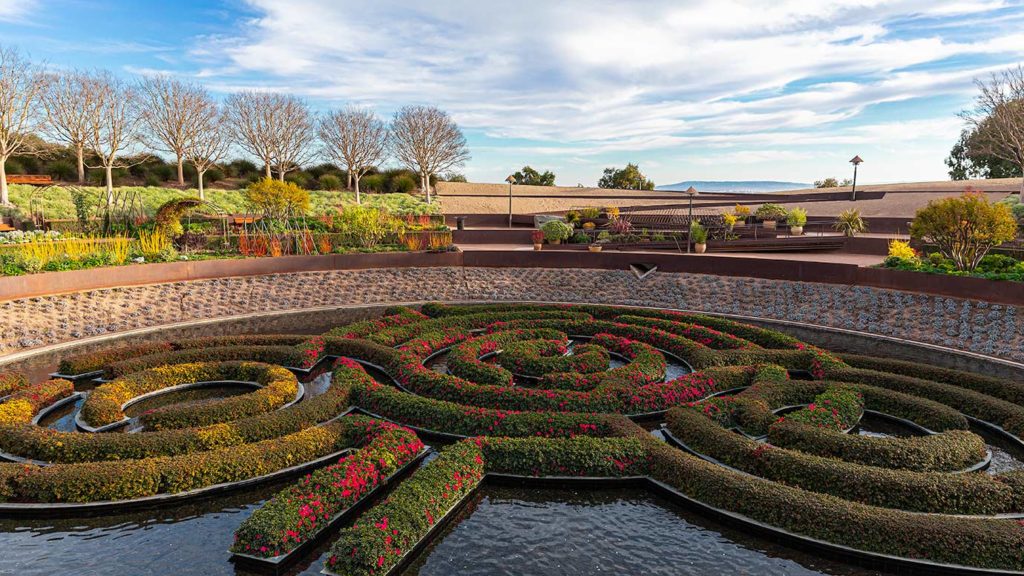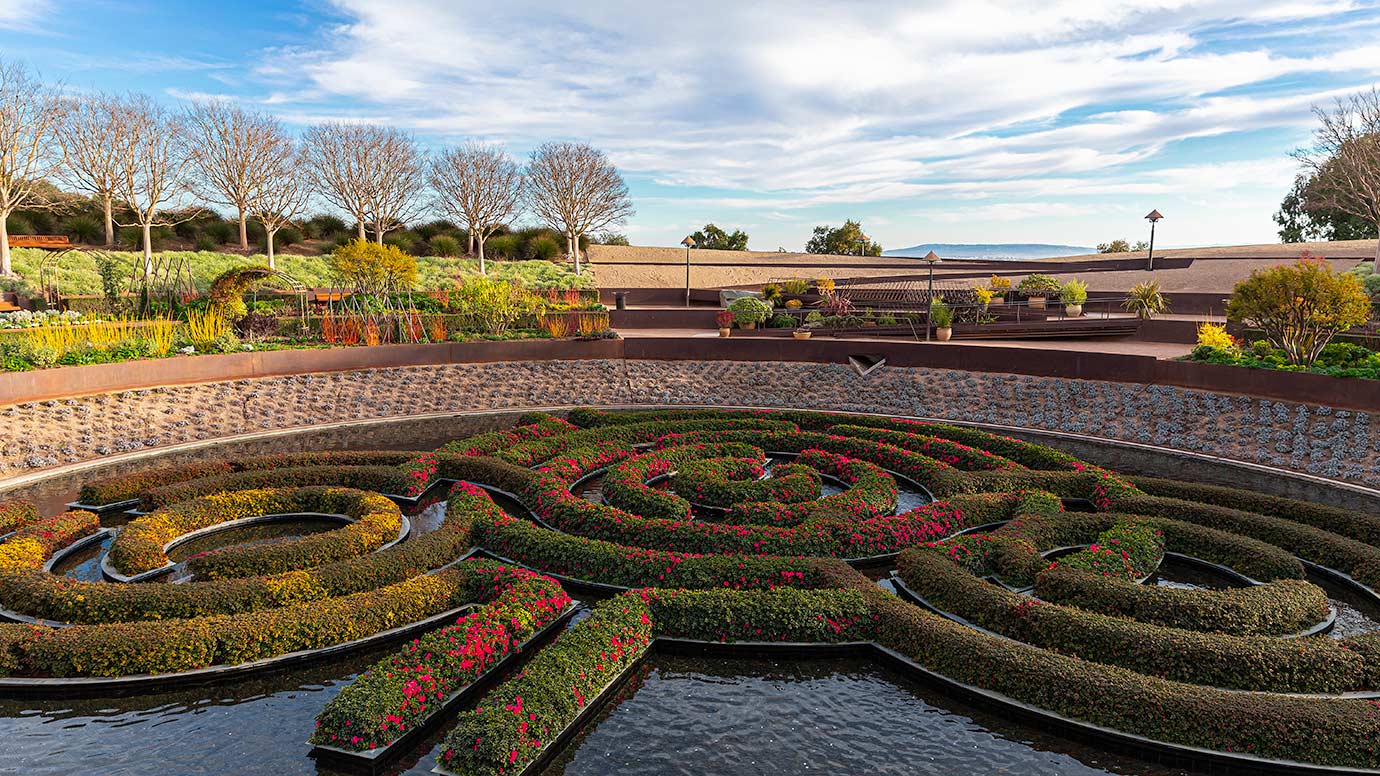 We used to tell you about all the things you could go out and do in Los Angeles on a daily, weekly, and monthly basis. Then, the coronavirus pandemic changed life for all of us, in a thousand small and massive ways. These days, there are no events for us to post about and, even if there were, state and county orders prohibit gathering. But, that doesn't mean you can't find entertainment, education, and most importantly, community online. From now on until this whole thing's behind us, we'll be posting virtual things you can do from home every Thursday morning. We hope they keep you busy, make you laugh, teach you something, or help you feel less isolated.
This week, we've got interactive games, outdoor socially distant galleries, virtual dance parties, an online gaming fest, and more. Have something you want to submit for next week? Hit us up: [email protected].
Virtually walk through the 134,000 square-foot garden at the Getty Center with Chief Gardner Brian Houck. Learn about the Robert Irwin-designed grounds and marvel at over 500 plants in the world-famous complex.
The Parker Gallery in Los Feliz has created a socially distant in-real-life art-viewing exhibit titled Sculpture from a Distance. Located right on the front lawn of its gallery, the exhibition features 19 local artists. The artworks change every two weeks and can be experienced any day or time, now through June 13.
Two Bit Circus is hosting Fun in Exile on May 7 at 7 p.m. The online game show is hosted by Two Bit's Eric Gradman and features celebrity guests Shira Lazar and Kevin Winston. Participants can play along at home, perhaps winning "valuable prizes." (Those prizes may be toilet paper, as three toilet paper emojis follow this statement.) Sign up here.
AOTW presents ARCANA, an interactive alternate reality game (ARG) you can play for free at home. The game is a horror drama that unfolds over the next several weeks on the internet, taking the form of stories, puzzles, and more. To get started, you can follow the game's first character, Jade, on Instagram. Jade is a young artist who finds herself living alone for the first time in a long time when her girlfriend, Robin, dumps her in the middle of the pandemic. As Jade turns to art and social media to heal her broken heart, it becomes clear something sinister is going on. The game officially started on May 6, but you can join anytime. Find more info here.
Join Steve Chiotakis of KCRW's Greater LA as he teams up with experts from the Bet Tzedek legal firm on Thursday, May 7 at 4 p.m. to answer your questions on unemployment and rent issues during COVID-19. This is a free Zoom event with registration, but you can make an optional donation to KCRW.
LACMA's Make Art @Home features several YouTube tutorials on how to make art. Learn Spin Art or build your own paper city inspired by Chris Burden's Metropolis II. There are enough videos to keep you busy all week long.
Zócalo Public Square presents "What Can Poetry Offer Us In Distressing Times?" an online live chat about how poetry allows us to escape anxieties and find space for introspection. Check it out on May 7 at 6:30 p.m.
On Saturday, May 9, join the Wallis Annenberg PetSpace for a special digital wellness workshop with veterinarian and board-certified vet nutritionist Dr. Lisa Weeth. From 2-3 p.m., learn about the types of foods to feed your pets, how to read labels, and more. Then on Sunday, join them for a Sunday Funday on Instagram Live. DJ Marcus Aurelius will spin tracks from 4-5 p.m. and some of your favorite pet influencers will make special appearances.
Staying Connected Series, a virtual discussion in partnership with the Wende Museum, will take place on May 10 at 3 p.m. The hour-long talk will focus on what art can teach us about fact and fiction.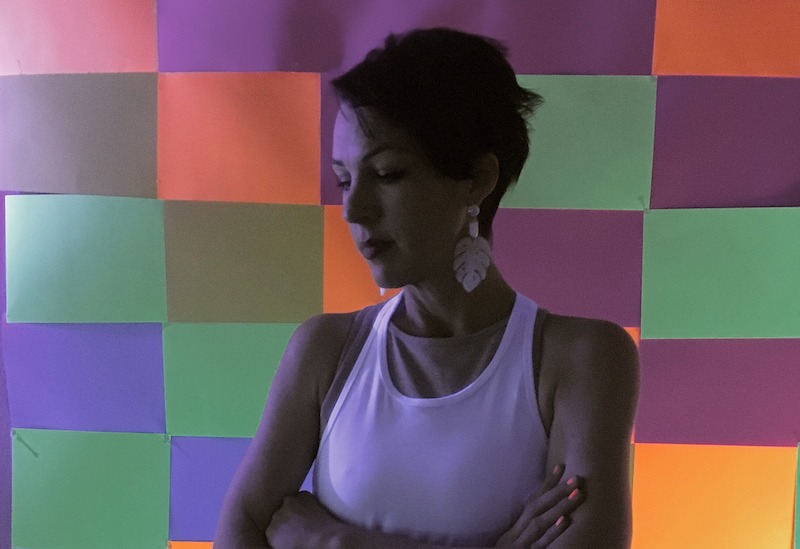 Ramie Becker hosts Dance Commander Disco, a Zoom dance party she hosts out of her living room turned disco. Becker's dance troupe, RAID, provides the in-house entertainment for mashup night Bootie LA, and now you can dress up and dance along during Bootie's Twitch streams on Thursdays, Fridays, and Saturdays. To see all available dancing opportunities, check out Bootie's Twitch here and Dance Commander Disco on Instagram. This week, DCD is on Thursday at 6 p.m. and Friday at 7 p.m. The Dance Commander Disco Zoom ID is always 818-588-0566.
One Down Dog yoga studio is hosting virtual yoga classes. Sign up for your first class for only $5. The studio is also hosting a special Mother's Day flow class suitable for all levels on Sunday from 9:30-10:30 a.m.
The Petersen Automotive Museum will continue compiling hundreds of digital vehicle submissions from around the world for its biweekly virtual Global Cars & Coffee events. The next event will air on the museum's YouTube channel on May 10, 2020.
Artist Nicolas Party's "Canopy" is now online at Hauser & Wirth's website. The exhibit features beautiful watercolors of colorful plant life.
On May 9, Secret Sky Festival will feature performances from Porter Robinson, G Jones, Jai Wolf, Kuzina AI, Madeon, San Holo, and many others. The virtual auditorium opens here at 11 a.m. Postmates is also offering festival stay-at-homers free delivery on orders of $10 or more with the code SECRETSKY.
In honor of Mother's Day, Vallarta Supermarkets will host a livestream performance from Mariachi Divas on Sunday, May 10 at 9 a.m. Watch on Facebook Live or IGTV.
Escape Room L.A. has two virtual escape rooms you can play over Zoom: The Lost Pyramid and Planet X. Get a team of friends together to solve puzzles with the aid of a live game master. Note that you won't actually see inside one of the company's existing escape rooms, but you will solve puzzles based on images and descriptions from your game master. Tickets are $15/person.
If you're looking for an escape room game where you can see into an existing room, we can recommend two. At Escape Experience in Chattanooga, you and friends can log on via Google hangouts and guide the game master through the room, using interactive maps and downloads of key clues to solve puzzles and win. Add up to 8 players for $20 per person (two-person minimum). We also enjoyed Stratton Escape out of Winhall, Vermont. Manipulate a silent game master around the room, then use a separate link to see different camera angles and photos of clues close-up. It's $49 for the first household, then $20 for each additional Zoom link.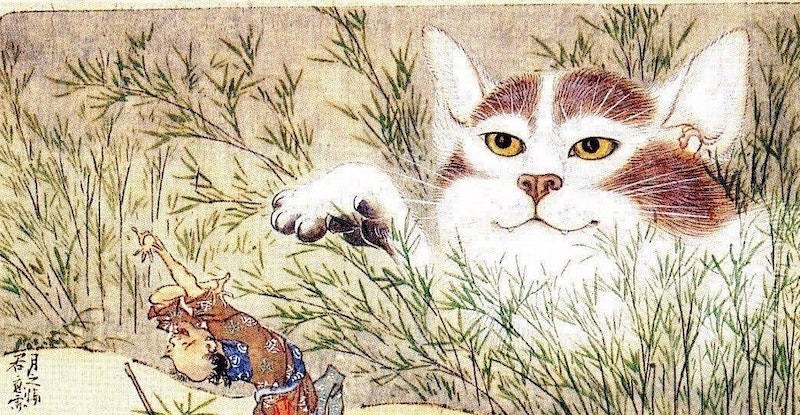 Author and Japanese folklore scholar Zack Davisson and Atlas Obscura present a lecture on kaibyō, or supernatural cats. You can learn all about these strange and furry creatures on May 11 at 4 p.m. Tickets are available here for $7. 
Check out Better Lemons's online calendar of theatrical events, occurring around the world, streamed right to you. Find plays, burlesque, and even bingo!
NHMLA's First Fridays returns on May 8. Members can drop into the Zoom webinar "Secrets of the Vault" at 5 p.m. At 6 p.m., the Future of Design and Architecture webinar is open to the public, as is the DJ Lounge with KCRW DJ Novena Carmel, which opens at 7:30 p.m. on youTube Live. The event is free, but you do need to register here.
On May 10 at noon, dnj Gallery and LACP host a Mother's Day talk with artist Ellen Cantor. You can go to Zoom here and use the password VISUALDNA. The synopsis: Fine art photographer Ellen Cantor sifted through old family photographs and modified them with circles and squares to emphasize certain images. Her goal was to isolate specific facial expressions and gestures to provide clues to the familial relationships on view. The result, her exhibit Visual DNA . . . the Language of Photographs invites the viewer to eschew nostalgia and see these vintage photos in a new light.
The USC Game Expo opens online on May 12, noon to 9:30 p.m. Download and try over 50 student-created games for free during and after the events. Plus, you'll gain access to demos, a keynote speech, and more. Just RSVP here.
Los Angeles's American Contemporary Ballet has two ways to stay connected, even though the company's summer season is canceled. You can listen to its new podcast, Outsiders, or watch ABC TV on IGTV starting May 10. Outsiders is hosted by Lincoln Jones and explores questions like, "Why does ballet look the way it does?" On IGTV, you can watch (or participate along with) programs like Dancing School.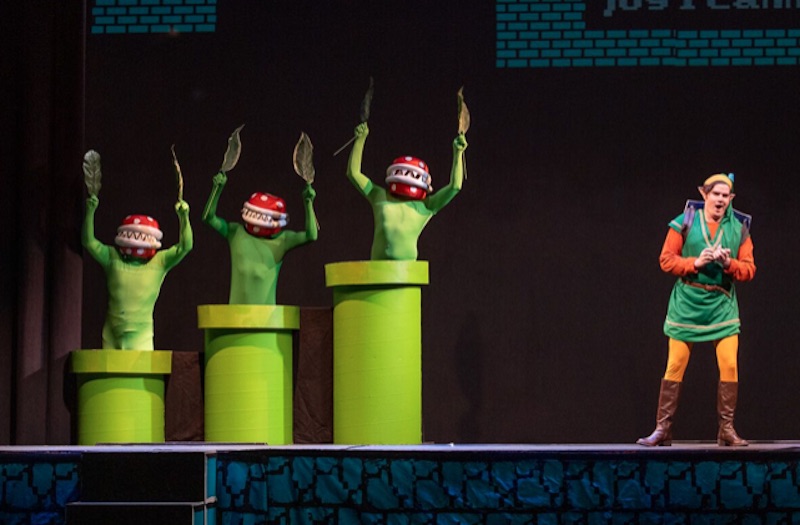 Pacific Opera Project presents an interactive watch party of Mozart's The Magic Flute, except everyone is… a video game character? This is sort of POP's schtick and it's a lot of fun. Tune in on May 13 at 5 p.m. for the show, a costume contest, drink recipes, and more. More info here.
Echo Theater Company's storytelling series, Bold Faced Secret, explores "relativity" on May 8 at 7:30 p.m. Participants will tell stories about relationships of all kinds. RSVP to [email protected] to receive a link.
Join Los Angeles Tourism and LAX on a Google Earth tour of the Flight Path Museum & Learning Center at LAX with museum director Agnes Huff. You'll see the museum's huge collection of airline inflight uniforms and accessories, aircraft models, posters, and memorabilia. Catch it on May 8 at 12:30 p.m. Register here.
Long Beach Opera is hosting daily programs on its Facebook Page now through June 30. This includes performances, conversations, interviews, and more.
For something educational, try TRUE Zero Waste and Circular Economy Overview, a free webinar from U.S. Green Building Council Los Angeles. Per USGBCLA: In this series of courses, you explore how businesses can create value by striving for zero waste, seeing products and materials as cycles, the role of creative solutions, and how you can contribute to making the transition to a Circular Economy. Check it out on Zoom on May 13 at 11 a.m.
While Hollywood Fringe won't happen until October this year, you can check out their online cabaret on May 8 at 8 p.m. Drop by on YouTube for a night of variety acts, including music, comedy, magic, and more.
Skylight Theater Company has a new, free play web series, each work specifically written to reflect our strange times. On May 7 at 3 p.m., they'll present The Professor of Social Distancing, written by Tom Lavagnino. The show is about a projectionist named Jimmy who's all too familiar with social distancing already. Shows are about 10-15 minutes, followed by a Q&A.
Los Angeles Municipal Art Gallery (LAMAG) has launched some cool virtual programming, including salon conversations from its archives, art-making activities, and more. See what they've got going on here.
Mister & Mischief have a free answering service you can call for inspiration, commiseration, and more. Just dial (888) 691-3111 any time to choose which messages you'll hear. Check back often as extensions are updated almost daily. More info here.
Even more at-home ideas:
Remember that if you want updates sent straight to your inbox, you can sign up for the We Like L.A. email newsletter.