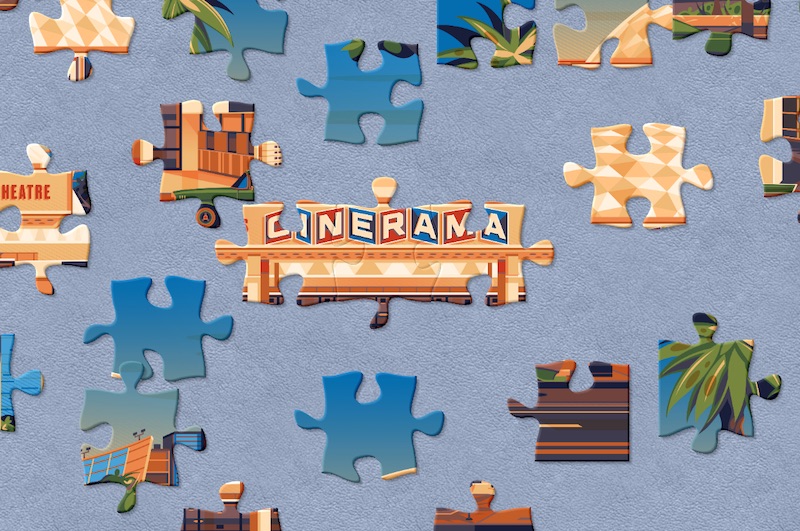 We used to tell you about all the things you could go out and do in Los Angeles on a daily, weekly, and monthly basis. Then, the coronavirus pandemic changed life for all of us, in a thousand small and massive ways. These days, there are no events for us to post about and even if there were, state and county orders prohibit gathering. But, that doesn't mean you can't find entertainment, education, and most importantly, community online. From now on until this whole thing's behind us, we'll be posting virtual things you can do from home every Thursday morning. We hope they keep you busy, make you laugh, teach you something, or help you feel less isolated.
This week, we've got digital jigsaw puzzles of L.A. landmarks, still life painting and photography tutorials, a photo contest, activities for families and kids, phone-based thriller games, trivia and more. Have something you want to submit for next week? Hit us up: [email protected].
The Neon Museum in Las Vegas now has virtual tours of its famous retired relics. Log on to the museum's site and enter the password "Neon" to enjoy. The museum's Facebook page also features new tours, including one from its recent Tim Burton exhibit.
The James Dyson Foundation has created 44 engineering and science activities to entertain and challenge kids during the coronavirus pandemic. Kids can learn neat stuff including how to make a balloon-powered car, build a sturdy bridge from spaghetti, and create a working periscope.
The National launched a weekly streaming fundraiser called Communal Event on YouTube. Every Monday at 2 p.m., the band will share rare content including classic live sets and home footage to raise money for a GoFundMe campaign dedicated to the band's touring crew.
Join L.A. artists Anna Breininger and Kristin Cammermeyer every Sunday at noon on Zoom for Be Still Life Drawing Sessions. You'll build your own still life set, then the hosts will help you bring it to life on canvas. To join the class, direct message Be Still Life on Instagram with your email address. The classes are free.
Tippet Rise Art Center in Montana has uploaded several stunning site-specific artworks and classical music performances, all set on a 12,000-acre working ranch in Montana. Check it out here.
DTLA's Coaxial Arts Foundation is keeping its underground programming alive by adapting its popular monthly event, Cathode Cinema, for the internet. Renamed Cathode TV, the series features artists working with media, sound, and performance. Programing includes experimental shorts, bizarre television feeds, and more. Tune in Monday through Friday on Picarto TV, YouTube Live, and Dlive.
The Santa Monica Mountains Fund and Western National Parks Association have a new photo contest anyone can join. OUTDOORS asks participants to submit five photos—either taken in the past or now while abiding by social distancing restrictions—related to 12 different categories, including flora, animals, landscapes, and sunrises or sunsets. Judges will choose one photo from each category to be featured in the SAMOFund 2021 Calendar. See more information and the full list of categories here. Entries are due September 4.
Thanks to Los Angeles Tourism, you can put together digital puzzles of L.A. landmarks, including Griffith Observatory and the Cinerama Dome.
Log on to the Miss Grass 4/20 Summit on April 20 from noon to 4:20 p.m. for free cannabis programming in celebration of the weed holiday. The fest includes weed workshops with Chelsea Handler and Marigold Sweets founder Vanessa Lavorato, a discussion on cannabis and restorative justice, a panel about sex and weed in quarantine, a DJ set with Stoned Fox, and more. RSVP here.
Mangamo, a new online manga subscription service, is offering new subscribers a two-month free trial. Titles include Attack on Titan, Horror at Doll's Village, and more. Available for iOS.
If you've ever played one of those phone simulator games (Simulacra, Another Lost Phone), you may be interested in The Girl on the Phone from Sinking Ship Creations. It's a 90-minute, real-time immersive experience that takes place entirely on your phone. You'll first receive a message from Irene (played by a live actor), who has been kidnapped by corrupt police, but who's also found a phone. Using voice calls and text, you'll work with Irene to help her escape, using whatever resources you have at hand. Tickets are $59.99. See more info here.
A similar, but cheaper option is Subtext, available for $6.99. This time, the kidnapping victim is a young man who needs you to solve puzzles as you figure out the secrets behind "a mysterious research facility and a person who found themselves in the wrong place at the wrong time." You'll use phone calls, text, and emails to play. See more info or check out the demo here.
Los Angeles's most decadent super club, Disco Dining Club, and KinEuphorics are hosting a Zoom livestream on Friday, April 17 at 5 p.m. Join DDC founder Courtney Nichols as she reimagines three of her grandmother's recipes, which you can make at home along with her. You can also make a donation to benefit Whole Wave, which provides fresh produce to those in need.
Global Citizen's One World: Together at Home is a star-studded streaming special to benefit COVID-19 Solidarity Response Fund for WHO. Performers include Alicia Keys, Amy Poehler, Andrea Bocelli, Awkwafina, Billie Eilish, Billie Joe Armstrong, Eddie Vedder, Elton John, FINNEAS, Idris and Sabrina Elba, Jennifer Lopez, John Legend, Kacey Musgraves, Keith Urban, Lupita Nyong'o, Paul McCartney, Pharrell Williams, Priyanka Chopra Jonas, Stevie Wonder, Taylor Swift, Usher, and many more. Tune in on April 18 at 8 p.m. ET/5 p.m. PT. See more details and available platforms here.
U.K.-based Activity Village is offering a variety of free activity packages to download and print to keep kids busy and engaged. The activities are fun and meant to give children a nice break from homeschooling.
Participate in the Annenberg Space for Photography's Vanity Fair Cover Challenge. Find a Vanity Fair cover in the museum's archive here, recreate it at home, then post to Twitter or Instagram using the hashtags #CoversofCovers and #VanityFair. The Photo Space will choose its favorites to post to social media. You can also listen to an audio tour of the Vanity Fair exhibit, narrated by Vanity Fair's creative development editor David Friend, here.
Discover and explore 17 landmark works by prolific architect Frank Lloyd Wright thanks to The Frank Lloyd Wright Building Conservancy in partnership with the Frank Lloyd Wright Foundation and Unity Temple Restoration Foundation. #WrightVirtualVisits takes place on Instagram and Facebook every Thursday at 10 a.m. Participating FLW sites will swap and share short video tours of other sites via their social media pages.
Contemporary visual arts organization Firstsite is offering free downloadable activity packs created by U.K. artists.
Investigative Reporters & Editors (IRE) has relaunched the NICAR-Learn library, a platform with some 60 short, skill-based videos to help journalists learn how to work with data. This resource is free for one year.
Cameo Cares is a free livestream from Cameo, the platform that lets you request personalized video messages from celebrities. Log on April 16-18 for concerts, comedy, games, and more while Cameo simultaneously raises funds for COVID-19 relief. Guests include Mandy Moore, Tony Hawk, Akon, and more.
Have a lot of eggs to spare? Follow Etoni Mama's Instagram account and prepare to be inspired by Kyaraben, the Japanese art of character bento. Etoni Mama a talented food stylist and her cartoon-like creations of animals and Disney character will instantly brighten up your meal. She's especially talented at transforming fried eggs into super cute characters that you can easily recreate.
The Other Art Fair just launched an online studio version of its global art fairs. Each week, The Other Art Fair will bring you curated collections, creative challenges, studio visits, and the opportunity to buy limited edition works from guest artists. The launch includes an online shop featuring over 800 artists from around the world.
This year, the L.A. Times will host its annual Book Prizes ceremony virtually on April 17 at 8 a.m. The L.A. Times Books Twitter page will announce all 14 winners followed by short video acceptance speeches from recipients.
Watch 90-year-old yūsoku hairstylist Minami Tomoko recreate traditional hairstyles of geishas, courtesans, and actresses as seen in ukiyo-e paintings of the 17th, 18th, and 19th centuries.
Catalina Island Museum is offering CIM Sessions, a series of virtual museum tours, artist livestreams, and more. Follow them on Instagram @catalinamusuem for updates.
The Verdi Chorus will stream its first online concert on April 18 at 7:30 p.m. The Force of Destiny features music from Verdi and Strauss. You can watch live here or check their Facebook after.
Join the California African American Museum's family workshop, Still Life through the Lens with artist Janna Ireland. She'll guide you through arranging and photographing your own still life works using objects in your home. RSVP for free here.
Milk Bar founder Christina Tosi hosts a baking show on her Instagram. Tap the Tosi Bakes tab (under highlights) for past tutorials or the next recipe and shopping list for all your prepping needs.
CAP UCLA hosts the Virtual Poetry Bureau. Five poets will type poems based on user-submitted prompts live on Facebook Thursday, April 16 at 5 p.m. To get your own poem, fill out this form.
At the Natural History Museum of Los Angeles's online portal, NHMLA Connects, they'll be uploading new content each week throughout April that explores planet Earth. A perfect way to get your Earth Day festivities in from home.
At Hauser & Wirth, Rashid Johnson's Untitled Anxious Red Drawings is now online here. All pieces were made since the onset of the COVID-19 pandemic. Other online exhibits include Zoe Leonard's The ties that bind.
Independent Shakespeare Co. presents Art Break, a collection of Shakespeare-centric podcasts, videos, and music from its archive.
The Los Angeles County Arboretum & Botanic Garden posts a new, nature-based program every Monday and Wednesday for kids and families. Create a "living necklace" or flower crown, decorate eggs, learn about the inside of a flower, and more.
This week, LACMA @ Home has a video detailing how its experts care for Chris Burden's kinetic sculpture Metropolis II.
Click your way through a virtual tour of the 1897 Shotgun House in Santa Monica with the Santa Monica Conservancy.
Amber Rollo hosts her livestreaming comedy show, Can I Live? through Zoom. For $5, you can join Rollo and a swell lineup of comedians for a night of standup on Friday, April 17 at 6 p.m.
Radiohead will release one classic live show onto its YouTube channel every week until the current shelter in place rules are eased or until the band runs out of shows.
The Craft Contemporary museum offers Craft at Home, several easy craft tutorials you can do at home with simple supplies.
Bob Baker Marionette Theater presents At Home Happiness, a series of online performances and educational videos dedicated to "bring maximum joy to those at home." Tune into their Instagram every Wednesday and Saturday morning at 11:30 a.m. for special puppet numbers. Feeling crafty? Catch a tutorial on how to make your own puppet on the theater's YouTube channel here.
The Hammer Museum takes its 30-minute Mindful Awareness Meditation series online via Zoom every Thursday at 12:30 p.m.
Beauty brand Youth to the People is offering free, 15-minute skin consultations online. The brand's skincare experts will answer questions about your skin type, skincare routine, and more. Sign up here.
Follow P-22, our majestic mountain lion friend, on Facebook for daily livestreams that include musical performances, interviews with scientists and Griffith Park experts, art activities, and even a little storytime.
The Autry's new streaming series Is This a Western? challenges Autry curator Josh Garrett-Davis to find the Western aspects of various films, songs, books, or pop culture references. Submit your challenges to [email protected]
Dynasty Typewriter is one of our favorite venues and, like everything else, it's also closed. To support them during this time, you can shop their new line of social distancing merchandise or check out the venue's YouTube channel for online shows and livestreams.
Sound artist Alan Nakagawa is making a sound collage about current times comprised of haikus. To participate, write and record a haiku about what you're going through now and send it to the Orange County Museum of Art by April 16 at 11:59 p.m. here: [email protected] Please include your typed poem and an .mp3 recording. As a reminder, haikus consists of three lines with five syllables in the first, seven syllables in the second, and five syllables in the third. Nakagawa and OCMA will release the collage on Thursday, April 23.
Coursehorse has several online classes available, including various career skills, how to read tarot, cooking, art, music, and more. Check out the full list of virtual classes here.
Listen to Henry Rollins's new long-form radio show, The Cool Quarantine. The first four-hour show consists of personal stories and music, including live Cramps bootlegs and audio from an original Joy Division pressing. Available on KCRW.com and on the station's app.
Go on a virtual tour of the cherry blossoms in Descanso Gardens' Japanese Garden while the grounds are closed to the public. Find several videos of their latest blooms like cherry blossoms, wisteria, and tulips on YouTube.
Refinery29 and Comedy Central announced two new YouTube Shows. CC x R29: Taking the Stage features stand-up comedy from a lineup of women comics while CC x R29: Speak Up features interviews with those stand-ups. Performers include Jena Friedman, Kat Radley, Ayo Edebiri, and more. Episodes drop throughout April. Check out the first with Tien Tran here.
Comedy Quarantine is a free nightly comedy livestream. See tonight's schedule on Instagram @comedyquarantine.
Check out the Downtown Santa Monica Self-Care Club, a list of online fitness classes, yoga, meditation sessions, and more. Choices include salsa lessons from The Studio Corazon and sound baths with Be Crystal Clear.
King Trivia has taken its bar trivia online via Twitch on Wednesday and Sunday evenings at 7 p.m. Though there are no prizes as there's no way to ensure people aren't cheating, there are two raffle giveaways per game. Follow them on Instagram @kingtrivia for updates.
Even more at-home ideas:
Remember that if you want updates sent straight to your inbox, you can sign up for the We Like L.A. email newsletter.