We used to tell you about all the things you could go out and do in Los Angeles on a daily, weekly, and monthly basis. Then, the coronavirus pandemic changed life for all of us, in a thousand small and massive ways. These days, there are no events for us to post about and, even if there were, state and county orders prohibit gathering. But, that doesn't mean you can't find entertainment, education, and most importantly, community online. From now on until this whole thing's behind us, we'll be posting virtual things you can do from home every Thursday morning. We hope they keep you busy, make you laugh, teach you something, or help you feel less isolated.
This week, we've got classic arcade games, aerial videos, online craft fairs, virtual music fests, art to make you laugh, and more. Have something you want to submit for next week? Hit us up: [email protected].
Self Help Graphics is hosting several free virtual workshops. On Tuesday, May 19, the studio will focus on Intermediate Monoprinting with artist and painter Dewey Tafoya on Facebook Live. The workshops are 30 minutes long and will be uploaded to the studio's YouTube at a later time. This is a three-part series in monoprint; catch up by watching the Introduction to Monoprint video on YouTube. You must be 18 or over to join the Tuesday workshop.
Non-profit library Internet Archive is giving the public access to Internet Arcade, a collection of coin-operated video games from the 1970s through the 1990s. Choose from a ton of games both familiar and new (to you) to play for free at home on your computer. No quarters required.
Starting Thursday, May 14 at 5 p.m., The Prince Estate, in partnership with YouTube, will host a three-day streaming event of Prince and the Revolution: Live at the Carrier Dome in Syracuse, New York on March 30, 1985.
Aerial videos are pretty popular these days and the Smithsonian has jumped on the bandwagon by releasing 68 free episodes of Aerial America online. Viewers can virtually fly across top destinations all over the United States and get a glimpse at both cityscapes and landscapes.
The Los Angeles Zoo's Beastly Ball is its big annual fundraiser. Tickets normally go for $1,500 each, but this year, they're bringing the event online, free to stream through the Zoo's website and social media channels. The 45-minute program will be hosted by Joel McHale and includes appearances by Zoo Ambassadors Lisa Ling, Carolyn Hennesy, Julie Chang, Jackie Chan, Slash, Lance Bass, and more. You can check it out here, starting this Friday, May 15 at 6 p.m.
The Renegade Craft Fair is hosting virtual fairs every weekend of May to support artists and help you learn some creative skills. This weekend's roster includes several painting activities, making ceramic eggs, and bookbinding.
Join Zócalo Public Square and historian William Sturkey, the winner of the 10th annual Zócalo Public Square Book Prize, to discuss his book Hattiesburg: An American City in Black and White and the lessons communities facing inequality and discrimination can draw from Hattiesburg today. The interview and lecture will be streamed live on Wednesday, May 20 at 5 p.m to those who register their attendance in advance.
At this point, we're all chefs in our own homes. If you're almost out of recipe ideas, Michelin-starred and James Beard Award-winning chef Nancy Silverton's got your back with a new quarantine-themed cookbook that's only $2.99. The digital-only Cooking from Your Pantry gives you two dozen recipes with ingredients you already have or ingredients that are easy to find during this pandemic. Each recipe takes 30 minutes max to complete, giving you plenty of time to do other things. Cooking from Your Pantry is available for digital download on Amazon, Barnes & Noble, Apple Books, Books A Million, Google Play Store, and Kobo.
A Night of Covenant House Stars is a free virtual concert featuring over 50 performers, including Jon Bon Jovi, Meryl Streep, Dolly Parton, Stephen Colbert, Morgan Freeman, and more. The event benefits Covenant House, a nonprofit that serves youth experiencing homelessness. It streams live on numerous platforms on Monday, May 18 at 8 p.m. EST/5 p.m. PST. Find more details here.
The Rude Zoom Bar is an ongoing virtual pub where mean bartenders will insult you. Comedians Mae Elaine, Jordan Fried, Ben Kirschenbaum, Maximilian Spinelli, and Mike Bramante serve as your virtual bartenders. They will insult patrons based on clothing and what they say, but not their fixed appearance. They will also insult each other. Why would you want to do this? It's free and, well, why not? There's only so much "love and light" on Instagram a person can take. Register for an upcoming date here.
Snap Crackle Prop is an interactive radio play about a voice actor named Jason. Jason needs to record a children's cereal commercial, but he needs your help providing all the sound effects. You'll help Jason by tracking down household objects to turn into a breakfast symphony. Time slots are available through May 24, tickets are pay-what-you-can.
Watch Sheryl Crow, Elvis Costello, Jon Batiste, and more perform online for the Jazz Foundation of America's #TheNewGig livestream concert on Thursday, May 14 at 5 p.m. The event will be hosted by Keegan-Michael Key and donations will benefit the COVID-19 Musicians Emergency Fund.
Ficks Beverage Co. launched a "Margarita Movie Night" care package this week filled with items to make your nights in super cozy. For $35, the box comes with Ficks Mixers Margarita Mix, SkinnyPop Microwave Popcorn, SmartSweets Low Sugar Candy, SeaSnax Roasted Seaweed Snacks, a pair of FunSocks, and a Patchology FlashMasque Milk Peel Sheet Mask. 100% of the profits will be donated to the USBG Bartenders' Guild Emergency Fund for bartenders who have lost their jobs.
KCRW's Bodies podcast is hosting a discussion on cannabis and chronic pain with marijuana advocates on Wednesday, May 20 at 7 p.m. on Zoom.
The Echo Sesh is an online music showcase designed to feel like a festival. It's a 3D avatar-based event that has three stages hosting six live performances and a virtual "world" you can explore. Check it out on Friday, May 15 on a Mac or PC (not suitable for mobile devices). "Doors" open at 4:30 p.m. and tickets, priced at $15, are available here. All proceeds go to the performers.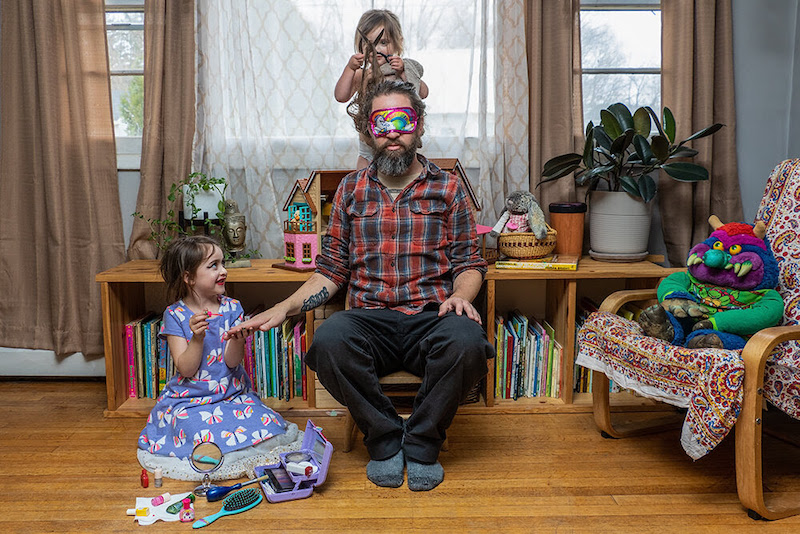 Gabba Gallery's "online, humor-based art show" No Pants Required opens May 14 at 10 a.m. The pieces are cheeky, punny, and designed to put you in a good mood.
Eschaton is a virtual nightclub open every Saturday at 7 p.m. for one hour. You'll log in on Zoom, then explore a series of Zoom rooms to uncover a variety of performers to watch and interact with. You can also chat with your fellow club-goers. Eschaton is still in its early stages and encourages those who want a fully baked show to book a date further in advance. Either way, it's $10 and 18+ only.
Want to impress your friends with a pro at your next virtual dinner party or happy hour? The Supper Share will connect you with sommeliers, chefs, and bartenders. You'll get expert tips, and hospitality workers have a source of income. Win-win. Find out more here.
Join Style on the Spot's Happier Hour on May 14 at 4 p.m. for live music, activities, giveaways, celebrity guests, and more. This three-hour livestream benefits Dress for Success's Moving Forward, a campaign to help women struggling with COVID-19 hardships get back on their feet. Tickets are $10.
The Rolling Stones 'Extra Licks' concert streaming series is still continuing on their YouTube channel. Watch past performances and dance like Mick in the comfort of your own living room. The next show takes place on May 17 at noon.
The Art Deco Society will host its annual Avalon Ball virtually this year on Saturday, May 16. Usually held on Catalina Island, the ball transports guests back to the 1930s with big band music, dancing, and more. This year will feature live music from Dean Mora and friends plus insights on cocktails, island history, and fashion. Tickets cost $10 and will benefit the musicians.
On Friday, May 15 at 5 p.m., Now Serving will host a Zoom webinar with Evan Bloom, co-owner of Wise Sons Jewish Delicatessen, and journalist Rachel Levin about the first-ever Wise Sons cookbook, Eat Something: A Wise Sons Cookbook for Jews Who Like Food and Food Lovers Who Like Jews. Zach Brooks, the general manager of Smorgasburg LA, will also join.
On May 15 at 7 p.m., LA Plaza de Cultura y Artes will host a conversation with artist and activist Dan Guerrero, writer and star of ¡Gaytino! Made in America. Register here.
The Encounter, an audio-centric play that received rave reviews when it ran during The Wallis's 2016/2017 season, is now available on-demand through May 22. Put headphones on and check it out for free here.
Asembl's (Not So) Live series returns this Friday at 9 p.m. with comedians Gertie Titelman, Kaycee Conlee, and Julie Weidmann. Free, but tips encouraged, on Zoom.
Update: The May 21 event has been canceled. Every Thursday through September 24, Marina Del Rey's Beach Eats TO GO event will allow the public to order bites from food trucks online, then pick them up to-go between 5-9 p.m. This week's lineup includes StopBye Cafe and Wise Barbecue. Order up to 48 hours in advance here.
Join KCRW DJ Aaron Byrd and Cut Chemist over on KCRW's Instagram live on Friday, May 15 at 1 p.m. for a Q&A with Cut Chemist, the guest DJ for Freeform Fridays, a new weekly dance party featuring two KCRW DJ sets and a guest DJ mix. Catch Freeform Fridays live on-air at 89.9FM or on KCRW.com/KCRW starting at 8 p.m.
On Sunday, May 17 at 2 p.m., you can watch as the Malpaso Dance Company discusses the cultural and artistic exchange between Cuba and the U.S., featuring interviews with Malpaso founders Osnel Delgado, Fernando Sáez, and Daileidys Carrazana and choreographers Ronald K. Brown and Sonya Tayeh. The talk is followed by a streamed performance of Tayeh's Face the Torrent. Watch online at musiccenter.org.
Comedy Quarantine is still going strong! Tune in for a different live comedy showcase every weekday at 7 p.m. on Instagram Live @comedyquarantine. Use Venmo to tip the performers.
LACMA invites the public to use any of its public domain collection images to make memes. Tag them and they may post your meme to Instagram.
The Latino Theater Company hosts a conversation with actor and company member Geoffrey Rivas on Friday, May 15 at 4 p.m. on Facebook.
Three Napa Valley wineries—Frank Family Vineyards, Chappellet Winery, and Regusci Winery— will host a virtual wine tasting on Saturday, May 16 at 2 p.m. The event includes a conversation with each, where participants can ask questions. Join on Zoom here.
The Children's Hospital Los Angeles's 4th annual Walk & Play L.A. event will stream online on May 16 with performances from Jason Mraz, Now United, and Loote. More info here.
For $9.99/month, you can support the L.A. Dance Project and become a digital member. Members gain access to dance-driven workouts, interviews, live-streamed performances and rehearsals, an archive of films and performances, savings on future tickets, and more. Check it out here.
Catalina Island Museum's Annual Silent Film Showcase goes online this year. On May 15 at 1 p.m., catch a screening of Mud and Sand with piano accompaniment from Michale Mortilla. On May 16 at 1 p.m., Mortilla will accompany Seaside Simps. On May 17 at 1 p.m., Laura Macfehin will present the lecture, "The Curse of Valentino's Ring." Watch on the museum's Facebook Page here.
Found Oyster is launching a pop-up called Overboard this Friday featuring buckets of fried chicken and several salads and sides, including smoked trout dip and peel-and-eat prawns. Also, a fantastic seafood shop will offer items like live lobsters, oysters, branzino, and more. Order through Tock.
Hauser & Wirth presents Homegrown, an online exhibition featuring artwork from its global staff and their families. With 11 locations around the world, the gallery held an open call to its staff and received 110 submissions. Twelve artists will be featured every two weeks in the online viewing room now through July 18. The majority of proceeds from sales will go directly to the artists, while 10% of sales will go to the COVID-19 Solidarity Response Fund for the World Health Organization.
On Sunday, May 17, the postponed 8th Annual Tour de Pier will instead host a virtual commemorative show, "Fight and Flight." Chris "Geeter" McGee will host a string of favorite Tour de Pier moments and tributes, while the show will close with a live, choreographed flyover of the Manhattan Beach Pier from the Tiger Squadron. Donations will benefit cancer nonprofits. Tune in on Facebook or Zoom at 10:15 a.m. (The flyover is at 10:30 a.m.)
The Parker Gallery in Los Feliz has created a socially distant in-real-life art-viewing exhibit titled Sculpture from a Distance. Located right on the front lawn of its gallery, the exhibition features 19 local artists. The artworks change every two weeks and can be experienced any day or time, now through June 13.
AOTW presents ARCANA, an interactive alternate reality game (ARG) you can play for free at home. The game is a horror drama that unfolds over the next several weeks on the internet, taking the form of stories, puzzles, and more. To get started, you can follow the game's first character, Jade, on Instagram. Jade is a young artist who finds herself living alone for the first time in a long time when her girlfriend, Robin, dumps her in the middle of the pandemic. As Jade turns to art and social media to heal her broken heart, it becomes clear something sinister is going on. The game officially started on May 6, but you can join any time. Find more info here.
Check out Better Lemons's online calendar of theatrical events, occurring around the world, streamed right to you. Find plays, burlesque, and even bingo!
Even more at-home ideas:
Remember that if you want updates sent straight to your inbox, you can sign up for the We Like L.A. email newsletter.