We used to tell you about all the things you could go out and do in Los Angeles on a daily, weekly, and monthly basis. Then, the coronavirus pandemic changed life for all of us, in a thousand small and massive ways. These days, there are no events for us to post about and, even if there were, state and county orders prohibit gathering. But, that doesn't mean you can't find entertainment, education, and most importantly, community online. From now on until this whole thing's behind us, we'll be posting virtual things you can do from home every Thursday morning. We hope they keep you busy, make you laugh, teach you something, or help you feel less isolated.
This week, we've got fitness raves, witchy cocktail shows, magical hotlines, online film fests, so much theater, and more. Have something you want to submit for next week? Hit us up: [email protected].
---
On April 30, join KCRW DJs for This Album Saved My Quarantine. Get some inspiration on what to listen to as they each discuss an album that's making their quarantine a little easier, one song at a time.
WWOZ New Orleans Jazz & Heritage Station presents Festing In Place, an online jazz festival featuring archival sets from the New Orleans Jazz Festival. Listen April 30 through May 2. More info here.
Check out a digital tour of The Autry's "Women of the West" or virtually stroll through the museum's ethnobotanical garden.
Get in on Atlas Obscura's weekly trivia night on May 1 (and several Fridays to follow). Games kick off at 7 p.m. EST (so late afternoon here) and cost $7 per screen. Gather a team of up to five people, preferably those well-versed in "trivial knowledge and fascinating ephemera."
Microtheater consists of four short quarantine-themed plays you can watch from home every weekend through Safer at Home. This weekend, plays include "Time is Meaningless," "The Dog Who Fell Into a Mineshaft," "Well, Well, Well," and "Rain, Bow, Connect, Shin." Shows kick off on May 1 and May 2 at 6:05 p.m. and 7:05 p.m. Register to watch as many as you like on Zoom here. Donations welcome.
On May 1 at 7 p.m., LA Plaza de Cultura y Artes will host Keeping the Música Alive…And Well with Louie Pérez of Los Lobos on Zoom. He'll discuss his work and how the music industry can adapt to the world as we now know it. Register here.
Art Beyond The Glass presents "Sipping at Home," a live telethon streaming on The Hospitality Life Twitch and Facebook channels on Sunday, May 3. The annual fundraiser gathered some of the best bartenders in L.A. to collaborate on "To-Go Cocktail Kits," each featuring four special cocktails and some other surprises. Pre-orders are available now for pickup April 30 through May 2 at select locations across the city. The proceeds will benefit the ABTG COVID-19 Relief Fund, which supports local bartenders impacted by the coronavirus pandemic.
The Venice Family Clinic's Art Walk Auction is now online. You can start building on available pieces on May 3 on Artsy here. Final bids must be placed by May 19 at noon. Proceeds will raise funds for the clinic's COVID-19 response.
The Pack Theater is uploading some of the best livestream comedy shows on the internet. The next few days include SET LIST, an improv comedy standup show, and Casting Call, where improvisers audition for roles in real-life terrible projects being made right here in Los Angeles.
LACMA is hosting a digital premiere of Arkansas on its YouTube channel followed by a conversation between LACMA Asst. Film Curator Adam Piron and director Clark Duke. The film's synopsis: Kyle (Liam Hemsworth) and Swin (Duke) live by the orders of an Arkansas-based drug kingpin named Frog (Vince Vaughn), whom they've never met. Posing as park rangers by day, they operate as low-level drug couriers by night under the watchful eye of Frog's proxies (John Malkovich, Vivica A. Fox). However, after one too many inept decisions, Kyle and Swin find themselves directly in Frog's crosshairs, who mistakenly sees them as a threat to his empire. Arkansas weaves together three decades of Deep South drug trafficking to explore the cycle of violence that turns young men into criminals and old men into legends.
Check out Los Angeles Public Library's Storytime at Home every weekday at 11 a.m. on Studio City Library's Instagram. Each episode, Miss Lauren offers a book, songs, and felt board stories for children.
L.A. Theater Works currently has several audio plays available for streaming, including over 30 sci-fi plays within its Relativity Series. Check out their complete offerings here.
Artist PunkMeTender has launched his exhibit, A Battle Won, online. Click around this virtual gallery to see each piece.
Join the Tonga Hut for a tiki party on Zoom on May 1 at 8 p.m. You'll have to make your own drinks, but you're welcome to get dressed up.
The Los Angeles Asian Pacific Film Festival has moved online, offering film screenings and filmmaker discussions and talk-backs. The fest opens on May 1 with two episodes of the upcoming PBS series, Asian Americans. Check out the complete lineup here.
The Los Angeles Latino International Film Festival Connect 2020 opens online on May 5 with a screening of The Last Rafter with a Q&A and performance from Lupita Infante to follow. The fest runs through May 29 on LALIFF's website. All events are free.
DisGraced is a new comedy web series from Eric Willford and Victoria Verdugo. The show follows L.A. actress Grace Greene as she attempts to recover following an embarrassing film flop. Check it out on YouTube here.
Shayne Eastin presents a reading of her new play, The Domestics, on May 4 at 8 p.m. on Twitch. The synopsis: Set in California in the late 50s, The Domestics is a humorous yet psychedelic romp through the family lifestyle and gender roles of the upper-middle class. Perhaps reality is more inaccessible than unreality? You decide.
Through May 6, you can watch the films that would have played at this year's SXSW on Amazon Prime Video for free.
Join Santa Barbara cat cafe Cat Therapy for a 30-minute wine tasting workshop with sommelier and cat foster Clare Tudor on May 3 at 5 p.m. She'll teach you the basics of wine tasting with several adorable cat guests. Donations will support Cat Therapy. More info here.
Cocktail writer Prairie Rose of Bit By a Fox has a new web series, Conjure the Cocktail. The show merges witchcraft with craft cocktails, so you can put a little, uh, spirit in your spirits? The pair discuss May Day's pagan festival and the film Midsommar, and they'll also teach you a new cocktail recipe and how to prepare a lovely bath.
RuPaul's DragCon goes digital this weekend. Check it out for free on World of Wonder's YouTube channel May 2 & 3. It kicks off at noon both days.
Skylight Theater Company has a new play web series, each work specifically written to reflect our strange times. On April 30 at 3 p.m., catch Wendy Kout and Michele Willens's Courage Takes the Stage. The show features several people of various occupations sharing inspiration and comfort. On May 7 at 3 p.m., they'll present The Professor of Social Distancing, written by Tom Lavagnino. The show is about a projectionist named Jimmy who's all too familiar with social distancing already. Shows are about 10-15 minutes, followed by a Q&A. They're also free.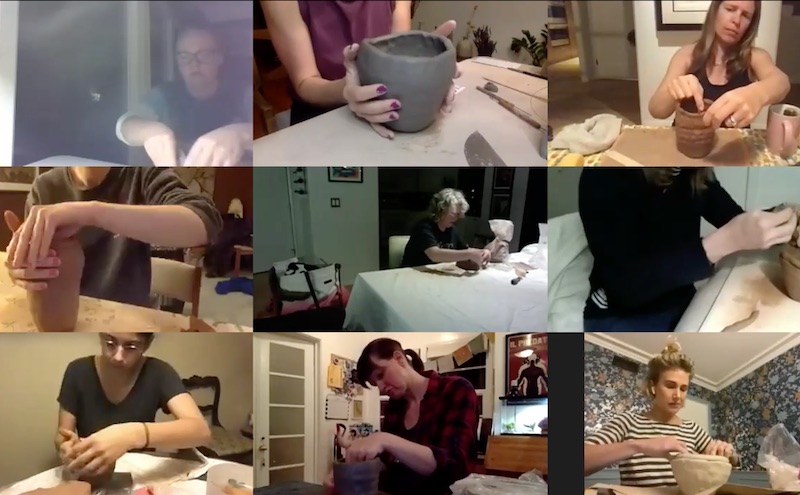 Still Life Ceramics will teach you how to make a clay pot on April 27 at 7 p.m. and April 29 at 6 p.m. For $45, they'll mail you a chunk of clay and postage so that you can mail it back for firing. May 3 at 2 p.m., May 4 at 7 p.m., and May 6 at 6 p.m. On May 7, they'll host an online teapot masterclass. For $150, you'll receive clay, basic tools, and firing and glaze for up to two teapots. You'll need to already have your own wheel and basic knowledge of throwing.
Los Angeles Municipal Art Gallery (LAMAG) has launched some cool virtual programming, including salon conversations from its archives, art-making activities, and more. See what they've got going on here.
Beside Itself is Hauser & Wirth's first entirely virtual reality-based exhibit. It opens on April 30 and features work from Louise Bourgeois, Mark Bradford, Charles Gaines, Ellen Gallagher, Jenny Holzer, Roni Horn, Luchita Hurtado, Mike Kelley, Glenn Ligon, Damon McCarthy, Paul McCarthy, Bruce Nauman, Lorna Simpson, and Lawrence Weiner. Access it on the gallery's website using your computer, phone, or VR headset.
Intramersive's Magic Help Desk is a one-on-one interactive show over Zoom. You're a magical tech support professional who will help a member of the Magic Defense Force with their mystical object, be it a crystal ball or a wand. Sounds simple enough, right? Bookings are available through May 3. Tickets are $25.
Mister & Mischief have a free answering service you can call for inspiration, commiseration, and more. Just dial (888) 691-3111 any time to choose which messages you'll hear. Check back often as extensions are updated almost daily. More info here.

Speaking of phone messages, check out the Department of Social Distancing website, where callers can leave voicemails about anything they're feeling right now.
The Corita Art Center rolled out an online arts education program inspired by Corita Kent, the "rebel" nun and teacher famous for her colorful Pop Art interpretations of religious art. Corita 101 is free to download. It's designed for a K-5 arts curriculum and is available in both English and Spanish.
Dezeen's Virtual Design Festival brings canceled festivals around the world together in one place now through June 30. The next few days include an exclusive series of video interviews with Dutch fashion designer Iris van Herpen and an interview with British architect Alison Brooks.
Eva Longoria and Enrique Santos co-host Altísimo Live, a Cinco de Mayo celebration and virtual concert featuring Latin music stars Gloria and Emilio Estefan, Luis Fonsi, J Balvin, Diane Guerrero, and Ana Brenda Contreras. The performances will stream live on Facebook Live, YouTube, Twitch, Twitter, and iHeartLatino's radio stations and social media platforms on May 5 at 2 p.m. The event is free to view. A donation of $5 to the Farmworker's COVID-19 Pandemic Relief Fund is encouraged.
The Gilder Lehrman Institute of American History (GLI) and HAMILTON just launched EduHam at Home, a free digital program for students and their families to explore the world of HAMILTON and America's founding era together. Students are also encouraged to create and perform their own narrative in the form of a song, rap, spoken word, or scene and submit their creations to be shared on the HAMILTON app, social media, and the Gilder Lehrman Institute of American History's website.
The gently whispering, paper-crinkling folks at WhisperLodge now have a free ASMR scene up on Audible designed to help you fall asleep.
Check out The Light House, a delightfully creepy new horror radio drama from author Jeff Heimbuch and audio engineer/composer Kori Celeste. According to the synopsis: Tara Hollis was supposed to get a fresh new start at her ancestral home, Light House. But when Tara and her family moved into Light House on that warm, winter's day in 1963, they did not suspect the horror that awaited them; a horror that lurked in the shadows, biding its time to quench its hunger. There is a darkness that dwells in the heart of Light House…one that will tear Tara's family apart. Do you believe in ghosts? Tara didn't…until she moved into Light House. Listen on iHeartRadio here.
Get your body pumping with a fitness rave. HyperBody® at Everybody Gym in Glassell Park is now offering HD streams of its offbeat fitness classes, starting with five of its most popular workouts, including the Fitness Rave and Cyborg Abs. An all-day pass costs $5 and an unlimited week pass costs $20.
SCI-Arc's Main Event 2020 returns in spectacular virtual form this year on May 2 at 6 p.m. The school's annual gala benefits the SCI-Arc Scholarship Endowment. This year's festivities include a live dance party with a DJ, digital cocktail lounge experiences, and a few other surprises.
Try a Trap-style Zumba class. Created by @hoodfaory.co, the classes take place on the Trap z*mba Instagram live every Tuesday at 4 p.m. and Thursdays at 8 p.m.
On Thursday, April 30 at noon, join author and Asst. GM at Rappahannock Hope Ewing for a little day drinking. She'll teach you how to make a savory martini on Instagram.
The Two Bit Circus Foundation announced its first Virtual Cardboard Challenge. Created by Imagination.org, the event is designed to encourage the STEAM community to come together, embrace creativity, and inspire future inventors. Hosted on the foundation's Twitch channel on Thursday, May 7 starting at 10 a.m., the Cardboard Challenge will allow kids and adults to engage in creative play using common household items. Throughout the day, various guest builders will share their favorite tips, tricks, and techniques on the stream while participants at home are encouraged to share their projects on Instagram for the chance to be featured on the Foundation's Twitch stream during the event.
Even more at-home ideas:
Remember that if you want updates sent straight to your inbox, you can sign up for the We Like L.A. email newsletter.