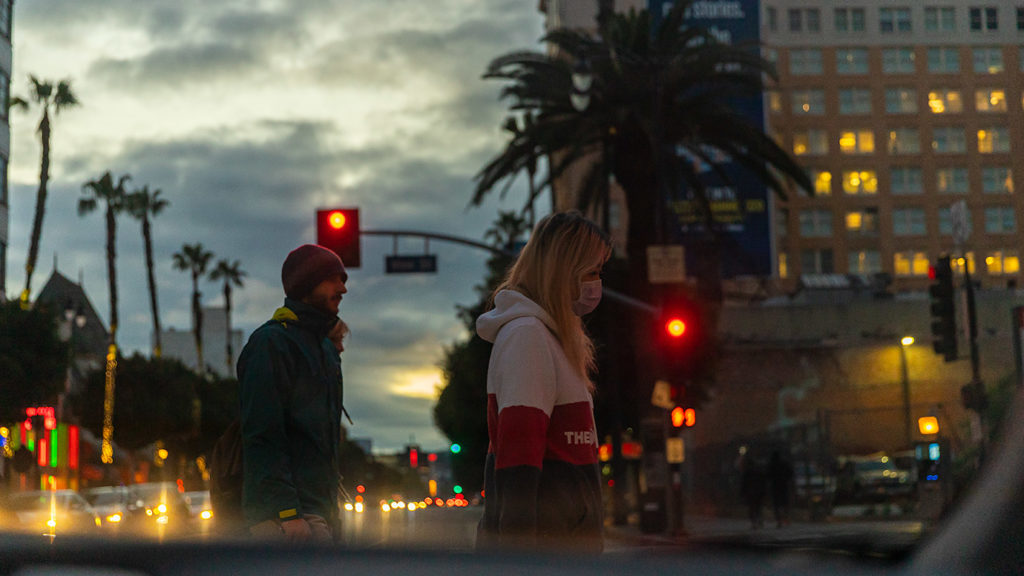 [Last updated: 5/18/2020]
To help understand the scope and impact of the COVID-19 crisis in Los Angeles, we thought it would be useful to construct a timeline of what's happened so far. This includes new temporary laws, major announcements by local and state officials, case and fatality totals, policy implementations, and other important milestones.
The timeline begins on Jan. 17, the date the Center for Disease Control initiated enhanced health screenings at three major U.S. airports, including LAX. We'll continue updating the timeline daily with key events as the COVID-19 crisis continues. For most recent continuing coverage, go here.
The most recent events are listed first.
NOTE: Key inflection points in the chronology are listed in red.
---
May 16: There are now 37,303 positive cases of COVID-19 and 1,793 related deaths across all areas of L.A. County, according to LA County Public Health.
May 15: The USNS Mercy leaves the Port of Los Angeles after arriving on March 27 from San Diego to provide support to our local hospitals.
May 14: The Los Angeles County Fair is cancelled for the first time since 1947.
May 13: L.A. County beaches reopen for active activities only with physical distancing and facial covering rules. L.A. County announces that while the Safer at Home orders will remain in effect indefinitely, the county will push deeper into Stage 2 with additional retailers open for curbside/delivery and additional recreation activities approved. Also on this day, the LA Phil announces the Hollywood Bowl 2020 season will be cancelled.
May 12: The Consumer Price Index puts out a new report that shows a month-over-month increase for "food at home," which is the largest monthly increase since 1974.
May 11: Los Angeles Metro now requires all passengers to wear facial coverings, following similar rules taken earlier by the Big Blue Bus in Santa Monica and LADOT's DASH buses.
May 9: L.A. County trails, trailhead parks, and golf courses reopen. Hikers and players are required to practice physical distancing at all times and wear facial coverings when around other people.
May 8: Select L.A. County retailers, including car dealers, florists, clothing stores, bookstores, music stores, toy stores, and sporting goods stores are allowed to reopen for curbside pickup. Gov. Gavin Newsom announces mail-in ballots statewide.
May 6: Los Angeles County reveals a recovery roadmap consisting of 5 stages. Stage 1 refers to the initial Safer at Home order, while Stages 2-4 allow for certain businesses and spaces to reopen and Stage 5 represents a complete return to normalcy. At the time same, the County announces L.A. will move to Stage 2 on Friday, May 8. Statewide, other counties may move faster if they meet certain criteria, including zero COVID-19 deaths in 14 days.
April 30: After reports of a crowded weekend along the coast in Orange County, Gov. Gavin Newsom temporarily closes all Orange County beaches, prompting protests from some residents.
April 29: L.A. Mayor Eric Garcetti announces that testing capacity in Los Angeles has increased enough that anyone in L.A. County can now register for a free COVID-19 test at city-run testing sites, even without symptoms.
April 28: The L.A. County Board of Supervisors unanimously approves a vote-by-mail proposal. Every registered voter in L.A. County will receive a ballot for the upcoming November election in the mail. Via a statement, Supervisor Janice Hahn said, "No one should have to choose between their health and their right to vote. We don't know what challenges we will be facing in this pandemic this fall, but by sending every voter a mail-in-ballot we can ensure that everyone can cast their ballot safely, no matter what the future holds."
April 24: Public Health confirms 52 new deaths and 1,035 new cases of COVID-19, bringing the county totals to 18,517 positive cases and 848 deaths. At the state level, Governor Newsom announces a new restaurant home delivery program aimed to serve the estimated 1.2 million seniors living alone in California.
April 22: Autopsies in Santa Clara County reveal first two COVID-19 deaths in the U.S. took place Feb. 6 and Feb. 17. Previously, the first reported death was on Feb. 29 in Kirkland, WA. In Los Angeles, Mayor Garcetti says the County now has the capacity to test 12,200 people per day across 34 testing centers. All critical workers can get tested for COVID-19, even without symptoms, starting Thursday, April 23.
April 21: L.A. Public Health says testing at Union Rescue Mission in Skid Row shows 43 confirmed cases out of 178 results delivered to date. It is the largest outbreak so far among L.A.'s unhoused population. In total, L.A. County has 15,140 confirmed cases of COVID-19. 663 people have died, 89% of whom had underlying health conditions.
April 20: Preliminary results from an L.A. County Department of Public Health serology study suggest cases of COVID-19 in Los Angeles County could be far more widespread than previously believed. The study estimates 4.1% of the county's adult population has antibody to the COVID-19 virus. The rate of infection may be as much as 55 times higher than the confirmed case count.
April 19: In his State of the City address, Mayor Eric Garcetti announces furlough days for city employees in the 2020-2021 fiscal budget. He calls the economic situation the city faces, "The worst it's ever been." To the north of Los Angeles, Ventura County announces it's modifying the county's stay at home order to ease some restrictions, including allowing gatherings of up to five people and the reopening of some golf courses and parks.
April 18: The L.A. County Department of Public Health confirms 81 new deaths, now the highest number of daily reported deaths in the county to date. This is in addition to 642 new cases of COVID-19, bringing the total to 12,021.
April 17: Mayor Garcetti says anyone of any age in L.A. County can register for a free test online. He encourages anyone experiencing symptoms to get tested, even if those symptoms are mild. In Orange County, 200 protestors gather in Huntington Beach to demand the reopening of California's economy. The protest defies the state's current Stay at Home order.
April 16: Mayor Garcetti announces the capacity to test 11,000 people for COVID-19 per day, far exceeding the testing output of any other city in the state. Garcetti also announces 55 new COVID-19 deaths in the county, a 13% increase from the day before and the highest single-day total for L.A. since the crisis began.
April 14: Confirmed COVID-19 cases in Los Angeles County top 10,000. There have now been 360 related deaths. At the state level, Governor Newsom outlines six key goals California needs to accomplish before loosening social distancing restrictions. Top among them is the ability to monitor and protect communities through testing, contact tracing, isolation, and supporting those who are positive or who've been exposed.
April 13: California Insurance Commissioner Ricardo Lara releases a bulletin ordering insurers to make partial refunds for at least six specific lines of insurance, including for automobiles.
April 10: Mayor Garcetti extends the city's 'Safer at Home' order to May 15. All workers and customers of essential businesses must begin wearing cloth facial coverings. Nearly half of Angelenos surveyed by the Center for the Study of LA say they have lost work due to the coronavirus pandemic.
April 9: Los Angeles announces the deployment of mobile testing teams. The city hopes to complete 60,000 tests by the end of the following week.
April 8: The L.A. County Department of Public Health confirms 7,530 cases and 198 deaths across Los Angeles County.
April 6: Mayor Garcetti announces that all county residents who want to get a COVID-19 test can apply. Previous requirements restricted testing to the most vulnerable individuals, including those over 65 or with compromised immune systems. L.A. County Public Health Director Dr. Barbara Ferrer urges Angelenos to skip shopping for the week if they can, saying that this could be a critical week for flattening the curve of infection.
April 1: Governor Newsom says California schools should stay closed for the rest of the academic year. Some two-dozen farmers markets previously closed by the city reopen, but with new social distancing guidelines to restrict the flow of crowds.
March 31: L.A. County's COVID-19 cases now top 3,000. 54 people have died.
March 30: Los Angeles suspends farmers markets until they can provide a plan for social distancing and sanitation to the Bureau of Street Services.
March 27: The USNS Mercy docks at the Port of Los Angeles to provide additional hospital bed capacity for non-COVID-19 patients. With 1,000 beds, the ship becomes the largest hospital in Los Angeles. Los Angeles County closes all beaches through at least April 19.
March 26: The Los Angeles County Department of Public Health confirms nine new deaths and 421 new cases of COVID-19. This brings the county totals to 1,216 cases and 21 deaths. Of those 1,216 positive cases, 21% (253 total) have resulted in hospitalization.
March 25: In an interview with Business Insider, Mayor Garcetti warns against premature optimism and loosening social distancing restrictions. He says Angelenos should expect to stay in their homes at least until May, possibly longer.
March 24: Los Angeles creates a portal to help find additional medical professionals to assist with care for COVID-19 patients.
March 23: Los Angeles Unified School District Superintendent Austin Beutner says the school shutdown will continue through at least May 1.
March 22: Over the weekend, 1,600 beds for unhoused individuals are made available at 13 recreation centers throughout Los Angeles. In the coming weeks, the city plans to repurpose 42 recreation centers, aiming to provide shelter for 6,000 unhoused people. There are over 36,000 unsheltered people in Los Angeles and nearly 59,000 in the county.
March 20: L.A. County Supervisor Kathryn Barger announces she's signed an Executive Order that puts a moratorium on residential and commercial evictions in the county.
March 19: Mayor Garcetti announces a new 'Safer at Home' Order, restricting Angelenos from leaving their homes unless for an essential service or occupation. The County now estimates the number of confirmed cases to be about 230.
March 16: In response to sparse store shelves across the county, Mayor Garcetti holds a press conference with officials from regional grocery chains to assure citizens that food supply chains are intact and local stores will continue to stock food. Panic buying and hoarding are discouraged.
March 15: Mayor Garcetti announces the closure of bars, nightclubs, entertainment venues, and gyms through at least March 31. Restaurants may continue to offer takeout and delivery, but no dine-in service. Gatherings of more than 50 people are strongly discouraged.
March 13: Governor Newsom issues an executive order ensuring public schools will continue to get funding even if they must close physically. Los Angeles Unified School District (LAUSD) announces plans to close all schools for two weeks effective Monday, March 16. LAUSD says it will continue to evaluate the path forward after the interim closure period.
March 12: Mayor Garcetti orders city departments and agencies to take additional steps to slow the spread of COVID-19. This includes the temporary closure of City Hall and postponement or cancellation of all non-essential public events and events on city-owned properties with 50 or more participants.
March 11: L.A. County Public Health announces six new cases of COVID-19 in the county—including one presumed to be from community spread—and the first related death. The total number of cases in the county is now 27. Postponements of major events sweep across Southern California. The NBA suspends its 2019-2020 season after a Utah Jazz player tests positive for COVID-19.
March 10: Goldenvoice postpones both Coachella and Stagecoach music festivals until October.
March 8: The Los Angeles Marathon continues as scheduled. Masks, hand sanitizer stations, and social distancing guidelines are part of the event.
March 4: Los Angeles County declares an emergency after confirming six new coronavirus cases over 48 hours. The Los Angeles Department of Public Health believes that all six cases are linked through known exposure. The L.A. County Board of Supervisors passes a motion to request $7.5 million in federal funding from the Department of Public Health.
Feb. 29: CDC reports first COVID-19 death in U.S. is from the state of Washington.
Feb. 28: The CDC offers new recommended infection prevention and control practices for healthcare workers treating suspected cases of COVID-19.
Feb. 27: Governor Gavin Newsom says the state is limited in testing for new cases of coronavirus, with only 200 testing kits available.
Feb. 26: Los Angeles County Supervisor Kathryn Barger authors a motion to have the County Board of Supervisors request federal funding to address the threat of COVID-19. In Solano County, a woman is confirmed as the first person in the U.S. to have contracted COVID-19 from an unknown origin.
Feb. 21: Supervisor Hilda L. Solis holds a town hall in Monterey Park to provide the latest coronavirus-related news to San Gabriel Valley residents.
Feb. 7: Chinese Consul General Zhang Ping holds a press conference at the Chinese Consulate in L.A. urging Americans to be "rational, objective and calm."
Feb 3. L.A. County Public Health provides new guidance in consideration of rules set by the U.S. Department of Health and Human Services. This includes restricting entry to all foreign nationals who have traveled to or been in China for the previous 14 days. At this time, there is only one confirmed COVID-19 case in Los Angeles and 11 total in the U.S.
Jan. 30: L.A. County Public Health tweets that the public should beware of false reports regarding the coronavirus. The warning follows the circulation of a fake letter about an outbreak in the South Bay.
Jan. 26: Los Angeles County confirms its first case of COVID-19 in a traveler returning from Wuhan, China.
Jan. 17: The CDC initiates enhanced health screenings for passengers traveling to the United States on direct or connecting flights from Wuhan, China. LAX is among the first three airports to implement health screenings, alongside JFK and SFO.